Collaboratively charting the gene-to-phenotype network of human congenital heart defects
Received: 18 November 2009
Accepted: 1 March 2010
Published: 1 March 2010
Abstract
Background
How to efficiently integrate the daily practice of molecular biologists, geneticists, and clinicians with the emerging computational strategies from systems biology is still much of an open question.
Description
We built on the recent advances in Wiki-based technologies to develop a collaborative knowledge base and gene prioritization portal aimed at mapping genes and genomic regions, and untangling their relations with corresponding human phenotypes, congenital heart defects (CHDs). This portal is not only an evolving community repository of current knowledge on the genetic basis of CHDs, but also a collaborative environment for the study of candidate genes potentially implicated in CHDs - in particular by integrating recent strategies for the statistical prioritization of candidate genes. It thus serves and connects the broad community that is facing CHDs, ranging from the pediatric cardiologist and clinical geneticist to the basic investigator of cardiogenesis.
Conclusions
This study describes the first specialized portal to collaboratively annotate and analyze gene-phenotype networks. Of broad interest to the biological community, we argue that such portals will play a significant role in systems biology studies of numerous complex biological processes.
CHDWiki is accessible at http://www.esat.kuleuven.be/~bioiuser/chdwiki
Keywords
Genome BrowserData Analysis StrategyGene PrioritizationDistribute Annotation SystemCandidate Gene Prioritization
Background
Recently, Wiki technology - inspired by the well-known Wikipedia encyclopedia - has been proposed as a potential strategy for the collaborative development of biological knowledge bases [1–6]. Although a 'Wikipedia for Genes' is likely to emerge, a number of challenges remain. First, classical Wiki technology in itself (based on free text) is unsuitable for developing genetic knowledge bases because of the imperative need for structured information. Hence, Wiki platforms for genetic knowledge bases need to provide a strong framework for integration with classical database technology. Wikiproteins already implements this need at a high level by abstractly linking concepts, such as proteins and biological processes [1]. Second, and probably foremost, each community uses specific terminology, has specific goals, and uses specific data and tools. Such specificity cannot be addressed in a generic Wikipedia for Genes and requires tailored solutions implementing different levels of specialization. Third, Wiki technology does not in itself support downstream analysis of the information gathered in the Wiki.
Going beyond knowledge gathering, integrative data analysis strategies have been proposed recently for the prioritization of genes potentially involved in a given biological process, phenotype, or disease [7–9]. Nevertheless, there is clearly a gap between such advanced (and somewhat complex) analysis strategies and actual wet lab work. A similar gap can be observed between those strategies and clinical genetics where increasingly complex molecular data need to be interpreted towards the diagnosis of constitutional disorders. To bridge this gap and bring integrative analysis strategies into practice, we integrate a candidate gene prioritization method [9] and browsing of networks of gene interactions [10–12] into the Wiki platform.
We therefore propose to combine Wiki technology, databases of genomic and phenomic information, and data analysis tools into a Wiki portal that supports the needs of a specialized community. In particular, we describe a Wiki portal for the genetic study of congenital heart defects (CHDs), termed CHDWiki. CHDs are the major cause of mortality in newborns in the developed world, but despite this manifest importance, most CHDs still have unknown etiologies. In some instances, specific genetic and environmental factors have been shown to cause CHDs. A review of the etiology of CHDs is available through CHDWiki [13].
The CHDWiki portal focuses on mapping out the gene network leading to human CHD phenotypes. It supports both genetic and molecular biology research that aims at hunting for CHD genes, as well as clinical research that aims at identifying and interpreting genetic aberrations in patients suffering from well-characterized CHDs.
Construction and content
Knowledge acquisition
To build a set of most currently known gene-phenotype links, OMIM (Online Mendelian Inheritance in Man) and MEDLINE were manually searched by an expert in the field for genes that are linked with any of 139 relevant cardiac defect phenotypes listed among the internationally used CHD codes from the Association for European Paediatric Cardiology (AEPC). The use of this specialized ontology maximizes the relevance of the collected information to the CHD community and improves the consistency of this information. Relevant genes and mutations were selected and their corresponding cardiac phenotype were manually gathered and described based on the available literature. The level of support for a gene-phenotype link was defined by its incidence and the number of independent publications reporting it. We only considered such links confirmed if at least two reports from independent groups described the incidence of CHD in patients with a mutation to be greater than 1%. Moreover, the support for the link between every single gene mutation and CHD type was further characterized based on the genetic evidence (inheritance and incidence), in silico predictions, and the functional studies (in vitro analysis and animal models) described in the study.
To build a set of most currently known chromosomal regions linked to CHDs, MEDLINE was searched for imbalances detected by molecular karyotyping, breakpoints of balanced chromosome aberrations or regions implicated in CHDs through linkage studies. These data complement at a much higher resolution the CHD regions identified by Van Karnebeek et al. [14], which were based on reported cytogenetically visible chromosomal aberrations.
CHDWiki is conceived to allow straightforward inclusion of published and unpublished data from all collaborators. All clinical (cardiac and non-cardiac) and molecular data are rendered anonymous and collected in a standardized manner, either directly in the CHDWiki database (for genes, translocation breakpoints and linkage regions) or (for well-delineated chromosomal imbalances) using another tool designed for this purpose, CHDBench [15]. Consent for submitting unpublished data from a patient or their legal representative is explicitly required, and was assumed to be obtained for published data that are included. Ethical approval for the incorporation of patient data was obtained from the Ethics Committee KU Leuven (S51093).
Platform development
CHDWiki is based on the MediaWiki engine initially developed for the Wikipedia project. We implemented a generic extension that allows registering specific components for the management of structured data and for the on-the-fly execution of analysis tools.
The benefits of databases are manifold and become apparent when providing different views on the same data. For instance, it allows providing the detailed list of genes linked to CHDs, as well as the list of CHDs having linked genes. Databases also solve consistency issues; for example, when a link is added or updated between a gene and a specific CHD, both the gene page and the CHD page instantaneously reflect this change. The principles of the generic extensions are the following. Specific components can subscribe to pages so that the Wiki engine executes these components when the page is rendered, or they can explicitly be called from within the page through the use of a specific tag.
For example, to include the list of CHDs linked to JAG1, the generic extension first calls the chdsForGenes component with parameter JAG1 to retrieve the data in the form of (variable, value) pairs. Second, the extension retrieves the chdsForGeneTemplate layout template, which is stored as Wiki text in a standard Wiki page. Third, it replaces the variables by their actual values. Eventually, the resulting Wiki text is rendered by the MediaWiki engine.
The simplicity of the generic extension mechanism makes it both flexible and powerful. Specific components already available include: numerous data retrievers from our local databases; a chromosome map summarizing genes and genomic regions linked to CHDs; pie chart generation; gene network visualization and exploration; and candidate gene prioritization. This variety of components illustrates the versatility of the approach. For instance, pie charts are easily included by calling the lightweight pieChart component with the list of slices (name and value pairs), while the prioritization component consists in a complete web application specifically tuned towards prioritizing CHD genes. More generally, the generic extension proved successful in the fast development of new components working as wrappers for databases, web services, command line tools, and DAS (Distributed Annotation System) servers [16]. Also, to speed up the development time for structured data updates and interaction, the extension implements a generic mechanism to easily specify web forms in Wiki text that are pre-filled and handled by registered components.
In addition, CHDWiki interacts with a patient data repository, CHDBench [15], for managing patient data published in the literature, and a DAS server [17] feeding CHD genes and genomic regions has been set up to allow one to loop from CHDWiki to the Ensembl genome browser and back.
When more Wiki portals such as CHDWiki are available, the problems of interoperability of these systems and integration of stored knowledge can be managed through standard protocols such as DAS for data access, web services for the programmatic use of knowledge, or dedicated application programming interfaces (APIs), which will have to be further specified by the community. The component-oriented architecture of CHDWiki will make such future developments easy to implement.
The authors had full access to the data and take responsibility for its integrity.
Results
Overview of CHD data
The results of the knowledge acquisition are described in Tables
1
and
2
, and are visualized on an interactive chromosomal map in CHDWiki (Figure
1
). They represent a unique repository of human genetic data for CHDs that describes both the phenotype and the genetic lesion with a granularity of detail that was unavailable so far. It allows for the addition of a free text description of any aspects of the gene that the contributor considers relevant.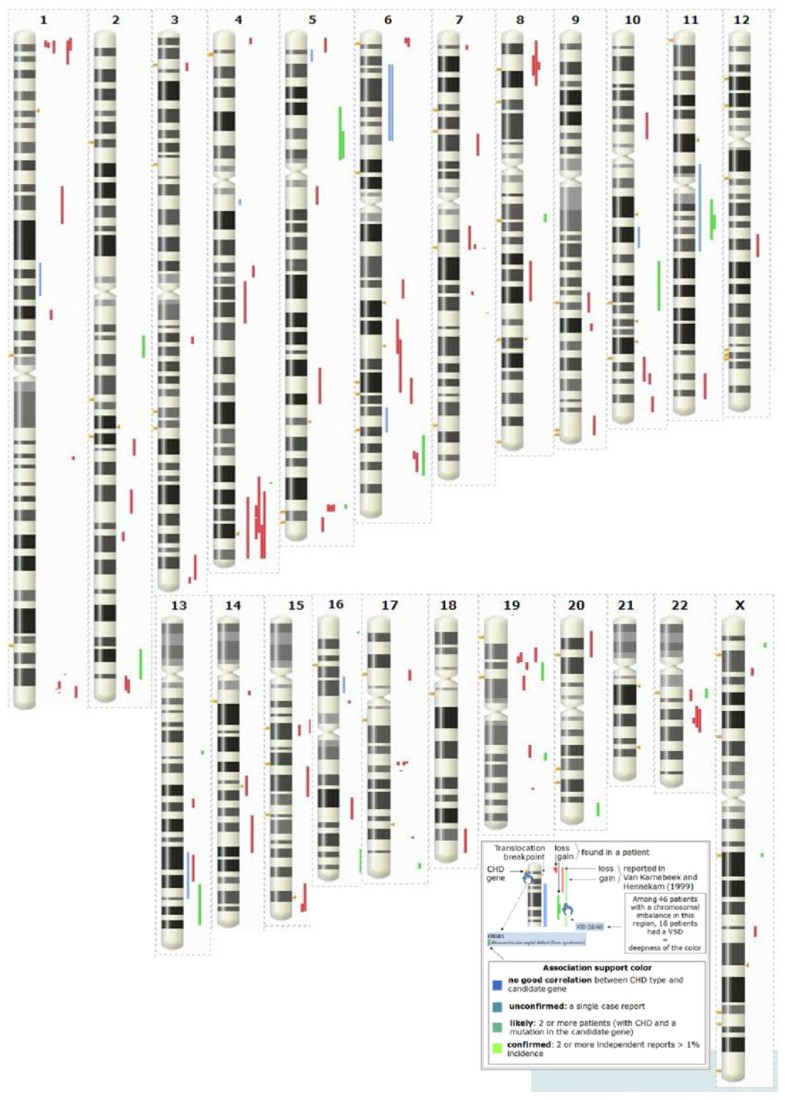 Table 1
Number of features (genes, congenital heart defects, and so on) present in CHDWiki
| Features | Entries |
| --- | --- |
| Genes | 62 |
| Congenital Heart Defects | 83 |
| Linkage regions | 13 |
| Balanced chromosomal aberrations | 19 |
| Van Karnebeek and Hennekam 1999 regions | 46 |
| Indel patients | 155 |
| Indel regions | 176 |
| References | 198 |
Table 2
Number of relations between congenital heart defects (CHD) and currently managed features
| Features | CHD |
| --- | --- |
| Genes | 193 |
| Linkage regions | 14 |
| Balanced chromosomal aberrations | 21 |
| Van Karnebeek and Hennekam 1999 regions | 85 |
| Patients | 281 |
| Studies (mutation screens) | 297 |
| Mutations | 284 |
For each gene or phenotype, CHDWiki provides a pie diagram that graphically represents the spectrum of related cardiac phenotypes or mutated genes, followed by a detailed overview of the studies defining the mutational spectrum of these gene-phenotype links. Moreover, to get an intuitive view of the mutation data, a graphical map of all proteins is automatically produced and updated as new genotypes are entered, displaying the position of coding mutations in the context of the protein domains. The relevance of this display is highlighted by the significant clustering of missense mutations in annotated domains (Additional file
1
). More features could be added in the future (sites of protein-protein interaction or post-translational modification, for example, Figure
2
).

Apart from mutations detected at the nucleotide level, CHDWiki readily incorporates copy number variations and other disease-linked chromosome anomalies. Such 'chromosomal mutations' have recently been shown to be important in many disorders, including CHDs [18, 19].
Additionally, this portal offers a graphical overview of the protein interaction partners, as well as external links to both human and non-human genome browsers and model organism databases. Moreover, via an automated text-mining approach, genes potentially implicated in a given CHD and, vice versa, CHDs caused by a gene of interest are returned [20, 21]. Finally, to help researchers to select candidate genes for CHDs in sets of genes (for example, identified in regions of the genome that are found through linkage analysis, homozygosity mapping or chromosomal aberrations), an adapted Endeavour algorithm for gene prioritization was implemented in CHDWiki. It offers predefined training sets of genes with tailored data sources (further details at [22]).
Synthetic graphical data representation
Associations between genes and phenotypes can be converted to networks and visualized as such. As CHDWiki is very detailed, additional features can be added to such a network (Figure
3
), that is, specification of the observed gene-linked phenotypes, their frequency, the number of phenotypes shared by two genes and physical protein-protein interactions. Figure
3
is thus a synthetic representation of all data on non-syndromic CHDs. We also built similar networks for syndromic genes (Additional file
2
) and networks where diseases are connected when caused by the same genes [
23
].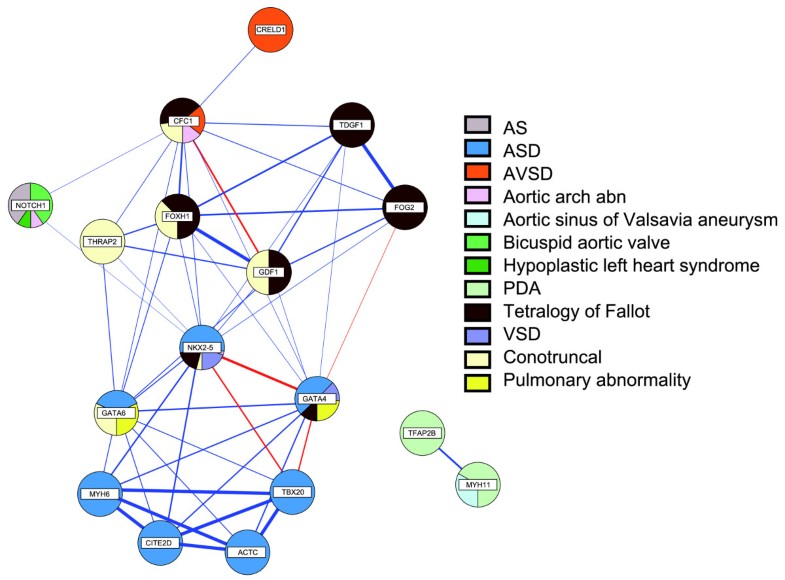 Conclusions
The future we envisage is one where a specialized community 'swarms' around a Wiki portal that provides most of the knowledge, data, and analysis tools needed to support its experimental work. Via this portal, the community can collaboratively and incrementally chart complex networks involved in biological processes, phenotypes, and diseases. Collaboration and efficient access to knowledge, data, and tools will significantly speed up experimental research.
Availability and requirements
CHDWiki is accessible at [31]. Data can be consulted without any registration; however, to add or modify Wiki information an account must be requested by clicking on the 'log in/create account' button at the top right of the main page.
Abbreviations
AEPC:

Association for European Paediatric Cardiology
CHD:

congenital heart defect
DAS:

Distributed Annotation System.
Declarations
Acknowledgements
We gratefully acknowledge Professor JE Lock (Cardiovascular program, Department of Cardiology, Children's Hospital Boston, MA, USA) for providing cartoons of heart defects. This research was supported by the EU FP7 CheartED project (Grant HEALTH-F2-2008-223040). Other grants were provided by the Research Council KUL (GOA MaNet, GOA AMBioRICS, CoE EF/05/007 SymBioSys, PROMETA, START 1, several PhD/postdoc & fellow grants, GOA 2006/12), FWO (PhD/postdoc grants, projects G.0241.04 (Functional Genomics), G.0499.04 (Statistics), G.0232.05 (Cardiovascular), G.0318.05 (subfunctionalization), G.0553.06 (VitamineD), G.0302.07 (SVM/Kernel), research communities (ICCoS, ANMMM, MLDM)), G.0733.09 3UTR; G. 082409 (EGFR), G.0254.05 (Genetics of human heart development), IWT (PhD Grants, GBOU-McKnow-E (Knowledge management algorithms), GBOU-ANA (Biosensors), TAD-BioScope-IT, Silicos; SBO-BioFrame, SBO-MoKa, TBM Endometriosis), the Belgian Federal Science Policy Office (IUAP P6/25 (BioMaGNet, Bioinformatics and Modeling: from Genomes to Networks, 2007-2011), IUAP P5/25 (Molecular Pathology of Genetic Diseases)) and the EU-RTD (ERNSI: European Research Network on System Identification; FP6-NoE Biopattern; FP6-IP e-Tumours, FP6-MC-EST Bioptrain, FP6-STREP Strokemap). PVL is supported by a postdoctoral research fellowship, JB by a PhD fellowship and KD is a senior clinical investigator of the Research Foundation-Flanders (FWO). SB is supported by a post-doc grant of the CheartED project.
Authors' Affiliations
(1)
Bioinformatics Group, Department of Electrical Engineering, ESAT-SCD, Katholieke Universiteit Leuven, Leuven, Belgium
(2)
Université de Toulouse, UPS, Laboratoire de Microbiologie et Génétique Moléculaires, Toulouse, France
(3)
Centre National de la Recherche Scientifique, LMGM, Toulouse, France
(4)
Center for Human Genetics, University Hospital Leuven, Leuven, Belgium
(5)
Laboratory of Molecular Signalling and Laboratory of Developmental Genetics and Imprinting, Cambridge, UK
(6)
Department of Molecular and Developmental Genetics, VIB, Leuven, Belgium
(7)
Department of Pediatric Cardiology, University Hospital Leuven, Leuven, Belgium
Copyright
© Barriot et al.; licensee BioMed Central Ltd. 2010
This article is published under license to BioMed Central Ltd. This is an open access article distributed under the terms of the Creative Commons Attribution License (http://creativecommons.org/licenses/by/2.0), which permits unrestricted use, distribution, and reproduction in any medium, provided the original work is properly cited.