BAIT: Organizing genomes and mapping rearrangements in single cells
Received: 29 May 2013
Accepted: 9 September 2013
Published: 13 September 2013
Abstract
Strand-seq is a single-cell sequencing technique to finely map sister chromatid exchanges (SCEs) and other rearrangements. To analyze these data, we introduce BAIT, software which assigns templates and identifies and localizes SCEs. We demonstrate BAIT can refine completed reference assemblies, identifying approximately 21 Mb of incorrectly oriented fragments and placing over half (2.6 Mb) of the orphan fragments in mm10/GRCm38. BAIT also stratifies scaffold-stage assemblies, potentially accelerating the assembling and finishing of reference genomes. BAIT is available at http://sourceforge.net/projects/bait/.
Keywords
Linkage Group
Reference Genome
Genomic Rearrangement
Template Strand
Reference Assembly
Background
We recently described a sequencing technique called Strand-seq for directional sequencing of DNA template strands in single cells [
1
,
2
]. To generate Strand-seq data, cells are cultured with the thymidine analogue 5-bromo-2′-deoxyuridine (BrdU) for one round of DNA replication. The newly formed DNA strands incorporate BrdU, and are selectively removed prior to library amplification, resulting in directional libraries consisting of only template strands. Sequencing of these libraries on an Illumina platform results in reads that map either to the 'Crick' strand (plus or top strand) or the 'Watson' strand (minus or bottom strand) of the reference genome. Because most eukaryotic genomes are diploid, the template strands from both chromosomal copies are represented, and the resultant directional reads can be output in the form of a chromosome ideogram (Figure
1
a). Thus if a chromosome has reads mapping solely to the Watson strand, the cell has inherited a Watson template from each of the parental homologues (WW), whereas if it has reads mapping to both Watson and Crick, the cell has inherited one Crick-template and one Watson-template parental homologue (WC). This ability to discern which template strands were inherited by dividing cells can be used for a number of important applications including the high-resolution mapping of SCEs, analysis of genomic rearrangements, and refining of reference assemblies.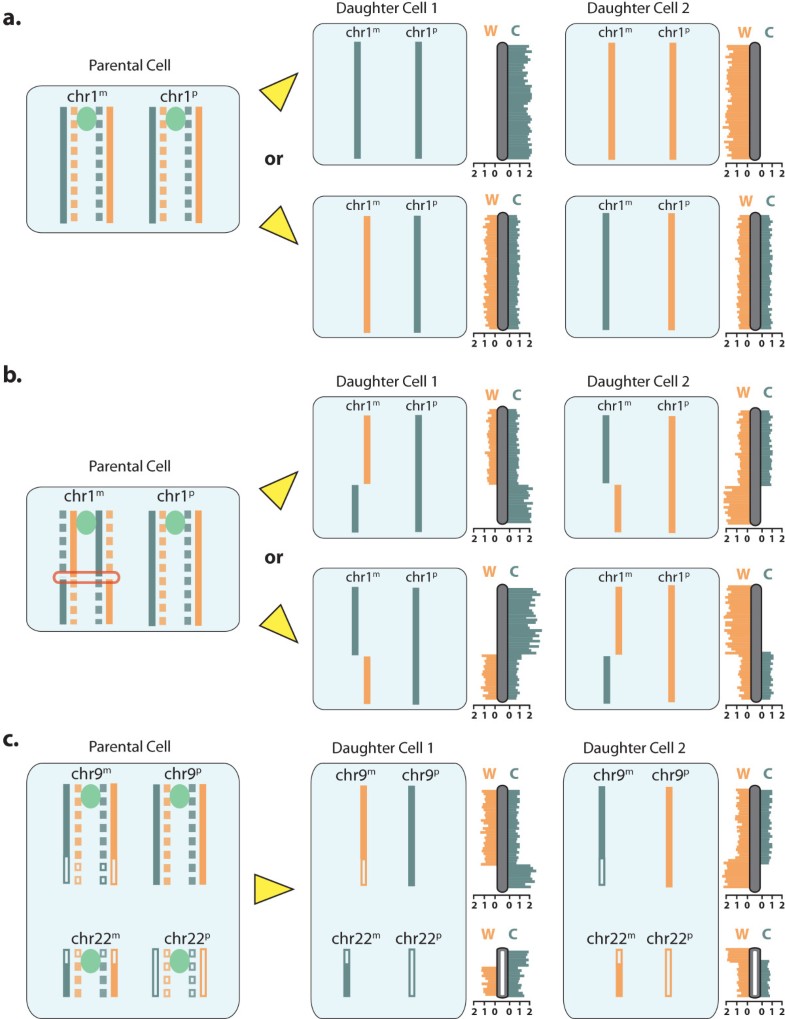 SCEs are the outcome of the repair of double strand breaks, and their accumulation is an early indicator of genomic instability [3]. Strand-seq data allows the identification and mapping of these events at unprecedented resolution [1]. The frequency of SCEs has been used as a surrogate for assessing the toxicity of mutagens [4], and as a diagnostic marker for disorders such as Bloom's syndrome, which have a characteristically high frequency of SCEs [5]. Stand-seq can also detect translocations, inversions, deletions, and amplifications. Deletions and amplifications present as a loss or gain of reads over particular regions, and will locate to the same region across all libraries, making them easy to identify. Translocations and inversions appear identical to SCE events in individual libraries (Figure 1c), but can be resolved when the event locations are compiled across multiple libraries, as they will all occur over the same region. Preliminary data suggests that this approach works well in identifying and localizing chromosomal abnormalities (manuscript in preparation). It is further possible to apply Strand-seq to estimate the frequency of genomic rearrangements in a heterogeneous population of cells.
We showed previously that Strand-seq also has an application in correcting incorrectly oriented portions of the mouse reference assemblies [1]. Reference assemblies have become essential tools for aligning sequences and identifying variations, and thus, the need for a complete and accurate reference genome for any organism of interest is essential [6]. At present, a variety of organisms have been targeted for genome sequencing projects [7], and more established genomes are being continually updated. For example, the mouse reference genome was first published in 2002 [8], and has been periodically updated with more complete and corrected assembly versions. In most such iterations of reference assemblies, there are both gaps of unknown length within the sequence (typically regions difficult to sequence), and 'orphan scaffolds' that have yet to be mapped to particular chromosomes or regions on specific chromosomes (likely to map within gaps, and lacking the tiling to form contiguous sequences). Although PCR-based approaches [9], forms of restriction mapping [10, 11] and optical mapping [12] can be used to bridge these gaps or connect orphan scaffolds, there are still currently 628 gaps and 44 orphan scaffolds in the latest mouse reference assembly (GRCm38/mm10), and 357 gaps and 65 orphan scaffolds in the latest iteration of the human assembly (GRCh37/hg19). Many of the gaps are unbridged, representing spaces in the genome build of unknown length, and importantly, the relative orientation of sequences on either side of these gaps are also unknown. Furthermore, there are many early-build genome projects underway, most of which remain at the contig stage, consisting of thousands of contiguous sequences that are unplaced with respect to each other, and not localized to any chromosomes. With recent efforts aiming to rapidly generate reference genomes from 10,000 organisms [13, 14], the need for alternate approaches to build the thousands of contigs from scaffold-level genomes into useable reference assemblies is paramount, and here we show that Strand-seq can perform a pivotal role in this.
Strand-seq has many applications for the study of tumor heterogeneity and evolution, and for genome instability in diseases of aging, as well as an enormous potential for rapidly building and refining the growing repertoire of reference assemblies. It is also an efficient technique, with the ability to sequence up to 200 indexed libraries simultaneously on a single lane. However, in order to analyze Strand-seq features across these large datasets, the technique needed an intuitive software package that could automate this process. Here we describe new open source software, Bioinformatic Analysis of Inherited Templates (BAIT), which builds upon our previously described plotting function [1] and enables high-throughput analysis of Strand-seq data. BAIT is a command line-driven application for UNIX platforms, available under the two-clause Berkeley Software Distribution (BSD) license [15].
Results and discussion
Accurate localization and mapping of SCEs
To assess the ability to computationally identify SCE events, BAIT predictions were compared with 528 SCE events from 62 murine embryonic stem cell Strand-seq libraries that had previously been identified manually [1]. Manual processing of SCE events involved uploading BED-formatted Strand-seq data into the UCSC genome browser [25], and identifying the interval at which the templates switch. Initial comparisons showed that although BAIT identified over 97% of SCEs called manually, it also displayed a high false-discovery rate. To reduce this rate, a user-changeable threshold was incorporated, which excludes any bins that deviate from the average read depth, and thus have fewer or greater reads than expected.
By comparing the BAIT SCE calling to the manually processed SCEs, we found the optimal threshold for these data was to exclude bins with read counts of ±0.2 standard deviations from the mean, which gave a sensitivity of 0.93 (10.9% false positives), and a specificity of 0.89 (7.2% false negatives) (Figure
5
a). When only those libraries with a low background metric (<5%) were included, the specificity improved to 0.94, while the sensitivity remained almost the same at 0.92 (Figure
5
b). Of the false-negative calls, 72.9% were SCEs within 5 Mb of the start or end of the chromosome, indicating that terminal regions of chromosomes are under-represented by BAIT's SCE localization. In addition, three of the SCE events predicted by BAIT but absent in the manual analysis were determined to be correct upon further analysis. One event was less than 2 Mb from the distal telomere of chromosome 1, while the remaining two events were 5 Mb from each other on chromosome 13. These SCE events were difficult to detect by eye from a BAIT ideogram output of Strand-seq data. Furthermore, because BAIT identifies SCE locations directly on ideograms with an arrowhead, both false-positive and false-negative SCEs can be rapidly scanned and validated from the ideogram output files.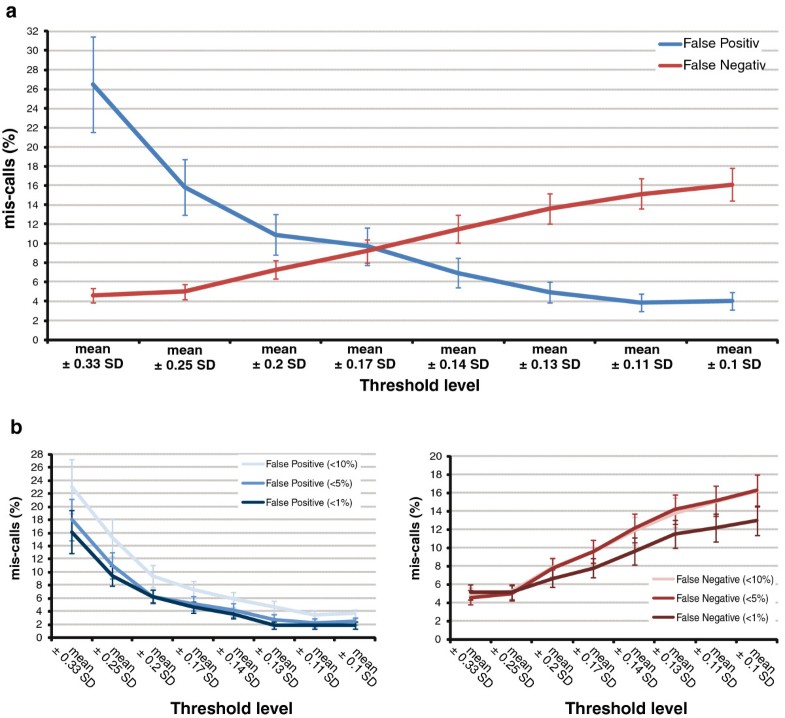 Of the correctly identified SCE events, a comparison of the location of the SCE interval between automated and manual calls showed a median difference of just 34 bp (see Additional file 3: Figure S2). Almost two-thirds (65.8%) of the predictions were within 100 bp of the manual calls, with 74.7% of predictions within 10 kb. A summary of SCE distribution across all libraries was plotted, together with a histogram reporting the distance between events, helping to identify significant clustering of SCEs (see Additional file 2: Supplemental Data File 1). The accurate identification of SCEs is also important for the functions of BAIT which assemble and refine reference genomes (see sections below).
BAIT facilitates SCE analyses by rapidly counting and locating events, presenting a pipeline that can be incorporated into high-throughput strategies. BAIT accurately refines the interval between reads in which the template switch occurs, allowing regions with a high propensity to undergo SCE to be identified (for example, fragile sites [26] or sites of recurrent DNA damage). Accurate interval identification is also important in looking for genomic rearrangements such as translocations, and BAIT is able to detect these and assign a frequency of the rearrangement within the pool of libraries, requiring a far lower read depth than conventional split-pair read sequencing [27]. A caveat to these analyses is that SCEs and genomic rearrangements are more difficult to detect on chromosomes that have more than two copies within a cell, potentially limiting its use in highly polyploid cancer cells. Taken together, our results show that BAIT is very accurate and efficient at predicting SCE intervals, and will be indispensable for future high-throughput analysis of Strand-seq data.
Improving early-stage reference genome builds
To test the ability of BAIT to build genomes de novo, we realigned our libraries to the first build of the mouse genome (MGSCv3). Of the 224,713 contigs in this assembly version, we included in the analysis the 77,258 that were over 10 kb, representing 2,006 Mb of DNA (81.0% of total assembly). After remerging and reorienting similar clusters, BAIT assigned 54,832 contigs, representing 1,742 Mb (64.9%) of the assembly, into 20 primary LGs (Figure 3a). Allosomes in these male-derived ESCs are effectively monosome, and so contigs derived from the sex chromosomes can be separately identified, as they only inherit a single W or C template strand, never both. After cross-referencing the locations of MGSCv3 contigs to GRCm38/mm10 coordinates, the majority of LGs clustered to only one chromosome (see Additional file 4: Figure S3), and the majority of chromosomes consisted of only one linkage group (Figure 3b). When more than one chromosome was attributed to the same linkage group, these groups could be split into two subclusters (see Additional file 4: Figure S3).
Similar results were seen when we simulated an early-stage reference by splitting the GRCm38/mm10 genome into a scaffold of the 403 chromosomal Giemsa bands (based on coordinates from the UCSC genome browser [28]), and realigned our libraries to this new reference version (see Additional file 5: Figure S4). Using disrupted concordance from SCEs as a genetic distance indicator, it was further possible to infer the relative orders of the contigs present in each linkage group.
The accuracy of ordering fragments is dependent on the frequency of SCEs, the number of libraries used in the analysis, and the level of library background (high-background libraries are more likely to have incorrect template calls). If the template strands of contigs are identical in all libraries (because no SCE events have occurred between them) their relative order remains unknown.
Taken together, these data show that with only a single lane of sequencing and just 62 Strand-seq libraries, BAIT can aid in the rough draft assembly of a scaffold-level reference genome. Importantly, preliminary sequencing efforts in lesser-studied organisms suffer from fewer resources spent on deep sequencing and subsequent curating and refining of the reference genome assemblies. With several ambitious sequencing projects in development [13], there is an increasing need for rapid and cost-effective construction of accurate and useful reference genomes. Arranging contigs to facilitate building chromosome-level and genome-level hierarchy represents an attractive advance toward this goal, especially in conjunction with existing technologies. We have shown that BAIT can effectively 'stitch' contigs together based on shared template inheritance, and rapidly construct a useful skeleton assembly that can be built upon, and believe this technique will be widely adopted in standard genome assembly pipelines.
Refining and finishing completed reference assemblies
We have previously shown using Strand-seq that over 20 Mb of the MGSCv37/mm9 Mus musculus reference assembly is misoriented, involving 17 regions flanked by unbridged gaps [1]. In the more recent GRCm38/mm10 build of the genome, 35% (7,079.49 kb) of these identified misorientations were subsequently corrected, validating Strand-seq with other approaches to correct orientation issues. In order to identify misorientations in the newest GRCm38/mm10 assembly, we repeated these analyses using the automated function of BAIT, identifying a total of 15 misoriented regions and 5 autosomal misorientations, with the remaining 10 located to the X chromosome (see Additional file 6: Table S1). Because the X chromosome only exists as one copy (monosomy) in the male embryonic stem cells (ESCs) of our dataset, misorientations appear indistinguishable from SCEs, and were identified by the intersection of events occurring over the same region across all libraries (see Additional file 2: Supplemental Data File 1). In this way, using just a single lane of sequencing, we were able to orient the majority of contigs (those larger than 10 kb with minimal segmental duplications) with respect to flanking contigs. Thus, using Strand-seq and BAIT with relatively low-coverage sequencing, the relative orientation of all reference contigs can be determined, effectively bridging all gaps in an assembly.
To validate the ability of BAIT to map scaffolds that have yet to be localized to regions on reference assemblies, we used it to predict the localization of all orphan scaffolds in an earlier assembly of the mouse reference (MGSCv37/mm9), and compared those predictions with the actual known locations in the current assembly (GRCm38/mm10). MGSCv37/mm9 has 60 useable orphan scaffolds that can be lifted to a single specific coordinate on GRCm38/mm10 [
28
]. Of these, 57 were located by BAIT to an interval coincident with the correct location on GRCm38/mm10 (Figure
6
). From the three fragments that could not be correctly placed, two had fewer than 10 libraries with sufficient read counts to analyze, and the remaining fragment mapped with a low concordance (57.1%). These data suggest reasonable thresholds for BAIT to map orphan scaffolds: more than 10 libraries and greater than 60% concordance. More importantly, they confirm that using data from the same single lane of sequencing as used for contig orientation, BAIT and Strand-seq can correctly map a large proportion of orphan scaffolds in a late assembly version.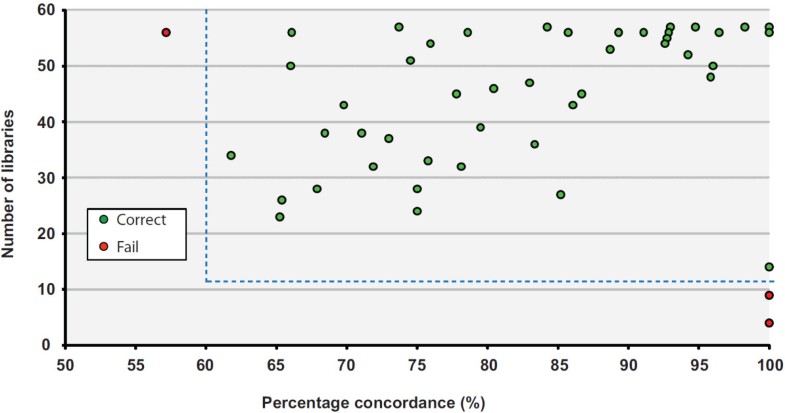 There remain 44 orphan scaffolds in GRCm38/mm10, accounting for 5,334,105 bp, and containing 41 known genes. Of these, 23 contained sufficient reads to analyze, and we were able to subsequently place all of them to their matching chromosomes to within narrow intervals (Table
1
; see Additional file
7
: Supplemental Data File 2). By intersecting these locations to gaps in the contiguous genome build, BAIT further refined the scaffold locations (Table
1
). Fragments were assumed to locate within either unbridged gaps or to bridged gaps in which gap size exceeded the fragment size, Analyzing 62 mouse libraries, 54.5% of these orphan scaffolds could be mapped to a particular chromosome, of which 54.2% could be mapped to a single contig gap (Table
1
). BAIT also correctly oriented these fragments with respect to the chromosome to which they were mapped. For established and well-studied genomes, finishing builds by additional sequencing yields diminishing returns, and novel, targeted and highly sequence-efficient methodologies such as Strand-seq and BAIT can play a crucial role in completing these genomes. BAIT includes a utility to create a new FASTA reference genome by reverse complementing misoriented regions and incorporating orphan scaffolds that map to a defined gap.
Table 1
Locations of unplaced scaffolds on GRCm38/mm10 a
Accession numberb

Scaffold size, kb

Localizes to: ,Mbb

Strand directionb

% Concc

Librariesc, n

Gapsd

Gap locatione

(u), n

(b), n

Primary

Alternate

GL456382.1

23.2

chrX:0–57.6

+

100

18

14

26

GL456379.1

72.4

chrX:0–57.6

-

97.8

46

14

26

GL456233.1

336.9

chrX:0–57.6

-

96.1

51

14

26

JH584299.1

953.0

chr5:90.4-96.6

+

94.2

52

0

1

chr5:94,088,336-94,138,335

GL456239.1

40.1

chr1:0–12.6

-

91.1

56

3

1

chr1:0–3,000,000

GL456367.1

42.1

chrX:0–57.6

-

90.0

40

14

26

GL456381.1

25.9

chrX:0–57.6

-

90.0

50

14

26

GL456393.1

55.7

chr3:28.6-31.6

+

89.3

56

0

0

chr3:40,550,618-40,650,617

GL456359.1

23.0

chr4:136.4-156.2

-

88.7

53

1

19

chr4:156,408,117-156,508,116

chr4:130,393,226-130,516,309

GL456354.1

196.0

chr5:90.4-100.6

-

88.6

35

0

1

chr5:94,088,336-94,138,335

GL456385.1

35.2

chr13:0–6.8

-

87.3

55

3

0

chr13:1–3,000,000

GL456360.1

31.7

chr15:88.4-103.8

+

87.0

54

1

3

chr15:103,943,686-104,043,685

GL456366.1

47.1

chr15:62.4-103.8

+

85.5

55

1

3

chr15:103,943,686-104,043,685

GL456216.1

66.7

chr4:136.4-156.2

+

80.4

51

2

19

chr4:156,408,117-156,508,116

chr4:130,393,226-130,516,309

JH584296.1

199.4

chr5:83.6-113.2

-

80.0

10

1

1

chr5:113,521,975-113,535,974

JH584297.1

205.8

chr5:88.6-100.6

-

77.8

18

0

1

chr5:94,088,336-94,138,335

GL456368.1

20.2

chr4:129.2-156.2

-

76.2

42

2

19

chr4:130,393,226-130,516,309

chr4:156,408,117-156,508,116

GL456221.1

207.0

chr1:79.8-123.2

+

73.7

57

2

4

chr1:85,347,104-85,447,103

chr1:75,055,557-75,121,556

GL456392.1

23.6

chr2:0–8.2

-

73.5

34

4

0

chr2:0–3,050,000

JH584292.1

14.9

chr4:107.8-108.6

+

73.5

49

0

1

chr4:99,842,111-99,876,234

GL456372.1

28.7

chr1:127.2-146.2

-

69.2

52

1

1

chr1:156,118,744-156,168,743

GL456389.1

28.8

chrX:0–57.6

-

63.6

33

14

26

GL456370.1

26.8

chr4:67.6-68.8

-

62.0

50

0

3

chr4:61,344,177-61,394,176
Conclusions
BAIT provides the functionality to realize several powerful and exciting applications of Strand-seq: strand inheritance, SCE analysis, genomic rearrangements, and finishing genomes. With a robust strand-inheritance analysis tool and accurate SCE calling, BAIT is able to interrogate Strand-seq data to follow template-strand segregation patterns, and is currently the most informative technique for testing such patterns [29–32]. In being able to identify SCE events to a kilobase resolution in one cell division (compared with a megabase resolution and two cell divisions for standard cytogenetic analysis [33, 34]), Strand-seq offers a unique tool to examine regions of recurrent damage, and enumerates events in cells that have differing genetic backgrounds or have been subjected to different damaging agents. Crucially, these events can be independently assayed and mapped in individual chromosomes at a very high resolution without relying on cytogenetic expertise. In addition, we present here a novel use of template-strand analysis to localize fragments and orient contigs, which has yielded a more refined mouse reference assembly with 20.8 Mb of contigs corrected (see Additional file 6: Table S1) and 2.7 Mb of orphan scaffolds localized to specific regions (Table 1). The ability to refine assemblies can be expanded to systematically stratify the thousands of scaffolds that make up early-version reference genome endeavors without the need for overlapping contigs to determine orientation or relative order. Taken together, BAIT will be indispensable for future Strand-seq studies, and we foresee its widespread adoption in a number of applications, most notably for refining and finishing assemblies at various levels of completeness.
Availability and requirements
 Project name: BAIT.

 Project homepage: See reference [15].

 Operating system: Linux.

 Programming language: BASH and R.

 Other requirements: SAMtools version 1.17 or higher, BEDtools version 2.17.0 or higher, R version 3.0 or higher, DNAcopy R package, gplots R package.

 License: Two-clause BSD.

 Restrictions for non-academics: license needed.
Abbreviations
BAIT:

Bioinformatic Analysis of Inherited Templates
BAM:

Binary alignment map
BED:

Browser Extensible Data
BrdU:

5-bromo-2′-deoxyuridine
BSD:

Berkeley Software Distribution
CNV:

Copy number variation
CSV:

Comma-separated values
ESC:

Embryonic stem cell
GRC:

Genome Reference Consortium
LG:

Linkage group
NCBI:

National Center for Biotechnology Information
SCE:

Sister chromatid exchange
UCSC:

University of California Santa Cruz.
Declarations
Acknowledgements
We are grateful for advice and discussion from Ulrike Naumann, Ashley D Sanders, Elizabeth A Chavez, Duncan F Locke and Steven SS Poon. We thank Marianna Bevova for critical review of the manuscript. The Lansdorp laboratory is supported by grants from the Canadian Institutes of Health Research (RMF-92093 and 105265), the US National Institutes of Health (R01GM094146), and the Terry Fox Foundation (018006). PML is a recipient of an Advanced Grant from the European Research Council.
Authors' Affiliations
(1)
Terry Fox Laboratory, BC Cancer Agency, Vancouver, Canada
(2)
Division of Hematology, Department of Medicine, University of British Columbia, Vancouver, Canada
(3)
European Research Institute for the Biology of Ageing, University of Groningen, University Medical Centre Groningen, Groningen, The Netherlands
Copyright
© Hills et al.; licensee BioMed Central Ltd. 2013
This article is published under license to BioMed Central Ltd. This is an Open Access article distributed under the terms of the Creative Commons Attribution License (http://creativecommons.org/licenses/by/2.0), which permits unrestricted use, distribution, and reproduction in any medium, provided the original work is properly cited.