Choice of transcripts and software has a large effect on variant annotation
Received: 7 October 2013
Accepted: 20 March 2014
Published: 31 March 2014
Abstract
Background
Variant annotation is a crucial step in the analysis of genome sequencing data. Functional annotation results can have a strong influence on the ultimate conclusions of disease studies. Incorrect or incomplete annotations can cause researchers both to overlook potentially disease-relevant DNA variants and to dilute interesting variants in a pool of false positives. Researchers are aware of these issues in general, but the extent of the dependency of final results on the choice of transcripts and software used for annotation has not been quantified in detail.
Methods
This paper quantifies the extent of differences in annotation of 80 million variants from a whole-genome sequencing study. We compare results using the RefSeq and Ensembl transcript sets as the basis for variant annotation with the software Annovar, and also compare the results from two annotation software packages, Annovar and VEP (Ensembl's Variant Effect Predictor), when using Ensembl transcripts.
Results
We found only 44% agreement in annotations for putative loss-of-function variants when using the RefSeq and Ensembl transcript sets as the basis for annotation with Annovar. The rate of matching annotations for loss-of-function and nonsynonymous variants combined was 79% and for all exonic variants it was 83%. When comparing results from Annovar and VEP using Ensembl transcripts, matching annotations were seen for only 65% of loss-of-function variants and 87% of all exonic variants, with splicing variants revealed as the category with the greatest discrepancy. Using these comparisons, we characterised the types of apparent errors made by Annovar and VEP and discuss their impact on the analysis of DNA variants in genome sequencing studies.
Conclusions
Variant annotation is not yet a solved problem. Choice of transcript set can have a large effect on the ultimate variant annotations obtained in a whole-genome sequencing study. Choice of annotation software can also have a substantial effect. The annotation step in the analysis of a genome sequencing study must therefore be considered carefully, and a conscious choice made as to which transcript set and software are used for annotation.
Keywords
Splice VariantVariant AnnotationAnnotation ToolResearch Ethic CommitteeExonic Variant
Background
The advent of accessible and relatively inexpensive high-throughput sequencing technology has resulted in extensive sequencing of whole human genomes or exomes in a research setting and seems likely to lead to an explosion of genomic sequencing in a clinical context. While there remain challenges in unambiguously determining an individual's genome or exome sequence [1, 2], our focus here is on the downstream interpretation of that sequence. Let us take as a starting point a specified list of positions, assumed to be correct, at which the nucleotides in the individual's sequence differ from the human reference sequence. We will restrict our scope here to single nucleotide variants (SNVs) and short indels. A crucial step in linking sequence variants with changes in phenotype is variant annotation.
Variant annotation is the process of assigning functional information to DNA variants. There are many different types of information that could be associated with variants, from measures of sequence conservation [3] to predictions about the effect of a variant on protein structure and function [4–6]. Here we focus on the most fundamental level of variant annotation, which is categorising each variant based on its relationship to coding sequences in the genome and how it may change the coding sequence and affect the gene product.
The coding sequences of the genome are, broadly speaking, the genes: 'gene' has come to refer principally to a genomic region producing (through transcription) polyadenylated mRNAs that encode a protein [7]. We refer to these polyadenylated mRNAs as 'transcripts', although the term transcript can refer to any RNAs produced from the transcription of a genomic DNA sequence. Thus, there are non-coding transcripts that do not encode a protein, but nevertheless can have a function, for example in regulation. When considering transcripts in the context of genomic DNA sequences, a transcript is defined by its exons, introns and UTRs and their locations. Many separate transcripts may overlap any given position in the genome, and it is not uncommon for genes to have many different transcripts (or 'isoforms'), of which they tend to express many simultaneously [8].
Our understanding of the protein-coding sequences in the genome is summarised in the set of transcripts we believe to exist. Thus, variant annotation depends on the set of transcripts used as the basis for annotation. The widely used annotation databases and browsers – ENSEMBL[9], REFSEQ[10] and UCSC[11] – contain sets of transcripts that can be used for variant annotation, as well as a wealth of information of many other kinds as well, such as ENCODE[12] data about the function of non-coding regions of the genome. A transcript set may therefore also contain information about regions of the genome that regulate expression of transcripts.
To annotate DNA variants we therefore require a set of transcripts that summarises our understanding of the genome. For each variant, we use a software tool to determine the likely effect of the variant based on the transcripts (or other genomic features) that overlap the variant's position. One or more possible annotations for the variant can then be reported.
Variant annotation can be straightforward, as for the variant NC_000011.9:g.57983194A>G. Only two transcripts in the
ENSEMBL
transcript set, a Consensus Coding Sequence (CCDS) [
13
] transcript and a merged
ENSEMBL
/Havana (GENCODE) transcript [
14
,
15
], overlap the variant and the annotation of the transcript is the same regardless of which transcript is used (Figure
1
A). This variant is unambiguously a stop-loss variant, as the final codon is changed from TGA (stop codon) to TGG (tryptophan) [
9
,
16
], and both of the software tools that we use for the present study correctly annotate this variant as stop-loss.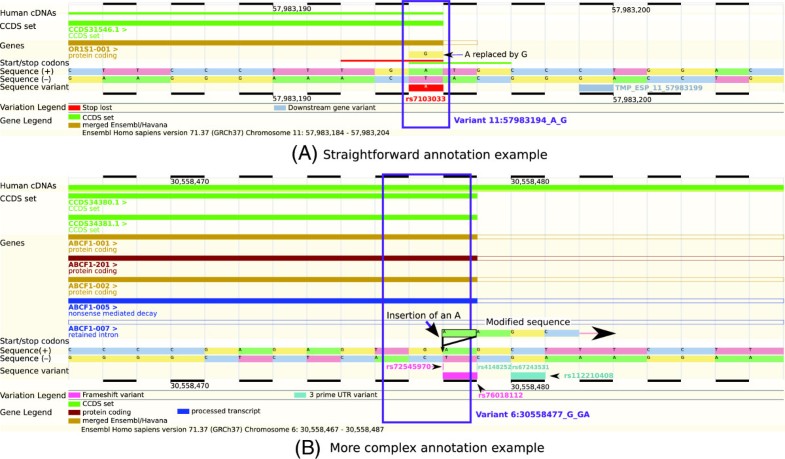 Frequently, however, variant annotation is more complex. Typical pipelines are not well suited for handling a variant that could have one consequence for one transcript and a different consequence for a different transcript. Even where a gene is relatively well defined and does not overlap other genes, we may have many transcripts (isoforms of the gene) to choose from, often supported by varying levels of evidence for their existence and structure. It is common for a gene to have multiple transcripts overlapping a given position in the genome, so given a set of transcripts a software tool has to choose which one to use. If it provides an annotation for the variant for each transcript, then the question becomes what annotation to report. If the software reports all possible annotations from all possible transcripts then the user must decide how to prioritise different, competing annotations, or how to integrate them into downstream analysis. This issue is further exacerbated in the uncommon case of a single variant affecting multiple genes (each of which likely has multiple transcripts). Current annotation tools vary in approaches to reporting consequences of a variant in multiple genes at once. Choice of the underlying set of transcripts used for annotation can give the user more control over transcript use. Transcript sets from different sources can have different characteristics. For example, both ENSEMBL and REFSEQ contain transcripts established from experimental evidence utilising automated annotation pipelines and manual curation, but their precise requirements for inclusion of transcripts differ. The result is that the ENSEMBL transcript set is larger than the REFSEQ set (see Additional file 1), but the REFSEQ transcript set is not simply a subset of the ENSEMBL transcript set.
Related to this issue is the fact that any given variant can have several plausible annotations, even when considering just a single transcript as the basis for annotation. Choosing the 'best' annotation is frequently not clear-cut, as in the case of the variant NC_000006.11:g.30558477_30558478insA, a single-base insertion at the end of an exon (Figure 1B). This variant could be annotated as a frameshift insertion in a coding sequence (which it is), or as a stop-loss variant (as it falls in a stop codon). In fact, the correct annotation is that this is a synonymous variant. In many cases we would be misled into thinking that the variant is a frameshift or stop-loss variant, and therefore be likely to assume it has a functional effect and include it in any list of variants of interest for further investigation. Indeed, one of the software tools used for this study reports a frameshift insertion annotation and the other a stop-loss annotation for this variant, when using ENSEMBL transcripts. In this example there seems to be a single best annotation, but many cases are more ambiguous, with several equally valid possible annotations. The software tool must make some sort of choice in such cases as to which annotation to report for the variant (and transcript used). There are many other annotation tools available (for example, Mutalyzer 2 [19], VAT [20], VAAST 2.0 [21], GATK VariantAnnotator [22] and SnpEff [23]), which will have better or worse performance for certain variants, but here we want to make the more general point using two very widely used annotation tools, that there is a large degree of discrepancy between any two annotation tools, and researchers need to be aware of this when choosing a tool and conducting analysis.
A third major issue complicating variant annotation is the question of how to deal with genes and pseudogenes. We have widely varying levels of information available for different genes. Should we treat variants in well-characterised genes in the same way as those in pseudogenes or non-genic regions of the genome? There is not currently a clear solution to this issue, although distinctions are usually made between annotations given from coding and non-coding transcripts. Again, careful choice of transcript set used for annotation can help.
Although there are many complications for variant annotation, we identify two major components:
1.

Transcript set: a summary of information about genomic features, particularly the structure of transcripts (sequence and locations of exons, introns, UTRs and regulatory regions), used as the basis for determining the likely functional consequence of a variant.

2.

Software tool: a piece of software that when given a particular variant can query a transcript set and return the functional annotation (or possibly annotations) of that variant. An annotation tool uses a particular algorithm applied to a given set of transcripts for annotating variants.
We examine the effects of fixing one and then the other on a set of over 80 million SNVs and short indels from a large clinical sequencing project (see Methods). ANNOVAR[24] is a popular annotation software tool, so we compare the results from ANNOVAR when used with the REFSEQ and ENSEMBL transcript sets. We also compare the annotation results from ANNOVAR and another popular annotation tool, VEP[25], the Variant Effect Predictor tool from ENSEMBL, when using the ENSEMBL transcript set and characterise the sorts of differences in annotation between the two tools and the apparent errors that ANNOVAR and VEP tend to make in annotation. Beyond issues specific to these particular transcript sets and software tools, we consider good practice for whole-genome annotation and problems that are yet to be solved.
Results and discussion
Same annotation tool, different transcript sets
The comparison of annotation results from ANNOVAR using either the REFSEQ or ENSEMBL transcript sets shows that the choice of transcript set has a large effect on the ultimate variant annotations. Across all 80 million variants there is an overall match rate of 85%. However, the matching annotation rate is 44% for LoF variants, the set of variants of most interest for biological and medical studies. The match rate is also substantially lower than the overall match rate for variants in non-coding RNA and UTR regions, but there is better agreement for exonic and intronic variants. This observation accords with what we would expect: in areas of the genome where more is known about the protein-coding structure of the sequence, the annotations when using the two transcript sets agree more closely.
There are 590,893 variants given exonic annotations by
ANNOVAR
using
REFSEQ
or
ENSEMBL
(or both), of which 488,113 (83%) had precisely matching annotations when using the two different transcript sets (Table
1
). The breakdown of matching variants by annotation reveals annotation categories showing greater and lesser difference when using
REFSEQ
or
ENSEMBL
. The extent of annotation matching is also summarised by high-level category: LoF, LoF and missense (nonsynonymous), exonic and all annotated.
Table 1
Same software, different transcripts: REFSEQ vs ENSEMBL by ANNOVAR annotation category
| | REF+ENS | REF | ENS | Match | REF match | ENS match | Overall match |
| --- | --- | --- | --- | --- | --- | --- | --- |
| | | | | | rate (%) | rate (%) | rate (%) |
| stopgain_SNV | 15,835 | 14,183 | 14,960 | 13,308 | 93.83 | 88.96 | 84.04 |
| frameshift_insertion | 6,980 | 5,298 | 6,495 | 4,813 | 90.85 | 74.10 | 68.95 |
| frameshift_deletion | 7,491 | 4,547 | 7,380 | 4,436 | 97.56 | 60.11 | 59.22 |
| stoploss_SNV | 946 | 503 | 906 | 463 | 92.05 | 51.10 | 48.94 |
| splicing | 47,878 | 14,154 | 45,839 | 12,115 | 85.59 | 26.43 | 25.30 |
| frameshift_substitution | 1,960 | 195 | 1,947 | 182 | 93.33 | 9.35 | 9.29 |
| nonsynonymous_SNV | 321,669 | 291,898 | 315,592 | 285,821 | 97.92 | 90.57 | 88.86 |
| nonframeshift_insertion | 3,506 | 2,888 | 2,844 | 2,226 | 77.08 | 78.27 | 63.49 |
| nonframeshift_deletion | 5,136 | 3,321 | 4,963 | 3,148 | 94.79 | 63.43 | 61.29 |
| nonframeshift_substitution | 933 | 226 | 843 | 136 | 60.18 | 16.13 | 14.58 |
| synonymous_SNV | 178,559 | 167,561 | 172,463 | 161,465 | 96.36 | 93.62 | 90.43 |
| UTR3 | 724,802 | 574,255 | 622,441 | 471,894 | 82.17 | 75.81 | 65.11 |
| UTR5 | 177,832 | 94,545 | 162,684 | 79,397 | 83.98 | 48.80 | 44.65 |
| UTR5_UTR3 | 2,183 | 292 | 2,092 | 201 | 68.84 | 9.61 | 9.21 |
| ncRNA_intronic | 8,992,009 | 2,113,428 | 8,244,441 | 1,365,860 | 64.63 | 16.57 | 15.19 |
| ncRNA_exonic | 654,098 | 140,303 | 597,947 | 84,152 | 59.98 | 14.07 | 12.87 |
| ncRNA_UTR3 | 53,379 | 10,712 | 47,133 | 4,466 | 41.69 | 9.48 | 8.37 |
| ncRNA_UTR5 | 10,683 | 1,989 | 9,444 | 750 | 37.71 | 7.94 | 7.02 |
| ncRNA_splicing | 13,931 | 1,051 | 13,562 | 682 | 64.89 | 5.03 | 4.90 |
| ncRNA_UTR5_ncRNA_UTR3 | 107 | 1 | 106 | 0 | 0.00 | 0.00 | 0.00 |
| intronic | 29,289,037 | 26,805,864 | 27,743,749 | 25,260,576 | 94.24 | 91.05 | 86.25 |
| intergenic | 50,305,202 | 49,797,113 | 41,307,708 | 40,799,619 | 81.93 | 98.77 | 81.10 |
| downstream | 991,811 | 474,684 | 840,376 | 323,249 | 68.10 | 38.46 | 32.59 |
| upstream | 910,818 | 440,728 | 762,664 | 292,574 | 66.38 | 38.36 | 32.12 |
| upstream_downstream | 53,608 | 15,621 | 47,293 | 9,306 | 59.57 | 19.68 | 17.36 |
| unknown | 11,205 | 6,215 | 5,703 | 713 | 11.47 | 12.50 | 6.36 |
| ALL LOF | 81,090 | 38,880 | 77,527 | 35,317 | 90.84 | 45.55 | 43.55 |
| ALL LOF and MISSENSE | 412,334 | 337,213 | 401,769 | 326,648 | 96.87 | 81.30 | 79.22 |
| ALL EXONIC | 590,893 | 504,774 | 574,232 | 488,113 | 96.70 | 85.00 | 82.61 |
| ALL | 80,981,575 | 80,981,575 | 80,981,575 | 69,181,552 | 85.43 | 85.43 | 85.43 |
Visual comparison of transcript sets using
REFSEQ
- and
ENSEMBL
-normalised counts of variants with each combination of annotation terms from the two transcript sets highlights patterns in the differences in annotations provided by
REFSEQ
and
ENSEMBL
(Figures
2
and
3
). By '
REFSEQ
-normalised', we mean that for each annotation term we consider all of the variants given that annotation using
REFSEQ
across all annotations using
ENSEMBL
and then normalise the count for each
ENSEMBL
annotation within the
REFSEQ
annotation by subtracting the mean number of counts per
ENSEMBL
annotation and dividing by the standard deviation. We do this independently for each
REFSEQ
annotation term. To obtain '
ENSEMBL
-normalised' values we do precisely the same thing, but exchange the roles of the
ENSEMBL
and
REFSEQ
annotations. Thus, for a given annotation term for a given transcript set, we can see the relative breakdown of annotations obtained when using the other transcript set. The
REFSEQ
-normalised values (Figure
2
) show good agreement for indels (frameshift and nonframeshift), stop-gain, stop-loss and nonsynonymous variants, that is, a large proportion of variants given a particular annotation when using
REFSEQ
also get that annotation when using
ENSEMBL
. The agreement is not as good for synonymous and splicing variants, but we observe that variants given an exonic annotation when using
REFSEQ
usually get the same annotation when using
ENSEMBL
. Looking at
ENSEMBL
-normalised values (Figure
3
), we see generally lower matching rates. Agreement is good for variants called stop-gain, nonframeshift, nonsynonymous and synonymous by
ENSEMBL
, but variants annotated as frameshift, stop-loss and splicing are frequently given a different annotation when using
REFSEQ
.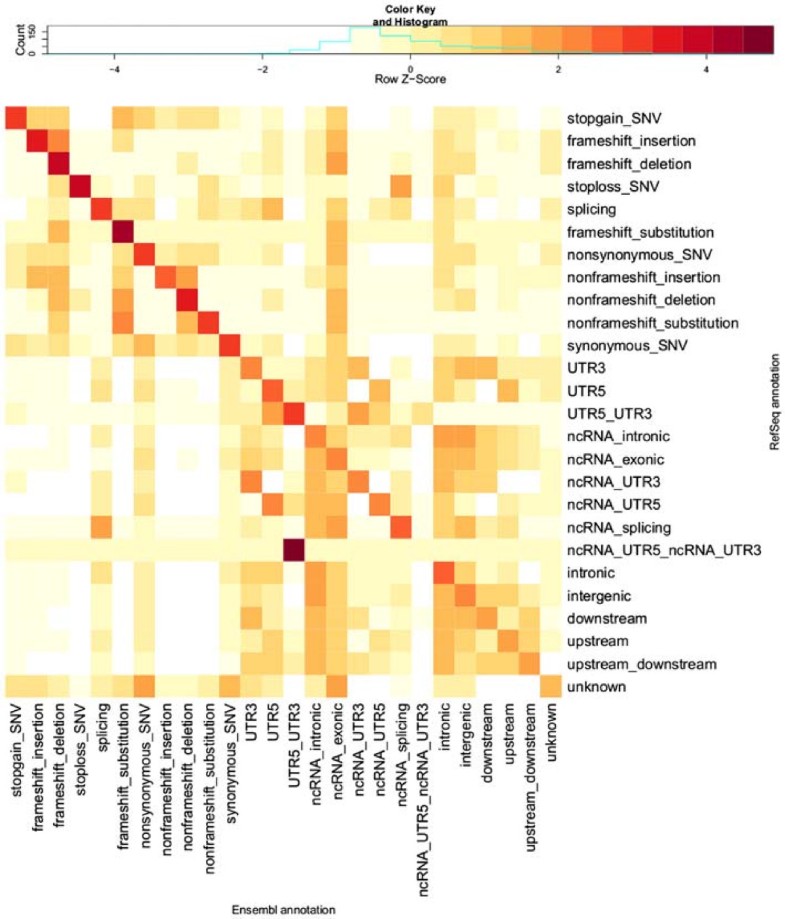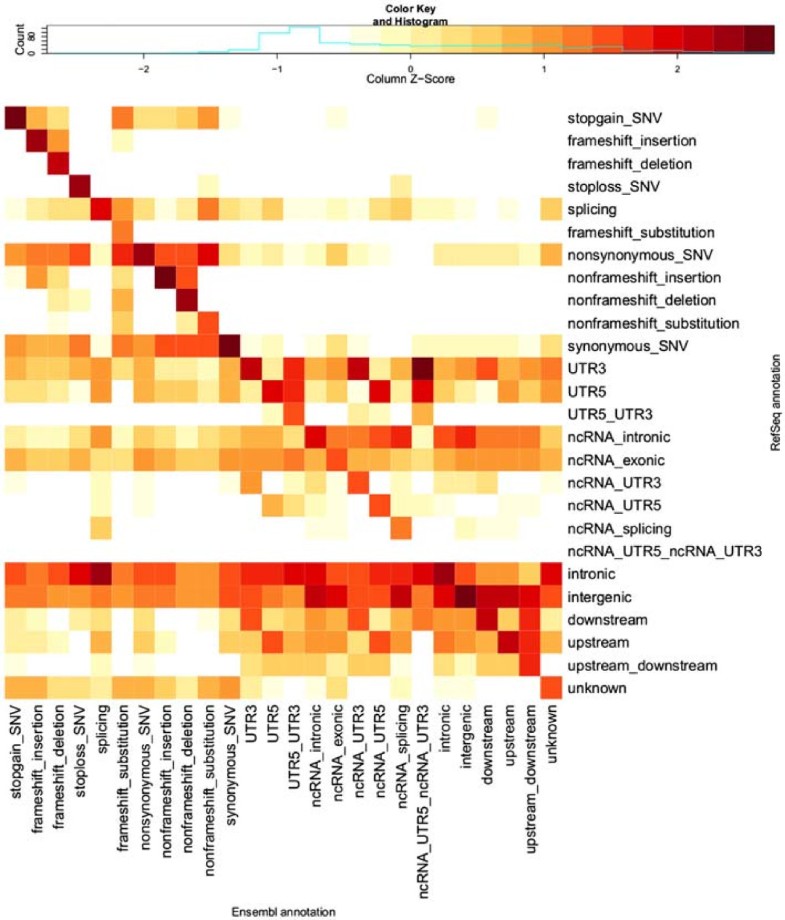 The asymmetry in the differences in annotations between REFSEQ and ENSEMBL is striking. We see many more exonic annotations, across all LoF, nonsynonymous and synonymous categories, when using ENSEMBL transcripts (Table 1 and Additional file 1: Table S1). There are several thousand variants that are called exonic by ENSEMBL and yet are called as intergenic, intronic or in a non-coding RNA by REFSEQ. Conversely, there are only a few hundred exonic variants from REFSEQ that are annotated as intergenic, intronic or in non-coding RNA according to ENSEMBL. Using ENSEMBL here would gain over 2,000 frameshift indels and over 1,000 stop-gain/stop-loss variants compared with using REFSEQ, which all LoF variants of substantial interest for follow-up. This asymmetry is not surprising when we consider the composition of the two transcript sets. The REFSEQ set contains 105,258 human transcripts in release 57, for which the protein-coding sequences cover approximately 1.07% of the genome (34 Mb). ANNOVAR actively used 41,501 of these transcripts for annotation of this set of variants. The ENSEMBL version 69 set contains 208,677 transcripts (192,635 on chromosomes 1 to 22, X and Y, excluding patches and alternate loci), covering approximately 28% of the genome (892 Mb), including introns. The protein-coding sequences in the ENSEMBL transcript set cover approximately 1.12% of the genome (35 Mb). Of these transcripts, 115,091 were actively used for the annotation of this set of variants, including the set of 92,776 transcripts containing protein-coding sequences.
This extent of discrepancy in annotations can be partially explained by the fact that a high proportion of REFSEQ transcripts have an equivalent or highly similar transcript in ENSEMBL, but in the other direction there are many transcripts in ENSEMBL that do not appear to have a similar transcript in REFSEQ. ANNOVAR reports the most severe consequence for a variant across all transcripts present at that position in the genome, so with more transcripts available when using ENSEMBL there is an elevated chance of finding a more severe consequence for one of the ENSEMBL transcripts. Examples of variants with striking differences in annotation help to characterise the sorts of differences seen (Additional file 1: Figures S1 to S8). We saw no significant differences in annotation agreement rates across different variant frequencies (Additional file 1: Table S5a).
Same transcript set, different annotation tools
We also investigate the extent to which using different software tools influences the final annotations. Here we compare annotations from
ANNOVAR
and
VEP
using the
ENSEMBL
transcript set, focusing on exonic annotation categories. We look at the rate of 'exactly matching' annotations and the rate of 'category matching' annotations. We refer to an exact match when the annotations from both software tools are exactly equivalent given the annotation terms used by the two tools, for example both tools annotate a variant as frameshift. By category match, we mean that annotations from both software tools are in the same high-level category of LoF, missense or synonymous and other coding (with high-level categories defined in Additional file
1
: Table S4). So if a variant received an annotation of frameshift from one tool and stop-gain from the other we would designate this as a category match as both are LoF annotations. Overall, we see only a small difference in matching rates when we consider category matches as opposed to exact matches, with category matching rates approximately 1% higher than exact matching rates (Table
2
).
Table 2
Same transcripts, different software: ANNOVAR and VEP annotations for exonic variants
| | ANV + VEP | ANV | VEP | Exact | Category | ANV match | VEP match | Overall | Overall |
| --- | --- | --- | --- | --- | --- | --- | --- | --- | --- |
| | | | | match | match | rate (%) | rate (%) | category match | exact match |
| | | | | | | | | rate (%) | rate (%) |
| LOF total | 104,915 | 77,527 | 96,761 | 68,284 | 69,373 | 88.08 | 70.57 | 66.12 | 65.09 |
| Frameshift | 19,021 | 15,822 | 16,685 | 13,486 | - | 85.24 | 80.83 | - | 70.90 |
| Stop gained | 16,758 | 14,960 | 16,146 | 14,348 | - | 95.91 | 88.86 | - | 85.62 |
| Stop lost | 1,113 | 906 | 1,077 | 870 | - | 96.03 | 80.78 | - | 78.17 |
| All splicing | 69,112 | 45,839 | 62,853 | 39,580 | - | 86.35 | 62.97 | - | 57.27 |
| MISSENSE total | 350,806 | 324,242 | 347,752 | 318,056 | 321,188 | 98.09 | 91.46 | 91.56 | 90.66 |
| Inframe indel | 9,455 | 8,650 | 6,600 | 5,795 | - | 66.99 | 87.80 | - | 61.29 |
| Missense | 343,284 | 315,592 | 339,953 | 312,261 | - | 98.94 | 91.85 | - | 90.96 |
| Initiator codon | 1,199 | 0 | 1,199 | 0 | - | - | 0.00 | - | 0.00 |
| SYNONYMOUS and | | | | | | | | | |
| OTHER CODING total | 182,120 | 172,463 | 175,483 | 165,643 | 165,826 | 96.05 | 94.39 | 91.05 | 90.95 |
| Synonymous | 181,873 | 172,463 | 175,053 | 165,643 | - | 96.05 | 94.62 | - | 91.08 |
| Stop retained | 203 | 0 | 203 | 0 | - | - | 0.00 | - | 0.00 |
| Other coding | 227 | 0 | 227 | 0 | - | - | 0.00 | - | 0.00 |
| ALL LOF | 104,915 | 77,527 | 96,761 | 68,284 | 69,373 | 88.08 | 70.57 | 66.12 | 65.09 |
| ALL LOF and MISSENSE | 455,721 | 401,769 | 444,513 | 386,340 | 390,561 | 96.16 | 86.91 | 85.70 | 84.78 |
| ALL EXONIC | 637,841 | 574,232 | 619,996 | 551,983 | 556,387 | 96.13 | 89.03 | 87.23 | 86.54 |
In total, 637,841 variants were given exonic annotations by either ANNOVAR or VEP (Table 2). Of these, 551,983 (86.5%) had exactly matching annotations from the two tools and 556,387 (87.2%) have category matching annotations. However, the match rate is substantially lower (65% for exact matches, 66% for category matches) for LoF annotations (Table 2). We observe that 89% of exonic variants from VEP get an exactly matching annotation from ANNOVAR and 96% of exonic variants according to ANNOVAR get an exactly matching annotation from VEP. These percentages of agreement should not be taken to show that ANNOVAR is 'more accurate' than VEP – the difference between the tools for exonic variants is driven by the larger number of splicing annotations from VEP, which is due to a difference in the definition of a splicing variant used by the two tools.
Considering all annotation categories for VEP and ANNOVAR annotations shows a substantial amount of disagreement in annotations from the two tools, even when using the same transcripts (Additional file 1: Figures S1 and S2). We observe relatively lower concordance for intergenic, intronic, miRNA and splicing variants. Even in well-defined categories such as nonsynonymous (missense) and frameshift, we see a large amount of disagreement in annotations between the two tools. We saw no significant differences in annotation agreement rates across different variant frequencies (Additional file 1: Table S5b).
To characterise the sorts of apparent errors or inconsistencies that commonly emerge in annotation by ANNOVAR and VEP, we investigated cases for which annotations from ANNOVAR and VEP disagree. Although it is counter-intuitive (since the annotations were based on the same set of transcripts), ANNOVAR and VEP do not always use the same transcript for the annotation of a variant. This is a result of the interaction of different annotation categories, different precedence rules and the fact (for this study) of reporting only one consequence for each variant. When characterising differences and apparent errors in annotation, we looked at variants for which we know ANNOVAR and VEP did indeed use the same transcript as the basis for annotation. We focused on LoF variants – frameshift, stop-gain, stop-loss and splicing – as they are currently of most interest in disease studies, and we saw better than 90% agreement between ANNOVAR and VEP annotations for nonsynonymous and synonymous variant categories (Table 2). Where possible (as in the case of splicing annotations), we discuss differences in annotation algorithms that are likely causes of differences in annotation, but detailed information on annotation algorithms is not available for ANNOVAR or VEP, even in online documentation [49, 50].
Discussion
The results of our comparison of annotations obtained using REFSEQ and ENSEMBL transcript sets emphasise the importance of the choice of transcript set used for annotation. Applying the same annotation software with different transcript sets saw a matching rate of 44% for putative LoF annotations. Though not done here, transcript sets from REFSEQ and ENSEMBL (or other sources) can be restricted to a subset of transcripts to exclude low confidence annotations. Where a specific tissue of interest is known, annotation could be restricted to use only the set of transcripts known to be expressed in that tissue. Defining a targeted set of transcripts will not always be easy, but for sequencing studies where the cost of false positives (e.g. through follow-up experiments) is high, and where information on the expression of specific transcripts exists, a set of high-confidence transcripts tailored to the study at hand may be preferable. Projects like GENCODE aim to provide a carefully curated transcript set supported by experimental evidence [15, 51–53], so through efforts such as these we may see annotation results converge as (ideally tissue-specific) transcript sets align across different repositories. For the time being, though, large differences remain.
Variant annotation remains challenging for current software tools: differing choices made in annotation packages on how to analyse, categorise and prioritise annotations for a variant lead to differing annotations from different tools, even when using the same set of transcripts as the basis for annotation. Differences in annotations from different software tools (e.g. 64% overall agreement for LoF annotations) are not as large as those seen when using different transcript sets (44% overall agreement for LoF annotations), and are often caused by differences in the annotation categories defined by different tools. Nevertheless, the extent of the differences seen show that, again, careful consideration must be given when choosing a software tool to make sure that it is well suited to the goals of the scientific investigation.
Standardising definitions of variants across the field, to reduce the scope for apparent differences in annotations returned by different software tools and to crystallise the (epistemic) meaning of terms used for annotations, could be of value. In our results here, for example, differing definitions of splicing variants cause tens of thousands of annotation differences. The Sequence Ontology Project [54] may help with this. It would be beneficial for phase information to be used in annotating variants in close proximity, given, for example, the extent of 'rescue' of LoF variants by nearby variants [55]. Currently, annotation tools typically do not associate any measure of uncertainty with reported variant annotations. Such information could be useful for downstream analysis, especially for consideration when allocating resources for follow-up experiments on variants of interest. When a high level of certainty about the validity of an annotation is required, variants could be annotated with two software tools and variants with differing annotations flagged to be treated with caution.
In the comparison of annotation tools here, we restricted each tool to report just the most severe consequence annotation for each variant, to avoid comparisons becoming too unwieldy. However, VEP and other annotation tools can (and often by default do) report annotations for all transcripts, providing extra information that is often valuable. Adding this extra information, as with utilising phase information or tissue-specific transcripts, increases the challenges for data processing and interpretation by adding complexity to the treatment of variant annotation, but with good reason: this added complexity reflects the underlying biology, so taking this information into account potentially adds significant value to analyses of DNA variants.
Our understanding of the human genome continues to improve rapidly even as we gain a better appreciation of the genome's complexity. As a result, at some point we may see the variant annotations from different approaches converge. For the time being, though, we confront an epistemic challenge (determining the meaning or function of variants observed) because our ontological foundations (knowledge and understanding of what all sequences in the genome actually do) remain unresolved or unclear. Thus, the choices of transcript set and software tool can have substantial effects on the annotation results obtained, and from there, large effects on all downstream aspects of the analysis of WGS data. Variant annotation is not yet a plug-and-play procedure and should not be treated as such.
In addition to different variant annotation approaches (of which there are more than we have compared here), there are different sequencing technologies, read mappers and variant callers. Each of these can potentially have substantial impact on the final variants and annotations obtained, but comparison of other sources of variation is beyond the scope of this paper. We refer interested readers to systematic comparisons of other aspects of the next-generation sequencing pipeline, for example comparisons of benchtop high-throughput sequencing technologies [56], short-read mappers [57], variant callers [58] and variant-calling pipelines as a whole [59, 60].
We have aimed to highlight the effect on final annotation results that can arise from two aspects of analyses of whole genome (or whole exome) sequence data, namely, choice of transcript and choice of annotation software. While we are not advocating any particular software or transcript set, we suggest researchers be aware of the impact of these choices, and hope our comparisons may inform such decisions.
Conclusions
We have quantified the extent of disparity in variant annotation when different transcript sets and different software tools are used. This comparison of annotations for 80 million human DNA variants revealed many substantial differences between annotations based on different transcript sets and different software tools. The extent of differences in annotations was particularly large in annotation categories of most interest, namely, putative LoF and nonsynonymous variants. We found many more variants with annotations in interesting categories when using ENSEMBL transcripts compared with REFSEQ transcripts only. If it is important not to miss potential LoF variants, then there are advantages to using ENSEMBL transcripts. If it is important to reduce false positives, then a carefully curated set of transcripts tailored to the study at hand may be preferred. Even when using the same transcript set, different annotation software packages can provide substantially different annotations.
There are variants with potentially severe effects that are identified with one method and not another. We require consistent, accurate and reliable annotation of variants to support the use of WGS in making diagnostic and treatment decisions. The dependence of current annotation results on the set of transcripts and software used can be managed, with sufficient care, in the research context. However, more work is required to improve variant annotation for clinical use. The differences in annotation due to choice of transcript set and software package quantified here should be given due consideration when undertaking variant annotation in practice. Careful thought needs to be given to the choice of transcript sets and software packages for variant annotation in sequencing studies.
Abbreviations
bp:

base pair
CCDS:

Consensus Coding Sequence
LoF:

loss of function
Mb:

megabase
miRNA:

microRNA
SNV:

single nucleotide variant
UTR:

untranslated region
VEP:

Variant Effect Predictor
WGS:

whole-genome sequencing.
Declarations
Acknowledgements
The authors wish to thank the patients and their families for participating in this study. We are also grateful to Alistair Pagnamenta for helpful discussions and suggestions to improve the analysis and manuscript, and Gil McVean and Jenny Taylor for their comments on an earlier version of the manuscript. This work was supported by a Wellcome Trust Core Grant for the Wellcome Trust Centre for Human Genetics (090532/Z/09/Z). PD is supported by a Wellcome Trust Senior Investigator Award (095552/Z/11/Z). DJM is supported by a General Sir John Monash Scholarship from the General Sir John Monash Foundation, Australia. MAR is funded by a Clarendon Scholarship, NDM Studentship and Green Templeton College Award from the University of Oxford.
Authors' Affiliations
(1)
Department of Statistics, University of Oxford, Oxford, UK
(2)
Wellcome Trust Centre for Human Genetics, University of Oxford, Oxford, UK
(3)
Department of Oncology, University of Oxford, Oxford, UK
Copyright
© McCarthy et al.; licensee BioMed Central Ltd. 2014
This article is published under license to BioMed Central Ltd. This is an Open Access article distributed under the terms of the Creative Commons Attribution License (http://creativecommons.org/licenses/by/2.0), which permits unrestricted use, distribution, and reproduction in any medium, provided the original work is properly credited. The Creative Commons Public Domain Dedication waiver (http://creativecommons.org/publicdomain/zero/1.0/) applies to the data made available in this article, unless otherwise stated.