C2c: turning cancer into chronic disease
Despite fantastic progress in research over the past decade, cancer remains a major source of mortality worldwide. In the UK, for instance, cancer overtook circulatory diseases as the leading cause of death in 2011 [1]. Early detection would obviously be best to reduce this burden, but it requires exquisitely sensitive technology and population-wide screening programs. Short of finding a cure for cancer, turning cancer into a clinically manageable chronic disease like diabetes would be a major step forward. In this Editorial, we introduce a Genome Medicine series on cancer epigenomics [http://genomemedicine.com/series/cancerepigenomics], and discuss progress towards turning cancer into chronic disease with a focus on epigenomics.
For cancers for which appropriate treatment options are available, the proposed cancer to chronic disease (C2c) approach (Figure
1
) requires two key components: first, knowledge of the precise localization and quantification of the cancer burden anywhere in the body, which can be achieved by non-invasive whole-body imaging [
2
,
3
]; and second, knowledge of the precise molecular signature of the evolving cancer burden to reiteratively tailor treatments predicted to be most effective in combating the establishment of resistance and subsequent relapse. This can be achieved by (epi)genomic profiling of cancer-specific components isolated from minimally invasive blood samples, also known as liquid biopsies [
4
]. After all, 'Blut ist ein ganz besonderer Saft,' as already noted by Faust - the scholar who was striving to know everything - in Johann Wolfgang von Goethe's 1808 play
Faust Part I
[
5
].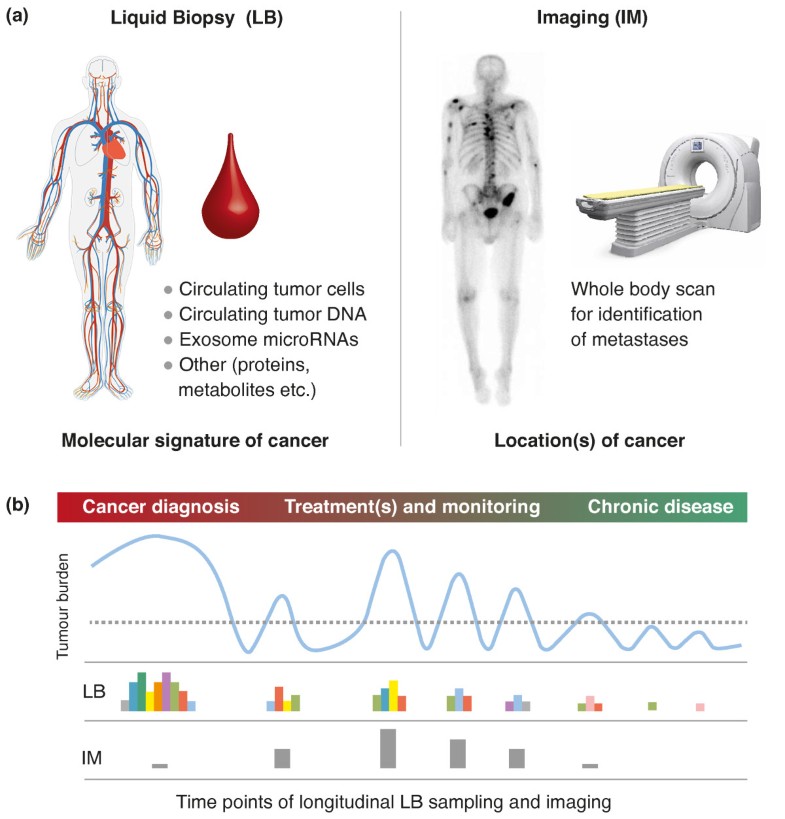 (1)
Cancer Biology Department, Medical Genomics, UCL Cancer Institute, Paul O'Gorman Building, University College London, London, WC1E 6BT, UK
(2)
Richard Dimbleby Department of Cancer Research, Randall Division and Division of Cancer Studies, Kings College London, Guy's Medical School Campus, London, SE1 1UL, UK
(3)
Department of Molecular Oncology, UCL Cancer Institute, Paul O'Gorman Building, University College London, London, WC1E 6BT, UK
(4)
Department of Research Oncology, Breakthrough Breast Cancer Research Unit, Guy's Hospital King's College London School of Medicine, London, SE1 9RT, UK
© Beck and Ng; licensee BioMed Central Ltd. 2014
This article is published under license to BioMed Central Ltd. This is an Open Access article distributed under the terms of the Creative Commons Attribution License (http://creativecommons.org/licenses/by/4.0), which permits unrestricted use, distribution, and reproduction in any medium, provided the original work is properly credited. The Creative Commons Public Domain Dedication waiver (http://creativecommons.org/publicdomain/zero/1.0/) applies to the data made available in this article, unless otherwise stated.