Parasite-host interaction in malaria: genetic clues and copy number variation
Imad Faik

1,

Elisandra Grangeiro de Carvalho

1 and

Jürgen FJ Kun

1

Email author
Published: 2 September 2009
Abstract
In humans, infections contribute highly to mortality and morbidity rates worldwide. Malaria tropica is one of the major infectious diseases globally and is caused by the protozoan parasite Plasmodium falciparum. Plasmodia have accompanied human beings since the emergence of humankind. Due to its pathogenicity, malaria is a powerful selective force on the human genome. Genetic epidemiology approaches such as family and twin studies, candidate gene studies, and disease-association studies have identified a number of genes that mediate relative protection against the severest forms of the disease. New molecular approaches, including genome-wide association studies, have recently been performed to expand our knowledge on the functional effect of human variation in malaria. For the future, a systematic determination of gene-dosage effects and expression profiles of protective genes might unveil the functional impact of structural alterations in these genes on either side of the host-parasite interaction.
Keywords
MalariaHuman Leukocyte AntigenCopy Number VariationSevere MalariaCerebral Malaria
Introduction
Malaria is a disease caused by Apicomplexa parasites of the genus Plasmodium, and is transmitted by the bite of an infected female Anopheles mosquito. Malaria has affected humans since their evolutionary emergence as a separate species. The divergence of man and chimpanzee is paralleled by the divergence of the two specific parasites Plasmodium reichenowi and Plasmodium falciparum [1].
The earliest references to malaria are descriptions of splenomegaly with fever from China in the Nei Ching Canon of Medicine in 1700 BC, and from Ancient Egypt in the Ebers Papyrus in 1570 BC. The parasite was identified by Alphonse Laveran in 1880; Giovanni B Grassi and Sir Roland Ross demonstrated that malaria parasites could be transmitted to infected vertebrate hosts (birds and humans) by mosquitoes.
Malaria is one of the main global causes of death from infectious diseases, which are one of the major public health issues, especially in developing countries. In the year 2001, about 14.5 million deaths were attributed to the effects of infectious diseases. About 40% of the world population is at risk for malaria, causing around 1 million deaths each year, predominantly in infants [2].
Malaria is a devastating disease that not only has an effect on the health system, but also slows the rate of long-term economic growth and development. Global climate change and a possible further migration of parasites will put even more people at risk in the future.
Malaria has a broad distribution in both subtropical and tropical regions, with many areas of the tropics being endemic for the disease. The countries of sub-Saharan Africa carry the highest burden of all malaria cases. In many temperate and richer areas, such as Europe and the USA, public health measures, economic development and environmental changes have successfully eliminated the disease, apart from a minor number of cases imported by travelers.
The life cycle of all
Plasmodia
species is very similar and follows basically the same process (Figure
1
). Development involves a host change from an arthropod vector to a vertebrate host (the female
Anopheles
mosquito and the human host for
Plasmodia
), with a mostly intracellular life style. Infection is initiated with the bite of an infected female
Anopheles
mosquito and the injection of sporozoites from the salivary glands into the host's bloodstream (Figure
1a
). Within minutes, the sporozoites invade hepatocytes (Figure
1b
) and undergo an asexual replication that results in the production of schizonts. The hepatocytes burst (Figure
1c
) after five days at the earliest, and release merozoites into the bloodstream (Figure
1d
). The released merozoites then invade red blood cells (RBCs) and initiate another asexual replication phase in the erythrocyte.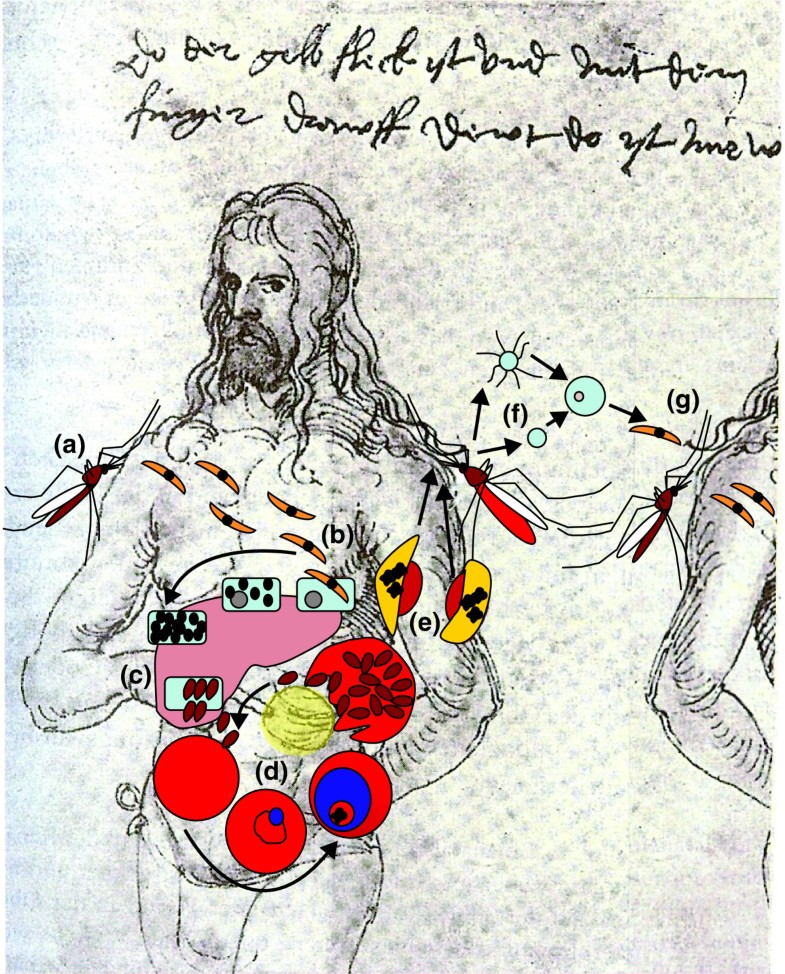 Invaded merozoites develop from the trophozoite to the schizont containing 16 to 32 new merozoites. These are released and re-invade new RBCs. The duration of the cycle is species dependent and can vary between 24 hours (P. knowlesi) and 72 hours (P. malariae). Alternatively, some parasites differentiate within the RBC into the sexual forms, the male and female gametocytes, which are taken up by a female mosquito (Figure 1e). Within the mosquito mid-gut, the male gametocyte undergoes a nuclear division, producing eight flagellated microgametes that will fertilize the female macrogamete (Figure 1f). At the end of the zygote development, hundreds of sporozoites are formed, which migrate to the mosquito salivary gland awaiting injection into the human host (Figure 1g).
The clinical spectrum of malaria is wide, spanning from asymptomatic infections, fever and mild anemia, to severe anemia and cerebral malaria and, subsequently, death [3]. Until recently, four distinct species were recognized as human pathogens: P. falciparum, P. vivax, P. malariae, and P. ovale, with P. falciparum the most lethal, causing the majority of deaths. Very few fatalities are caused by P. vivax, and no deaths have been reported by the latter two so far. A fifth parasite, P. knowlesi, known as a simian parasite, is now also considered to be pathogenic for humans [4].
The influence of host and parasite genetics in malaria
Conclusions
CNVs are a feature of the parasite-host interaction in malaria. Whereas the parasite perspective of malaria has been under intense investigation, especially regarding drug response and resistance, the host side has so far received less attention. The study of CNVs in relation to malaria could explain some of the discrepancies between genetic association studies, since some of the candidate genes identified do occur as multiple copies.
Knowledge of the role of CNV in malaria could have three major impacts: the most important feature is to monitor changes in CNV in the parasite population to recognize emerging drug resistance quickly and early. Drug resistance is one of the biggest problems in battling malaria, and even the newest therapies with artemisinin derivatives are under threat by resistant parasites [62, 63]. Investigating CNVs of drug-metabolizing P450 may lead to personalized adjustment of drug dosage to compensate for increased degradation of drugs if a surplus of copies is present.
On the other hand, if a reduced copy number or a SNP with a strong influence on malaria suppresses expression of a protective gene product, one could consider replacement therapy. As has been done for hemophilia patients with factor VIII replacement for decades, infectious diseases like malaria may in the future be treated using protective serum factors such as MBL2 [64] or components of cytokine pathways that are not sufficiently expressed [65].
A joint analysis of CNVs, SNPs and transcriptomics may shed light on the genetics of host-parasite interaction during malaria pathogenesis. Combined with the individual genome sequences [66], 'personalized' genetic analysis (personomics) will give a clear answer to the question of which SNP or CNV influences gene expression in a particular person and how this particular person deals with malaria.
Abbreviations
ADR:

adrenoceptor
CNV:

copy number variation
CQ:

chloroquine
CR1:

complement receptor 1
CYP2A6:

cytochrome pigment 450
dhfr:

dihydrofolate reductase
FcγR:

receptor for the constant fragment of immunoglobulin G
FCGR:

gene for the constant fragment of immunoglobulin G
FCGR2A/3B:

receptor for the constant fragment of immunoglobulin G, low affinity IIa/IIIb
gch1:

GTP-cyclohydrolase 1
GWAS:

genomewide association studies
GPC:

glycophorin C
HLA:

human leukocyte antigen
ICAM1:

intercellular adhesion molecule 1
IL:

interleukin
MBL2:

mannose/mannanbinding lectin2
Pfcrt:

Plasmodium falciparum chloroquine resistance transporter
Pfmdr:

Plasmodium falciparum multi-rug resistance
RBC:

red blood cell
SNP:

single nucleotide polymorphism.
Declarations
Acknowledgements
We are grateful to all researchers who provided the excellent data we used to write this review. We also would like to thank the staff of the Institute for Tropical Medicine for giving us the time to sit down and compile this report.
Authors' Affiliations
(1)
Institute for Tropical Medicine, University Tübingen, Tübingen, Germany
Copyright
© BioMed Central Ltd 2009