Pan-cancer patterns of DNA methylation
Published: 30 August 2014
Abstract
The comparison of DNA methylation patterns across cancer types (pan-cancer methylome analyses) has revealed distinct subgroups of tumors that share similar methylation patterns. Integration of these data with the wealth of information derived from cancer genome profiling studies performed by large international consortia has provided novel insights into the cellular aberrations that contribute to cancer development. There is evidence that genetic mutations in epigenetic regulators (such as DNMT3, IDH1/2 or H3.3) mediate or contribute to these patterns, although a unifying molecular mechanism underlying the global alterations of DNA methylation has largely been elusive. Knowledge gained from pan-cancer methylome analyses will aid the development of diagnostic and prognostic biomarkers, improve patient stratification and the discovery of novel druggable targets for therapy, and will generate hypotheses for innovative clinical trial designs based on methylation subgroups rather than on cancer subtypes. In this review, we discuss recent advances in the global profiling of tumor genomes for aberrant DNA methylation and the integration of these data with cancer genome profiling data, highlight potential mechanisms leading to different methylation subgroups, and show how this information can be used in basic research and for translational applications. A remaining challenge is to experimentally prove the functional link between observed pan-cancer methylation patterns, the associated genetic aberrations, and their relevance for the development of cancer.
Keywords
Acute Myeloid LeukemiaAzacitidineInternational Cancer Genome ConsortiumHypermethylation PhenotypeKidney Renal Clear Cell Carcinoma
Introduction
Ongoing molecular characterizations of large cohorts of cancer patients using tumor samples from all major organs have made available a wealth of genomic, epigenomic, transcriptomic and proteomic data, enabling integrated analysis across different tumor types - so called pan-cancer analyses. These studies aim to identify genomic and epigenomic similarities and differences among distinct cancer types, independent of their tissue of origin [1]. The large number of available tumor sample datasets increases statistical power, allowing researchers to detect molecular aberrations that otherwise would have been missed. From these integrated analyses, mutational landscapes are emerging that have revealed novel oncogenic signatures and cancer driver mutations [2]-[4].
Cancer is no longer seen as solely a genetic disease; epigenetic alterations are now being taken into account as additional layers in the regulation of gene expression. Epigenetic modifications, including DNA methylation, non-coding RNAs, histone modifications and nucleosome positioning, modify chromatin structure and hence gene transcription. These mechanisms act coordinately to form an epigenetic landscape regulated by various enzymes, either establishing (writers), interpreting (readers), modifying (editors) or removing (erasers) epigenetic marks (reviewed in [5]).
DNA methylation is by far the best characterized epigenetic modification and is involved in the regulation of gene expression, genome stability and developmental processes (reviewed in [6]). High-throughput techniques, including array and sequencing-based technologies, now provide genome-scale DNA methylation maps (also called methylomes), which have confirmed aberrant methylation as a hallmark of all cancer types and are used to identify novel methylation-based cancer biomarkers.
Multidisciplinary international consortia such as The Cancer Genome Atlas (TCGA) or the International Cancer Genome Consortium (ICGC) have produced methylomes for thousands of samples from at least 15 cancer types (Box 1). Integrative data analyses have revealed that methylomes in subgroups within one tumor type might differ more than between distinct cancer types. Even within the same tumor, regional differences in DNA methylation alterations have been identified, associated with intrinsic tumor heterogeneity [7].
The TCGA Pan-Cancer project was launched in 2012 with the goal of collecting, analyzing and interpreting data across distinct tumor types and of making these resources publically available [2]. One of the aims of this project is to define pan-cancer methylation patterns and to integrate them with genomic, transcriptomic and proteomic data. A remarkable initial finding was that tumor samples cluster largely according to their tissue of origin [1]. Analyses of single tumor entities revealed that colorectal, gastric and endometrial cancers have similar highly methylated subgroups that are associated with tumors with microsatellite instability and hypermethylation of the MLH1 promoter. Subtypes of breast, serous endometrial, high-grade serous ovarian, colorectal and gastric carcinomas are associated with high chromosomal instability as well as with recurrent TP53 mutations and share patterns of low methylation. Moreover, emerging evidence shows that cancer genomes exhibit frequent mutations in epigenetic regulators, suggesting a close interplay between epigenomic and genomic events (reviewed in [8]). Identifying commonalities between tumor entities might help to identify therapeutic regimens that are in place for one tumor type as being of use for another, less well characterized one, and will allow better patient stratification [1]. Deciphering the mechanisms underlying methylation patterns will facilitate the identification of novel therapeutic targets.
In this review, we aim to highlight recent findings from genome-wide DNA methylation profiling studies. We describe DNA methylation subgroups in 11 distinct tumor entities and analyses across cancer types, and discuss the potential mechanisms underlying the different methylation subgroups. We also explore the potential use of DNA methylation as a biomarker for diagnostic, prognostic and treatment response, and as a target for epigenetic therapy.
Definition and function of DNA methylation
DNA methylation usually occurs at cytosine-guanine (CpG) dinucleotides, where DNA methyltransferases (DNMTs) catalyze the transfer of a methyl group to position 5 of a cytosine, generating 5-methylcytosine (5mC). DNMT1 maintains the patterns of DNA methylation after cell division using hemi-methylated DNA as a template [9], while the de novo methyltransferases DNMT3A and DNMT3B establish cytosine methylation during early development [10]. For a long time, it was believed that methyl groups are only removed passively after cell replication. However, active mechanisms of DNA demethylation were recently identified. For instance, DNA repair pathways have an essential role in the active removal of 5mC, involving proteins such as GADD45 (reviewed in [11]). Another mechanism implicates the ten-eleven translocation (TET) family of proteins, which catalyze the hydroxylation of 5mC to 5-hydroxymethylcytosine (5hmC) [12]. Subsequent studies showed that 5hmC can be further converted to 5-formylcytosine and/or 5-carboxylcytosine, which can then be excised by thymine-DNA glycosylase [13].
The location and distribution of 5mCs across the genome have important implications for understanding the roles of DNA methylation [6]. In mammalian genomes CpGs are unevenly distributed: they are depleted on a global scale but enriched at short CpG-rich DNA stretches known as CpG islands (CGIs), which are preferentially located at transcription start sites of gene promoters (reviewed in [14]). In normal cells, cytosines within CGIs are generally protected from DNA methylation, in contrast to the vast majority of CpGs, which are usually methylated (that is, at non-coding regions and repetitive elements) [15]. Flanking regions of CGIs (±2 kilobases), referred to as CGI shores, show tissue-specific DNA methylation and are associated with gene silencing [16].
The patterns of DNA methylation observed in normal genomes change during tumorigenesis. The first epigenetic alteration reported in cancer cells was a widespread loss of 5mC [
17
], which has been recently confirmed in single-base-resolution methylomes of colorectal cancer, chronic lymphocytic leukemia (CLL) and medulloblastoma [
18
]-[
20
]. Loss of DNA methylation occurs mainly at repetitive sequences, centromeric DNA and gene bodies, leading to genomic instability, reactivation of transposable elements or loss of imprinting, which ultimately contribute to tumor initiation or progression [
21
]. Hypomethylation can also lead to transcriptional activation of normally silenced genes such as oncogenes (reviewed in [
22
]). Additionally, whole-genome bisulfite sequencing (WGBS) analyses have shown that global hypomethylation usually coincides with large partially methylated domains (PMDs) that are associated with late replication lamina-associated domains and might lead to long-range epigenetic silencing through repressive chromatin domain formation [
23
],[
24
]. Recent studies have also revealed that hypomethylation occurs at more localized regions, termed DNA methylation valleys (DMVs), which are enriched for developmental genes and may regulate tissue-specific expression [
20
],[
25
]. Global or localized DNA hypomethylation in cancer cells is often accompanied by focal hypermethylation of CGIs (Figure
1
), which contributes to carcinogenesis by transcriptional silencing of genes including tumor suppressor genes (TSGs) [
26
].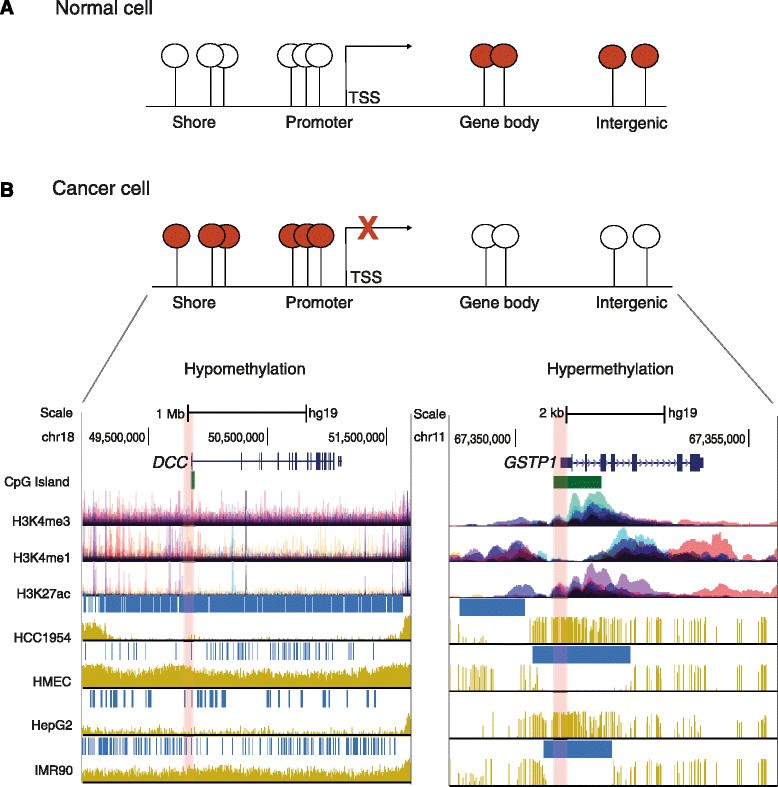 DNA methylation subgroups according to tumor types
It has long been thought that each tumor type has a characteristic DNA methylation pattern. For example, a specific pattern of high methylation at CGIs, defined as the CpG island methylator phenotype (CIMP), was first discovered in colorectal cancer [
27
], even before the omics era. Now, genome-wide sequencing projects have confirmed the existence of this and additional DNA methylation subgroups in multiple cancer types. The question remains as to what extent these DNA methylation patterns are unique for a specific tumor type or comparable across different types of cancers. The comprehensive molecular catalogs generated by the TCGA might help to shed light on this (summarized in Table
2
).
Table 1
International Cancer Genome Consortium projects with methylomes generated by Infinium BeadChips
| Tumor type | Project and country identification | Number of methylomes |
| --- | --- | --- |
| Breast | BRCA-US | 971 |
| Ovary | OV-US | 572 |
| Kidney | KIRC-US | 491 |
| Head and neck | THCA-US | 488 |
| Uterus | UCEC-US | 481 |
| Lung | LUAD-US | 460 |
| Colorectal | COAD-US | 414 |
| Lung | LUSC-US | 410 |
| Head and neck | HNSC-US | 407 |
| Brain | GBM-US | 393 |
| Skin | SKCM-US | 338 |
| Stomach | STAD-US | 328 |
| Brain | LGG-US | 293 |
| Bladder | BLCA-US | 198 |
| Prostate | PRAD-US | 196 |
| Blood | LAML-US | 194 |
| Pancreas | PACA-AU | 167 |
| Blood | CLLE-ES | 159 |
| Colorectal | READ-US | 150 |
| Liver | LIHC-US | 149 |
| Kidney | KIRP-US | 142 |
| Cervix | CESC-US | 127 |
| Brain | PBCA-DE | 115 |
| Ovary | OV-AU | 93 |
| Pancreas | PAAD-US | 72 |
| Pancreas | PAEN-AU | 23 |
Table 2
Pan-cancer patterns of DNA methylation
Tumor type (number of methylation groups)

Methylation subgroup

Genomic aberrations

Methylation pattern*

Comments

References

AML

High

IDH1/2 or TET2 mutations

A

Associated with patients presenting with an intermediate-risk karyotype

Co-occurrence of IDH1/2 and NPM1 mutations is associated with good clinical outcome

Bladder urothelial

(3)

High

RB1 mutations

Smoking-pack years as predictor of CIMP phenotype

Frequent mutations in chromatin regulators such as MLL2, ARID1A, KDM6A, and EP300†

Mutations in chromatin regulators were more frequent than in any other TCGA tumor

[35]

Low

↑ TP53 mutations

B

Breast

(5)

B-CIMP

↓ mutation rate

Luminal ER/PR-positive tumors

Low metastatic risk and better clinical outcome

Enriched for genes targeted by the PRC2 (e.g. SUZ12 and EZH2)

B-CIMP-negative

↑ TP53 mutations

B

Basal-like tumors (ER/PR-negative)

High metastatic risk and poor clinical outcome

Cholangiocarcinoma

High

IDH1 and/or IDH2 mutations

A

Longer survival

[47]

Chondrosarcoma

High

IDH1 and/or IDH2 mutations

A

Colorectal

(4)

CIMP-H

MLH1 hypermethylation

C

MSI

Right/ascending colonic region

↑ mutation rate

↑ BRAF V600E mutation

Good prognosis

↑ BRAF V600E mutation

CIMP-L

KRAS mutations

CIN (non-MSI)

Poor prognosis

Two non-CIMP

↑ TP53 mutations

B

Anatomic origins distinct from CIMP groups

↑ SCNAs

Endometrial

(4)

High

MLH1 hypermethylation

C

MSI

[33]

ARID5B mutations

↑ mutation rate

Low

↑ TP53 mutations

B

Serous-like tumors

↑ SCNAs

Poor prognosis

Two non-methylated

↑ POLE mutations

Endometrioid tumors

↑ SCNAs

ARID1A and PTEN mutations were present in all groups without high TP53 mutations

Gastric

(4)

EBV-CIMP

↑ PIK3CA, ARID1A and BCOR mutations

EBV-positive tumors

Highest frequency of hypermethylation events among TCGA tumors

[30]

CDKN2A hypermethylation

Amplifications of JAK2, CD274 and PDCD1LG2

Gastric CIMP

MLH1 silencing

C

MSI

↑ mutation rate

Cluster 3-low

RHOA and CDH1 mutations

Enriched for the diffuse histological variant

Genomically stable

Also fusions involving RHO-family GTPase-activating proteins

Cluster 4-low

↑ TP53 mutation

B

CIN

Focal amplifications of receptor tyrosine kinases

Glioblastoma

(6)

G-CIMP

IDH1 mutations

A

Secondary tumors with proneural expression

ATRX mutations

MYC mutations and amplifications

Younger age at diagnosis

Better survival rates

G-CIMP negative proneural

No IDH1 mutations

Relative hypomethylation

PDGFRA amplifications

Proneural subtype cases without IDH1 mutations

Pediatric glioblastoma

(6)

Global loss of methylation at non-promoter regions

H3F3A mutations

H3F3A mutations are mutually exclusive with IDH1 mutations and are associated with TP53 mutations and alternative lengthening of telomeres (ALT)

Renal cell carcinoma

Global loss of methylation

SETD2 mutations

VHL hypermethylation in about 7 % of the tumors†

[36]

Loss of methylation at non-promoter regions

One of the tumor types with the lowest frequency of DNA methylation events

Lung ADCA

(3)

CIMP-high

CDKN2A hypermethylation

Associated either with ↑ ploidy, ↑ mutation and the PI subtype or with ↓ ploidy, ↓ mutation rate and the TRU subtype

[39]

MYC overexpression

Mutations in chromatin modifiers such as SETD2, ARID1A, SMARCA4†

Lung SQCC

(4)

High

CDKN2A inactivation

Classical expression subtype

[38]

NFE2L2, KEAP1, PTEN mutations

Chromosomal instability

↑ SCNAs

Low

Primitive expression subtype

Serous ovarian

(4)

High

Germline and somatic BRCA1 mutations

More differentiated tumors

[34]

Better survival

Low

↑ TP53 mutation

B

TP53 mutations occur in 90 % of the tumors and are not exclusive for the low methylation group

↑ SCNAs

BRAC1 hypermethylation

Poor clinical outcome
However, a caveat should be noted: the methylation data underlying these reports were derived from 27 k and 450 k Illumina platforms. Only CpG sites covered on both platforms were considered and filtered for sites overlapping with single-nucleotide polymorphisms, resulting in around 10,000 eligible CpGs. From these, the most variable CpG sites were used for cluster analyses. The interpretation of these datasets is to a certain extent biased, as 27 k arrays mainly cover sites located within CGIs, while information on additional regulatory regions (for example, shores, intra- and intergenic enhancers) is missing. Also, information on larger genomic domains such as PMDs and DMVs cannot be determined from these datasets.
Methylome analyses across different cancer types
The genome-wide methylation profiles generated by TCGA and others have shown that aberrant methylomes are a hallmark of cancer, and are useful for classifying tumor subgroups as well as for identifying novel clinical biomarkers. Currently, efforts are being made to integrate different methylomes and to determine common and tissue-specific DNA methylation patterns across multiple tumor entities (pan-cancer). These integrative analyses might also help to distinguish the driver methylation events (that contribute to the carcinogenic process) from the passenger methylation events (which do not contribute to the carcinogenic process).
In 2013, TCGA published the first integrative analysis of genomic data across 12 cancer types. In this study, SCNAs, somatic mutations and DNA methylation were integrated, although methylation changes were limited to a selection of 13 epigenetically silenced genes. From these genes,
MGMT
,
GSTP1
,
MLH1
and
CDKN2A
were found to be aberrantly methylated in a large number of samples in different types of tumors. Hypermethylation of
MLH1
was associated with the so-called 'M class', characterized by recurrent mutations, whereas
BRCA1
hypermethylation correlated with the 'C class' of tumors enriched for SCNAs [
3
]. These findings confirm the previous TCGA reports for single tumor entities. However, by using this selected panel of genes, the results of this investigation might not reflect the actual similarities and differences in DNA methylation patterns across distinct tumor types, as for example shown in Figure
2
.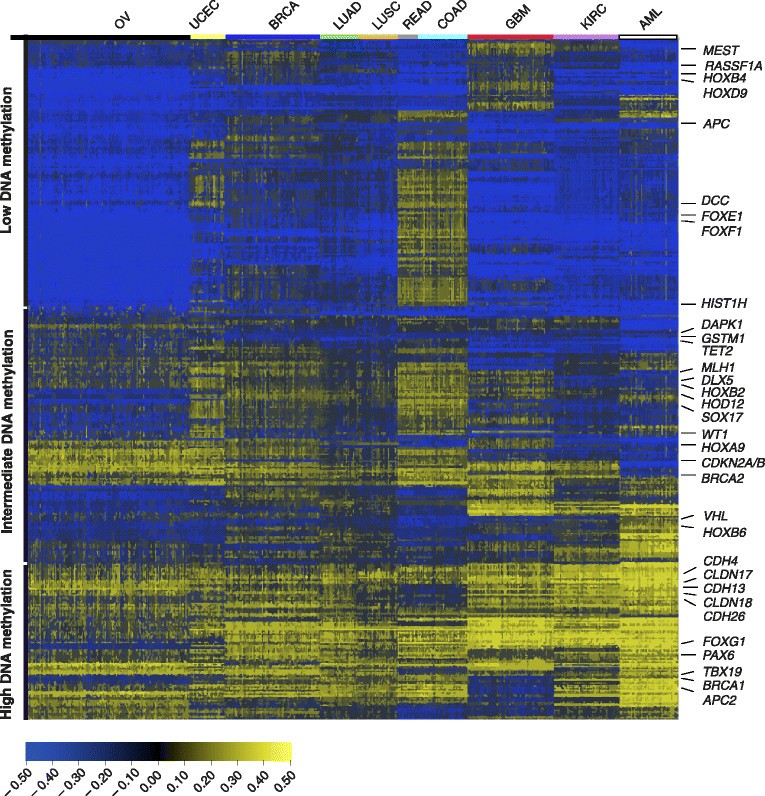 By combining the methylomes of ten distinct tumor entities, Kim et al. found that aberrant DNA methylation affects similar biological pathways across the cancer types analyzed [60]. Over 50 % of the hypermethylation events were involved in early development and morphogenesis, including neurogenesis and embryonic development, whereas the remaining hypermethylation changes were related to transcription factor activity. A significant overlap between those pathways and PCGT genes was observed. Among the pan-cancer hypermethylated genes targeted by PRC2 were several members of the HOX family as well as the TSG CDKN2A. This finding is in agreement with previous studies reporting that methylation of PCGT genes is frequent in distinct cancer types (reviewed in [61]).
The integration of genome-wide DNA methylation data across four different gynecological tumors, namely breast, ovarian, endometrial and cervical carcinomas, revealed similar results [62]. This study additionally investigated the dynamics of DNA methylation through different stages of cervical carcinogenesis (that is, normal, invasive and metastatic stages). Hypermethylation at stem-cell PCGT genes was found to occur in cytologically normal cervical cells 3 years before the appearance of the first neoplastic alterations. Moreover, a loss of DNA methylation in CpGs termed 'methylated embryonic stem-cell loci' was predominantly observed in invasive tissues, suggesting that hypomethylation at these CpG sites might constitute a poor prognostic signature for these four gynecological tumor entities.
In contrast to these findings, a comparative analysis of methylomes from seven different tissue types revealed that hypermethylated genes tend to be already repressed in precancerous tissues and that aberrant methylation does not contribute to cancer progression under the classical model of epigenetic silencing [63]. It was suggested that pan-cancer patterns of hypermethylation occur owing to the variable gene expression profiles in the corresponding normal tissues. Hypermethylation of specific genes might then account for passenger methylation events rather than for driver events.
Apart from analyzing pan-cancer methylomes, integrative analyses of different tumors harboring mutations in common epigenetic regulators might provide clues about the molecular mechanisms affecting DNA methylation. Guilhamon et al. performed an exemplary meta-analysis of the DNA methylation profiles of tumors with IDH mutations and intrinsic high methylator phenotypes – namely AML, low-grade GBM, cholangiocarcinomas and chondrosarcomas [64]. The retinoic acid receptor pathway, which is usually dysregulated in the early steps of tumorigenesis, was enriched in the four tumor types. The early B-cell factor 1 (EBF1) was identified as a novel interaction partner of the dioxygenase TET2, suggesting that TET-mediated demethylation is regulated in a tissue-specific manner through EBF1 acting at the transcriptional or post-transcriptional level.
Clinical applications of DNA methylation in oncology
The identification of a wide number of genes that are affected by aberrant DNA methylation in cancer has highlighted the potential use of this epigenetic modification as a biomarker for cancer risk diagnosis, prognosis and prediction of therapy response. Moreover, the stable nature of DNA compared with RNA and the availability of high-throughput techniques for measurement of DNA methylation in large sample sets add advantages for its clinical application. The most prominent DNA methylation biomarkers are summarized in Table
3
.
Table 3
DNA methylation biomarkers and their potential clinical applications
| Biomarker name | Cancer type | Tissue detected |
| --- | --- | --- |
| Risk | | |
| BRCA1 DNAm signature (1,829 CpGs) | Breast | Whole blood DNA [65] |
| 140 variable CpGs | Cervical | Normal uterine cervix cells [58] |
| Diagnosis | | |
| GSTP1 | Prostate | Serum, urine, ejaculate [70] |
| APC, EDNRB, GSTP1 | Prostate | Urine [71] |
| CDKN2A, ARF, MGMT, GSTP1 | Prostate | Urine [72] |
| GSTP1, APC, PTGS2 | Prostate | Paraffin-embedded tissues [110] |
| SETP9 | Colorectal | Blood plasma [77] |
| APC, MGMT, RASSF2A, WIF1 | Colorectal | Blood plasma [78] |
| SHOX2 | NSCLC | Bronchial fluid aspirates/ blood plasma [76] |
| CDKN2A, MGMT | NSCLC | Sputum [74] |
| CCND2, RASSF1A, APC, HIN1 | Breast | Fine needle aspiration biopsy [111] |
| ZNF154, HOXA9, POU4F2, EOMES | Bladder | Urine [112] |
| Prognosis | | |
| 20-gene signature | ALL | Leukemic cells from bone marrow and peripheral blood [88] |
| 15-gene classifier | AML | |
| RASSF1A, APC | Breast | Serum [82] |
| ZAP70 | CLL | CD19 sorted mononuclear cells [80] |
| CDKN2A | CCR | Blood plasma [81] |
| DAPK1 | Head and neck | Tumor samples [84] |
| DAPK1 | NSCLC | Tumor samples [83] |
| CDKN2A, RASSF1A, CDH13, APC | NSCLC | Primary tumors and lymph nodes [85] |
| HIST1H4F, PCDHGB6, NPBWR1, ALX1, HOX9 | NSCLC | Tumor samples [89] |
| ALDH1A, OSR2, GATA4, GRIA4, IRX4 | OPSCC | Tumor samples [59] |
| GSTP1, APC, PTGS2 | Prostate | Tumor samples [110] |
| Response to therapy | | |
| BRCA1 | Breast | |
| BCL2 | Breast | Tumor samples [113] |
| PITX2 | Breast | Tumor samples [114] |
| TFAP2E | Colon | Tumor samples [115] |
| MGMT | Glioma | |
| APAF1 | Melanoma | Tumor samples/cell lines [116] |
| IGFBP3 | NSCLC | Tumor samples/cell lines [117] |
| BRCA1 | Ovary | Tumor samples [94] |
Conclusions and future perspectives
The integration of genome-wide DNA methylation profiles with genomic and other omic profiles is just emerging, and further efforts are needed to complete cross-tumor analyses, which will then help us to understand the molecular mechanisms responsible for the epigenetic defects that can result from aberrant DNA methylation. Several interesting findings have been revealed. Subgroups of cancers with high methylation (including CIMP), are associated with individual genomic aberrations underlying these patterns, and have been identified in various cancer entities. At present, however, there is no evidence for a unifying mechanism leading to these high methylation phenotypes.
Moreover, several tumor types, such as basal breast, high-grade serous ovarian and subtypes of serous endometrial, gastric and colorectal carcinomas, related to frequent TP53 mutations and high levels of SCNAs, share a pattern of low methylation in CGIs. Apparently, in these tumor subtypes, CGIs retain the low methylation patterns observed in normal tissues and are protected from methylation or are subjected to active demethylation. Again, the molecular mechanism underlying these observations is not known. We hypothesize that in this case structural genomic alterations are sufficient to drive carcinogenesis.
Although still in its infancy, pan-cancer methylome analyses have provided some interesting insights into the mechanisms of cancer development. First, it is becoming more apparent that multiple cancer types are affected by mutations in genes encoding epigenetic regulatory enzymes, histone variants and chromatin regulatory factors. Some of these have been experimentally shown to contribute to alterations in methylation patterns. Comparing methylomes across cancer types might now help to identify novel non-recurrent mutations converging on common biological pathways that might lead to the development of altered methylation phenotypes in specific subgroups of cancers. Second, hypermethylation of PCGTs is apparent in basically every tumor type and can even be observed in preneoplastic tissues. Third, the influence of environmental factors on DNA methylomes might have been underestimated until now. For example, infectious agents have been recently linked to specific methylation patterns.
However, pan-cancer methylome analyses still need to overcome some challenges. First, in the past, DNA methylation data were generated on two different platforms for some tumor types. Integration of these data restricts the output to overlapping CpG sites, mostly representing CGIs, and strongly reduces the genome-wide coverage. With the generation of larger datasets derived from the 450 k platform, these limitations will be overcome in the future. Second, comparing datasets derived from different platforms, and from samples provided by various centers, is intrinsically prone to systematic batch effects that need to be carefully monitored. Third, some tumor types are characterized by high tumor heterogeneity that is difficult to control and might lead to false positive results. Also, high tumor purity is an important prerequisite for correct data interpretation, but is often difficult to achieve. Enrichment of certain cell types by sorting or laser capture microdissection prior to analysis might be desirable. Fourth, for the development of clinical predictive, diagnostic or prognostic biomarkers and stratification of patient subgroups, the availability of well documented clinical data is essential. Last, integrative and comparative analyses of multi-platform datasets require powerful bioinformatic and biostatistical algorithms. Dedicated computational centers have to develop and rigorously test and validate these tools.
The epigenetic field is rapidly evolving, and in the near future more single-base resolution methylomes for a large number of tumors will be available. The generation of such methylomes is now affordable due to a considerable reduction in next-generation sequencing costs, improved computational expertise and emerging technologies that use lower DNA input, such as tagmentation-based WGBS. This method is used for WGBS library preparation, and is based on the enzymatic activity of a transposase to simultaneously fragment and tag DNA with adapters [100]. High-resolution methylation maps will provide additional information to the current methylomes, especially regarding cytosine methylation in a non-CpG context, long-range methylation interactions, and better assessment of allele-specific DNA methylation (reviewed in [101]). In addition, high sequencing coverage will accurately quantify DNA methylation in genomic regions such as enhancers, insulators, intergenic regions and repetitive elements, which are currently not included in pan-cancer methylome analyses.
In the longer term, novel technologies will also allow genomic and epigenomic analyses of single cells. These analyses will generate more precise datasets by avoiding the problems associated with tissue impurities or heterogeneity, and will allow a direct link between the methylome and the transcriptome [102]. However, the broad application of single-cell analyses still requires methodological development to reduce technical artefacts. To fully understand the interplay between the genome, epigenome and transcriptome, existing datasets need to be integrated with information about additional mechanisms of epigenomic regulation, including the emerging non-coding transcriptome and higher-order chromatin organization. Importantly, hypotheses generated from these combined efforts need to be experimentally tested to prove their functional relevance.
Finally, in terms of translation to the clinic, an essential aspect is to use the knowledge generated by methylome analyses as well as from the integration of methylation data with other omic data to identify novel clinical markers that should be able to stratify patients better and to define molecular signatures across different tumor types. On the basis of these molecular markers, novel epigenetic therapies could be developed, setting the stage for better clinical trial strategies across cancer types as well as for personalized medicine based on next-generation sequencing data. Already, pan-cancer analyses have revealed molecular similarities that will allow existing therapies to be applied to different cancer types.
Box 1 The International Cancer Genome Consortium: characterizing cancer genomes in different tumor types
Cancer genomes are complex. The integration of comprehensive catalogues of genomic, transcriptomic, epigenomic and proteomic data is a promising strategy for tackling this complexity. Institutions from across the globe have joined forces to achieve this ambitious goal. In 2006, The Cancer Genome Atlas (TCGA) Research Network was launched in the USA with the aim of generating molecular profiles of thousands of samples from more than 25 distinct tumor types [2]. A year later, the International Cancer Genome Consortium (ICGC) was created, with the goal of characterizing genomes from 50 different cancer types and subtypes worldwide [103]. By 2013, TCGA – now an ICGC member – produced comprehensive molecular profiles of more than 7,000 samples from 27 types of cancer [2]. All the data generated by these research networks are publicly available via the ICGC [104], TCGA [105] and the cancer genomics hub [106] data portals.
To make these data comparable, the ICGC aims to standardize the collection, processing and analysis of samples across multiple institutions. Infinium HumanMethylation27 and HumanMethylation450 BeadChips have been used by ICGC to produce genome-wide DNA methylation profiles. From at least 15 cancer methylomes generated so far, the breast cancer methylome comprises the largest number of samples, followed by serous ovarian and kidney renal clear cell carcinoma (Table 1). Moreover, whole-genome bisulfite sequencing (WGBS) will be applied for some tumors and has already been used to generate the methylomes of pediatric brain tumors and chronic lymphocytic leukemia (CLL).
Abbreviations
2-HG:

d-2-hydroxyglutarate
5hmC:

5-hydroxymethylcytosine
5mC:

5-methylcytosine
ALL:

acute lymphoblastic leukemia
AML:

acute myeloid leukemia
CGI:

CpG island
CIMP:

CpG island methylator phenotype
CLL:

chronic lymphocytic leukemia
DMV:

DNA methylation valley
DNMT:

DNA methyltransferase
EBF1:

early B-cell factor 1
EBV:

Epstein-Barr virus
ER:

estrogen receptor
GBM:

glioblastoma multiforme
HDCA:

histone deacetylase
HPV:

human papilloma virus
ICGC:

International Cancer Genome Consortium
MDS:

myelodysplastic syndrome
MSI:

microsatellite instability
NSCLC:

non-small-cell lung carcinoma
PCGT:

polycomb group target
PMD:

partially methylated domain
PR:

progesterone receptor
PRC:

polycomb repressor complex
SCNA:

somatic copy-number alteration
SQCC:

squamous cell carcinoma
TCGA:

The Cancer Genome Atlas
TET:

ten-eleven translocation
TSG:

tumor suppressor gene
WGBS:

whole-genome bisulfite sequencing
Declarations
Acknowledgements
This work was supported in part by the German Federal Ministry of Education and Science through the program for medical genome research (FKZ: 01KU1001A) to CP and CG and by the German Funding Agency (DFG SPP1463) to TW and CP. TW is supported by a PhD scholarship provided by the Helmholtz International Graduate School for Cancer Research at the German Cancer Research Center.
Authors' Affiliations
(1)
Division of Epigenomics and Cancer Risk Factors, German Cancer Research Center (DKFZ), Heid elberg, Germany
Copyright
© Witte et al.; licensee BioMed Central 2014
This article is published under license to BioMed Central Ltd. The licensee has exclusive rights to distribute this article, in any medium, for 12 months following its publication. After this time, the article is available under the terms of the Creative Commons Attribution License (http://creativecommons.org/licenses/by/4.0), which permits unrestricted use, distribution, and reproduction in any medium, provided the original work is properly credited. The Creative Commons Public Domain Dedication waiver (http://creativecommons.org/publicdomain/zero/1.0/) applies to the data made available in this article, unless otherwise stated.