pVAC-Seq: A genome-guided in silico approach to identifying tumor neoantigens
Received: 16 December 2015
Accepted: 8 January 2016
Published: 29 January 2016
Abstract
Cancer immunotherapy has gained significant momentum from recent clinical successes of checkpoint blockade inhibition. Massively parallel sequence analysis suggests a connection between mutational load and response to this class of therapy. Methods to identify which tumor-specific mutant peptides (neoantigens) can elicit anti-tumor T cell immunity are needed to improve predictions of checkpoint therapy response and to identify targets for vaccines and adoptive T cell therapies. Here, we present a flexible, streamlined computational workflow for identification of personalized Variant Antigens by Cancer Sequencing (pVAC-Seq) that integrates tumor mutation and expression data (DNA- and RNA-Seq). pVAC-Seq is available at https://github.com/griffithlab/pVAC-Seq.
Keywords
Epitope PredictionExome Sequence DataVariant Effect PredictorVariant Allele FractionCheckpoint Blockade Therapy
Background
Boon et al. were the first to demonstrate that cancer-specific peptide/MHC class 1 complexes could be recognized by CD8+ T cells present in cancer patients [1]. Substantial evidence now suggests that anti-tumor T cells recognize tumor somatic mutations, translated as single amino acid substitutions, as 'neoantigens'. These unique antigenic markers arise from numerous genetic changes, acquired somatically that are present exclusively in tumor (mutant) and not in normal (wild-type (WT)) cells [2]. Recent preclinical data indicate that these mutated proteins, upon processing and presentation in the context of MHC molecules expressed by antigen-presenting cells, can be recognized as 'non-self' by the immune system.
Our previous work in murine sarcoma models was one of the first demonstrations of how somatic cancer mutations could be identified from massively parallel sequencing, and when considered in the context of MHC binding affinity, can predict tumor specific neoantigens [3]. A subsequent study further demonstrated that these neoantigens were the same epitopes recognized by anti-PD1 and anti-CTLA4 checkpoint blockade therapies and that peptide vaccines comprising neoantigens could provide prophylactic effects [4]. Several other studies have also characterized these neoantigens as being derived from somatically mutated genes in mouse [5] as well as in humans [6–9], and have shown that they can be recognized by T cells.
While checkpoint blockade therapies have achieved tremendous success in the clinic, patient-specific vaccines still meet a clinical need in those patients that either do not respond, develop resistance, or cannot tolerate the associated side effects of checkpoint blockade drugs. The main paradigm behind the development of cancer vaccines rests on the assumption that if the immune system is stimulated to recognize neoantigens, it may be possible to elicit the selective destruction of tumor cells. Vaccines incorporate these neoantigen peptides with the aim of enhancing the immune system's anti-tumor activity by selectively increasing the frequency of specific CD8+ T cells, and hence expanding the immune system's ability to recognize and destroy cancerous cells. This process is dependent on the ability of these peptides to bind and be presented by HLA class I molecules, a critical step to inducing an immune response and activating CD8+ T cells [10].
As we move from vaccines targeting 'shared' tumor antigens to a more 'personalized' medicine approach, in silico strategies are needed to first identify, then determine which somatic alterations provide the optimal neoantigens for the vaccine design. Ideally, an optimal strategy would intake mutation calls from massively parallel sequencing data comparisons of tumor to normal DNA, identify the neoantigens in the context of the patient's HLA alleles, and parse out a list of optimal peptides for downstream testing. At present, elements of this ideal strategy exist, but are not available as open source code to permit others to adopt these methods into cancer care strategies. This manuscript describes one such approach, and provides a link to open source code for end users.
For example, to optimize identification and selection of vaccine neoantigens, several in silico epitope binding prediction methods have been developed [11–15]. These methods employ various computational approaches such as Artificial Neural Networks (ANN) and Support Vector Machines (SVM) and are trained on binding to different HLA class I alleles to effectively identify putative T cell epitopes.
There are also existing software tools (IEDB [16], EpiBot [17], EpiToolKit [18]) that compile the results generated from individual epitope prediction algorithms to improve the prediction accuracy with consensus methods or a unified final ranking. The current implementation of EpiToolKit (v2.0) also has the added functionality of incorporating sequencing variants in its Galaxy-like epitope prediction workflow (via its Polymorphic Epitope Prediction plugin). However, it does not incorporate sequence read coverage or gene expression information available from massively parallel sequencing datasets, nor can it compare the binding affinity of the peptide in the normal sample (WT) versus the tumor (mutant). Another multi-step workflow Epi-Seq [19] uses only raw RNA-Seq tumor sample reads for variant calling and predicting tumor-specific expressed epitopes.
We report herein an open source method called pVAC-Seq that we developed to address the critical need for a workflow that assimilates and leverages massively parallel DNA and RNA sequencing data to systematically identify and shortlist candidate neoantigen peptides from a tumor's mutational repertoire that could potentially be used in a personalized vaccine after immunological screening. This automated analysis offers the functionality to compare and differentiate the epitopes found in normal cells against the neoepitopes specifically present in tumor cells for use in personalized cancer vaccines, and the flexibility to work with any user-specified list of somatic variants. Preliminary versions of this pipeline were applied in mouse models of cancer to identify expressed mutations in cancer cells and characterize tumor-specific mutant peptides that drive T cell-mediated tumor rejection in mice with MCA-induced sarcomas [3, 4]. More recently, we used this pipeline in a proof-of-concept trial in melanoma patients, to identify the neoantigen peptides for use in dendritic cell-based personalized vaccines [20].
Methods
Our
in silico
automated pipeline for neoantigen prediction (pVAC-Seq) requires several types of data input from next-generation sequencing assays. First, the pVAC-Seq pipeline requires a list of non-synonymous mutations, identified by a somatic variant-calling pipeline. Second, this variant list must be annotated with amino acid changes and transcript sequences. Third, the pipeline requires the HLA haplotypes of the patient, which can be derived through clinical genotyping assays or
in silico
approaches. Having the above-mentioned required input data in-hand, pVAC-Seq implements three steps: performing epitope prediction, integrating sequencing-based information, and, lastly, filtering neoantigen candidates. The following paragraphs describe the analysis methodology from preparation of inputs to the selection of neoantigen vaccine candidates via pVAC-Seq (Fig.
1
).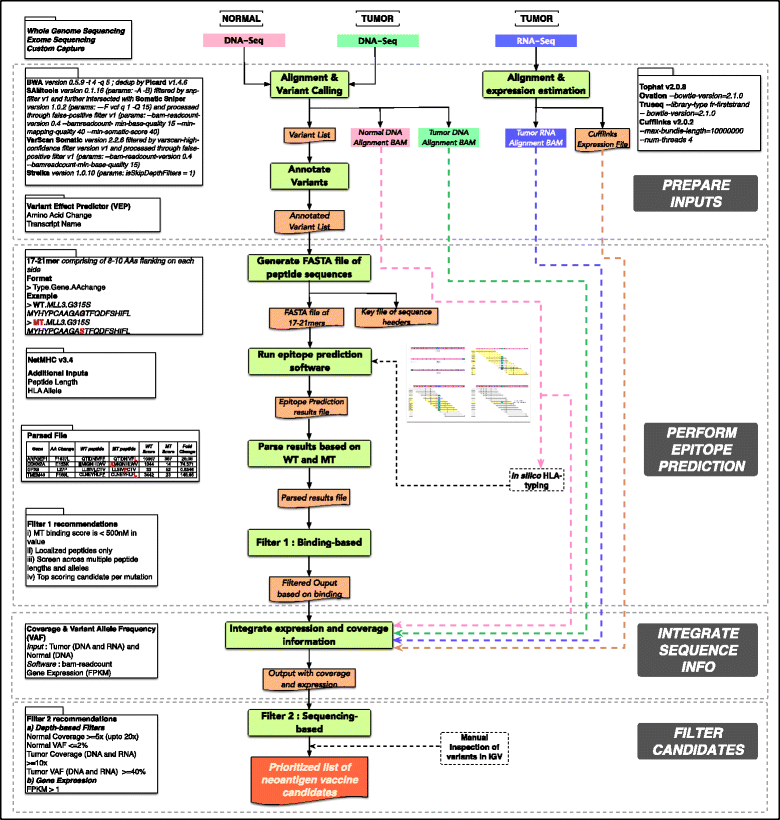 Results and Discussion
Since melanoma patients harbor hundreds of mutations, it can be challenging to filter down and target the best set of potentially immunogenic neoantigens for vaccine design. For each of the four metastatic melanoma patients, we used the annotated list of SNVs generated using the GMS strategy described above, and analyzed them via our pVAC-Seq pipeline. As mentioned earlier, for the demonstration of this workflow, amino acid changes resulting from only missense mutations were considered for analysis. Table
1
shows the breakdown of these SNVs described previously [
20
] and the data generated in subsequent steps through our workflow, leading to a high-confidence list of neoepitopes. As part of our local workflow, NetMHC v3.4 was used as the epitope prediction software to generate HLA class I restricted epitopes.
Table 1
Summary of predicted epitope candidates through pVAC-Seq pipeline
MEL21

MEL38

MEL218

MEL69

LN

Skin

Skin

Axilla

Breast

AbWall

LN

Skin / Limb

Skin / Scalp

(2011)

(2012)

(2013)

(2012)

(2013)

(2013)

(2005)

(2013)

(2013)

Total SNVs

702

838

1099

359

402

385

695

256

282

Missense SNVs

443

515

598

219

247

238

437

141

162

21-mer FASTA entries (WT & MT)

856

1,004

1,002

424

482

462

850

272

314

Raw NETMHC output (9-mers)

11,152*2 (HLA-A02:01, HLA-A01:01)

13,072*2 (HLA-A02:01, HLA-A01:01)

13,044*2 (HLA-A02:01, HLA-A01:01)

5,512*3 (HLA-A02:01, HLA-A31:01, HLA-B07:02)

6,270*3 (HLA-A02:01, HLA-A31:01, HLA-B07:02)

6,010 *3 (HLA-A02:01, HLA-A31:01, HLA-B07:02)

11,050*3 (HLA-A02:01, HLA-A03:01, HLA-B44:02

3,542*2 (HLA-A02:01, HLA-A11:01)

4,088*2 (HLA-A02:01, HLA-A11:01)

Parsed NetMHC output (compared WT with MT)

3,796*2 (HLA-A02:01, HLA-A01:01)

4,465*2 (HLA-A02:01, HLA-A01:01)

4,458*2 (HLA-A02:01, HLA-A01:01)

1,871*3 (HLA-A02:01, HLA-A31:01, HLA-B07:02)

2,131*3 (HLA-A02:01, HLA-A31:01, HLA-B07:02)

2,042*3 (HLA-A02:01, HLA-A31:01, HLA-B07:02)

3,770*3 (HLA-A02:01, HLA-A03:01, HLA-B44:02

1,217*2 (HLA-A02:01, HLA-A11:01)

1,395*2 (HLA-A02:01, HLA-A11:01)

Filter 1: Binding based

110

121

144

103

112

111

161

50

65

HLA-A02:01 candidates only

79

96

111

52

48

46

93

25

34

Filter 2: Manually reviewed HLA-A02:01 candidates (Exome plus RNA-Seq)

11

11

12

14

16

16

24

6

12

Filter 3: Experimentally tested

16

14

18

12

Filter 4: Vaccine tested

7

7

7

10

Immunogenicity

3

3

3

4
As is evident from Table 1, there were multitudes of epitopes reported by NetMHC v3.4 in its raw format. This number increased even further with the addition of each HLA class I allele. Using pVAC-Seq, and its recommended thresholds for filtering (binding and coverage-based), we were able to produce a more reasonable list of high affinity HLA class I binding neoantigen candidates for experimental validation.
These candidate neoantigens were experimentally tested in binding assays and those with confirmed binding to HLA class I restricting molecules were incorporated in the vaccine formulation [
20
]. Since all of these patients harbor the BRAF V600E mutation, we used its VAF in each sample as a comparative control of tumor purity and clonality. Integration of variant coverage information from Exome and RNA-Seq (VAF), as well as mutant expression information (FPKM), provided additional information needed to make an informed decision on the number and identity of peptides to include in each patient-specific vaccine (Fig.
3
, Additional file
2
: Figure S2, Additional file
3
: Figure S3, and Additional file
4
: Figure S4).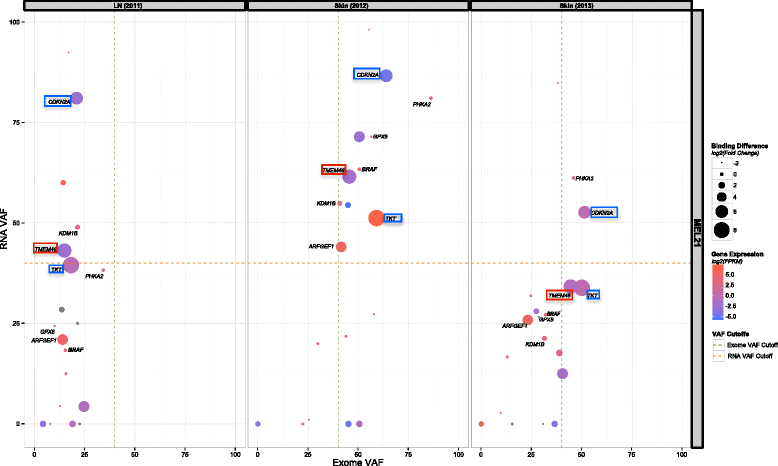 As shown, if existing epitope prediction software tools were solely used to generate neoantigen predictions in these patients, it would have been challenging to integrate the filters as well as the important digital sequencing metrics that ultimately determined the 'quality' of these candidates. By implementing the novel methods reported in this manuscript, we were able to rapidly streamline the screening and identification of a smaller number of potentially immunogenic neoepitopes within the landscape of all neoepitopes. This method can be further extended to include other genomic alterations such as frame-shift insertions and deletions, splicing aberrations, and gene fusions, which may in some cases cause larger changes in epitope binding affinities. We are currently testing approaches to include binding predictions from frame-shift insertions and deletions by incorporating VEP annotation, and once tested, will be adding this functionality to the github repository for pVAC-Seq. By expanding the focus from just somatic point mutations to the entire neoantigen landscape, it may also be possible to better assess whether neoantigen load itself can serve as a biomarker for prediction of checkpoint blockade response.
Conclusions
The current regimen for predicting and screening neoantigens from sequencing data is laborious and involves a large number of intermediate steps such as creating FASTA files, running the prediction algorithms (most of the time online), and filtering output for high binding affinity candidates. Our flexible, automated in silico workflow, pVAC-Seq, provides higher efficiency and faster turnaround by automating many of these steps. This approach should help to evaluate tumor-specific neoepitopes in a much-reduced time, thereby increasing its applicability for clinical use. As we learn from ongoing early mouse and human trials, the methods developed will help optimize the composition of personalized cancer vaccines with high precision and will expedite vaccine design to address growing clinical demand.
Declarations
Acknowledgements
We are grateful for creative and computational input from Zachary L. Skidmore, Susanna Siebert, Todd N. Wylie, Jason R. Walker, and Chris A. Miller. We thank Dr. Robert D. Schreiber for his expertise and guidance on foundational mouse models work. Dr. William E. Gillanders provided important scientific input to the pipeline development work. MG was supported by the National Human Genome Research Institute (K99 HG007940). OLG was supported by the National Cancer Institute (K22 CA188163). BC, GPL, and JH were supported by the National Cancer Institute (R21 CA179695). ERM was supported by the National Cancer Institute (R21 CA179695) and the National Human Genome Research Institute (NIH NHGRI U54 HG003079). AAP was supported by the National Human Genome Research Institute (NHGRI U54 HG003079).
Open AccessThis article is distributed under the terms of the Creative Commons Attribution 4.0 International License (http://creativecommons.org/licenses/by/4.0/), which permits unrestricted use, distribution, and reproduction in any medium, provided you give appropriate credit to the original author(s) and the source, provide a link to the Creative Commons license, and indicate if changes were made. The Creative Commons Public Domain Dedication waiver (http://creativecommons.org/publicdomain/zero/1.0/) applies to the data made available in this article, unless otherwise stated.
Authors' Affiliations
(1)
McDonnell Genome Institute, Washington University School of Medicine, St. Louis, USA
(2)
Department of Medicine, Division of Oncology, Washington University School of Medicine, St. Louis, USA
(3)
Department of Medicine, Division of Genomics and Bioinformatics, Washington University School of Medicine, St. Louis, USA
(4)
Department of Genetics, Washington University School of Medicine, St. Louis, USA
(5)
Siteman Cancer Center, Washington University School of Medicine, St. Louis, USA
(6)
Department of Molecular Microbiology, Washington University School of Medicine, St. Louis, USA