Erratum to: Illuminating uveitis: metagenomic deep sequencing identifies common and rare pathogens
Received: 7 November 2016
Accepted: 7 November 2016
Published: 22 November 2016
It has come to our attention that there is an error in Fig.
3a
for this article [
1
]. The correct version of Fig.
3a
can be found below. The red markers now reflect the sequence differences. The text is correct. There was also a row omitted in Additional file
1
: Table S1. The revised version can be found below.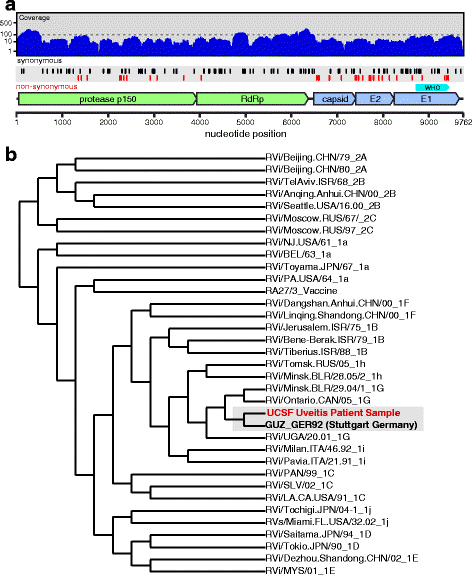 Open AccessThis article is distributed under the terms of the Creative Commons Attribution 4.0 International License (http://creativecommons.org/licenses/by/4.0/), which permits unrestricted use, distribution, and reproduction in any medium, provided you give appropriate credit to the original author(s) and the source, provide a link to the Creative Commons license, and indicate if changes were made. The Creative Commons Public Domain Dedication waiver (http://creativecommons.org/publicdomain/zero/1.0/) applies to the data made available in this article, unless otherwise stated.
(1)
Francis I. Proctor Foundation, University of California San Francisco, San Francisco, CA, USA
(2)
Department of Ophthalmology, University of California San Francisco, San Francisco, CA, USA
(3)
Department of Biochemistry and Biophysics, University of California San Francisco, San Francisco, CA, USA
(4)
Department of Neurology, University of California San Francisco, San Francisco, CA, USA
(5)
Howard Hughes Medical Institute, Chevy Chase, MD, USA
(6)
California Department of Public Health, Richmond, CA, USA
Doan T, Wilson MR, Crawford ED, Chow ED, Khan LM, Knopp KA, O'Donovan BD, Xia D, Hacker JK, Stewart JM, Gonzales JA, Archarya NR, DeRisi JL. Illuminating uveitis: metagenomic deep sequencing identifies common and rare pathogens. Genome Med. 2016;8:106.View ArticleGoogle Scholar