Alternate-locus aware variant calling in whole genome sequencing
Received: 8 August 2016
Accepted: 23 November 2016
Published: 13 December 2016
Abstract
Background
The last two human genome assemblies have extended the previous linear golden-path paradigm of the human genome to a graph-like model to better represent regions with a high degree of structural variability. The new model offers opportunities to improve the technical validity of variant calling in whole-genome sequencing (WGS).
Methods
We developed an algorithm that analyzes the patterns of variant calls in the 178 structurally variable regions of the GRCh38 genome assembly, and infers whether a given sample is most likely to contain sequences from the primary assembly, an alternate locus, or their heterozygous combination at each of these 178 regions. We investigate 121 in-house WGS datasets that have been aligned to the GRCh37 and GRCh38 assemblies.
Results
We show that stretches of sequences that are largely but not entirely identical between the primary assembly and an alternate locus can result in multiple variant calls against regions of the primary assembly. In WGS analysis, this results in characteristic and recognizable patterns of variant calls at positions that we term alignable scaffold-discrepant positions (ASDPs). In 121 in-house genomes, on average 51.8±3.8 of the 178 regions were found to correspond best to an alternate locus rather than the primary assembly sequence, and filtering these genomes with our algorithm led to the identification of 7863 variant calls per genome that colocalized with ASDPs. Additionally, we found that 437 of 791 genome-wide association study hits located within one of the regions corresponded to ASDPs.
Conclusions
Our algorithm uses the information contained in the 178 structurally variable regions of the GRCh38 genome assembly to avoid spurious variant calls in cases where samples contain an alternate locus rather than the corresponding segment of the primary assembly. These results suggest the great potential of fully incorporating the resources of graph-like genome assemblies into variant calling, but also underscore the importance of developing computational resources that will allow a full reconstruction of the genotype in personal genomes. Our algorithm is freely available at https://github.com/charite/asdpex.
Keywords
GRCh38
NGS
WGS
Genome sequencing
Background
The initial assembly of the human genome resulted in a consensus haploid representation of each chromosome that was the best attainable consensus sequence for the human genome, the golden path [1–3]. Variants could then be represented by an annotation to the corresponding position of the golden-path assembly. However, subsequent research showed that large-scale structural variation is more prevalent than previously thought, and that it is not possible to adequately represent genomic regions with substantial structural allelic diversity using a single consensus sequence for the human genome [4].
The Genome Reference Consortium (GRC) introduced a new graph-like assembly model with alternative sequence paths in regions with complex structural variation in the form of additional locus sequences. While the previous genome assembly, GRCh37 (also called hg19), included three regions with nine alternate locus sequences, the GRCh38 assembly, which was released in December 2013, has a total of 178 regions with 261 alternate loci. This offers many opportunities to the genomics and bioinformatics communities to adapt analysis procedures to a more sophisticated model of the human genome, but it also presents substantial technical challenges, since many of the currently used programs for alignment, variant calling, and analysis expect reads and features to have a single location within a haploid assembly model [4]. The (SAM) format for sequence alignments is able to represent reads that align both to chromosomes of the primary assembly (i.e., chr1-22, chrX, chrY, and chrMT) and to an alternate locus, whereby the alignment to the chromosome of the primary assembly is considered to be the representative alignment, and alignments of the same read to non-reference chromosomes, called supplementary alignments, are linked to the representative alignments. However, analogous extensions of the alogous extensions that would link variants called from the same reads to multiple loci are not available.
The characterization of variants in an individual genome is one of the most important tasks in medical genomics, especially in diagnostic settings or in projects that aim to identify novel disease-associated genes. Alternate loci for highly variable regions such as the Major Histocompatibility Complex (MHC) locus may differ at tens of thousands of positions [5], and thus there is a substantial potential to improve the accuracy of variant calls by exploiting the information in the new genome assembly model. In this work, we present an analysis of the implications of the alternate loci for variant calling.
We provide an implementation of the algorithms used in the work under a Creative Commons CC-BY 4.0 license at https://github.com/charite/asdpex.
Results
In this work, we explore the implications of the new graph-like genome assembly model for variant calling in the context of WGS. In particular, we investigate how stretches of a sequence that are largely but not entirely identical between the primary assembly and corresponding alternate loci affect variant calling in short-read (Illumina) WGS. The GRC Human Build 38 patch release 2 genome build (GRCh38.p2) contains a total of 178 genomic regions with one or more alternate loci; in total there are 261 alternate loci. In most cases (
n
=152), genomic regions had just one alternate locus, but five regions have five or more alternates: the CYP2D6 region with five alternate loci, REGION151 and the mucin region 2 with seven each, the MHC region with eight and the KIR gene family in the leukocyte receptor complex (LRC) region with 35. The regions range from 33,439 to 5,081,216 nt in length (mean 344,634 nt, median 169,569 nt), with most regions being between 100 and 200 kilobases (Fig.
1
, Additional file
1
: Supplemental Figures S1–S5, and Additional file
1
: Supplemental Tables S1 and S2). The cumulative length of all of the 178 regions with alternate loci is 61,896,414 nt, which corresponds to about 2% of the primary assembly of the GRCh38 human genome (3,088,269,832 nt).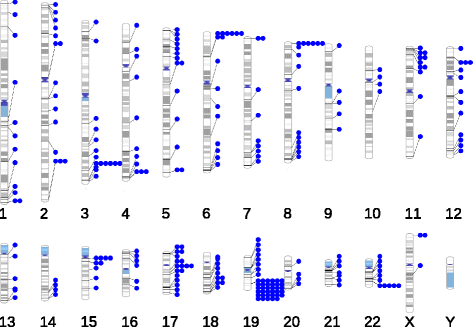 The 178 regions contain a total of 1120 unique genes, of which 797 are protein-coding genes. Moreover, 106 of these genes are associated with Mendelian diseases as listed in the Online Mendelian Inheritance in Man (OMIM) [22] resource. Additionally, 1145 of a total of 23,539 polymorphisms significantly associated with traits and common complex disease GWAS hits reported in the GWAS catalog [21] were located in the regions. These represented 353 diseases or traits. Altogether, 104 of the 178 regions contained at least one GWAS hit.
Therefore, incorrect calling of variants in these regions could have implications for the medical interpretation of genome data. The basic issue is that if a portion of an ALT-HAP is similar enough to the corresponding region of REF-HAP, then a read that originates from ALT-HAP may be falsely aligned to the REF-HAP. If the ALT-HAP sequence diverges from the REF-HAP sequence at a specific position, then this might lead to a spurious variant call at the corresponding position of REF-HAP, even though the read originates from ALT-HAP.
Discussion
Variant calling is required for medical interpretation, which focuses on sequences that diverge from normal. As WGS develops into a tool for clinical diagnostics [29–31], there is a pressing need to improve the technical accuracy of sequencing methods and analysis pipelines [32]. Numerous challenges need to be addressed to achieve this goal, including the low concordance rate of alignment and variant-calling pipelines [32, 33]. In this work, we have characterized ASDPs, which correspond to differences in alignments between sequences that are largely but not entirely identical between the primary assembly and an alternate locus. ASDPs are associated with characteristic patterns of variant calls against the primary assembly and corresponding alternate loci. The ASDP-associated variants identified by our analysis can be commonly found in WGS data (Fig. 3, Additional file 1: Supplemental Figures S12–S22, and Table 4).
Do ASDPs lead to spurious variant calls?
Variant calling is always contextual, and whether something is a variant will depend on the reference sequence used. For instance, over 10,000 sites had a base change between GRCh37 and GRCh38, so some sites that were variant in GRCh37 will not be called as variant in GRCh38. For the most part, these variants are simply errors in GRCh37, and have been corrected in GRCh38 (including some positions such as chr15:48807637C).1 The ASDP-associated variants characterized in this work are not false positive in this sense. Instead, the distribution of ASDP-associated variants in the 178 regions can be compared to a fingerprint that is indicative of the presence of one of the ALT-HAP sequences, the REF-HAP sequence, or their heterozygous combination. The distribution of ASDP-associated variants can be used to infer that variant calls against a structural variant region of the primary assembly of the GRCh38 assembly are spurious in the sense that the sample contains an alternate locus at that segment of the genome. For instance, in the example shown in Fig. 3, the variants called against the chromosome sequence of the primary assembly can be considered to be spurious, since it is much more likely that the sequenced individual is homozygous for the alternate locus KI270808.1.
Accurate calling of variants in these positions will depend on there being enough sequence context to locate unambiguously the data upon which the variant call is made. This may not be possible for technologies such as Affymetrix SNP-Chips [
35
,
36
] (Fig.
6
), which by design interrogate a stretch of 49 nt. Given the overall similarity of the REF-HAP and ALT-HAP sequences in the vicinity of many of the ASDPs that overlap with GWAS hits, it is conceivable that current SNP measurement technologies such as Affymetrix are identifying sequences on ALT-HAPs and not (or not just) variants located in the REF-HAP sequence. Altogether, 139 of the 437 GWAS hits that overlap with ASDPs are located in regions of the alignment that are identical in a region of 25 nt up- and downstream with the exception of the ASDP itself, raising the question of whether these GWAS hits are actually tagging the presence of an ALT-HAP rather than a polymorphism linked to the reported location in the golden-path chromosome (Fig.
6
). The great majority of GWAS hits are not themselves disease-causative but rather tag susceptibility regions (haplotypes that contain one or more deleterious variants). If, in fact, the alternate loci are associated with the trait, rather than a particular haplotype of the corresponding region of the primary assembly, then searches for the causative variants associated with GWAS hits need to take the sequences of the alternate loci into account.

The finding that a single variant colocalizes with an ASDP is not in itself indicative that the variant is spurious or a false positive. In fact, our results suggest that the primary assembly may contain polymorphisms whose alternate alleles correspond to the sequence in an alternate locus (because we identified ASDP-associated variants in sequences inferred to be a primary assembly; see Fig. 6). A limitation of the current study is that we have not attempted to analyze the frequency of recombination between REF-HAP and ALT-HAP in the population. Recombination between the different loci at a structurally variable genomic region may be one reason why ASDP-associated variants can be found on the background of haplotypes inferred to be REF-HAP. Our algorithm is based on the simplifying assumption that the alternate loci represent complete haplotype blocks. However, linkage disequilibrium blocks for Europeans are ∼60 kb on average (and less for African populations) [37]. Therefore, it is possible that the alternate loci are not always a valid haplotype observed within the population. The frequency of recombination events between regions of the primary assembly and the corresponding alternate loci has yet to be studied in detail. Another limitation of our analysis is that our definition of ASDPs depends on the accuracy of the alignment and the parameters used to define ASDPs. Although the majority of ASDPs identified by our algorithm were SNVs or small indels (Table 1), it is possible that more sophisticated methods of identifying complex rearrangements [38] between REF-HAP and ALT-HAP sequences may make it possible to identify corresponding ASDP-associated variants.
Challenges and opportunities for variant calling with the GRCh38 genome assembly model
Our work has illustrated some of the difficulties that ensue when calling variants with the GRCh38 genome assembly model. To address these challenges, the community will need to decide upon the desired output from variant callers. The current strategy recommended by GATK is to use BWA-MEM to align reads to both the primary assembly and the alternate loci followed by variant calling for the primary assembly and the alternate loci separately using GATK. Current pipelines do not attempt to disambiguate variant calls in regions of the genome associated with alternate loci. We have presented a downstream tool, ASDPex, that can process such output with the ambiguities that result from this approach and that would allow processing of ASDP-associated variants. It is also possible to imagine that variant calling tools be required to infer which haplotypes (REF-HAP or ALT-HAP) are present before calling variants; this process could take advantage not only of knowledge about structural variation in the human genome, as ASDPex does, but also could use information in the alignment (BAM) file itself to perform variant calling simultaneously with an analysis of reads with supplemental mappings. The community would need to agree upon the best way of representing these results in VCF format (see Additional file 1: Supplemental Figure S11 for the conventions used by ASDPex).
There are several limitations to the current VCF file format that make it difficult to represent data fully using the GRCh38 assembly. The SAM format can represent supplementary alignments representing reads that map to an alternate locus in addition to the primary assembly (Additional file 1: Supplemental Figure S26). An analogous extension to the VCF format does not exist. The current format does not represent the relationship between alternate alleles and their chromosome locations (i.e., maintaining the allelic relationships of the alternate sequences). While this is a valid requirement within a specific assembly unit, it needs to be relaxed when describing data on the full assembly as a feature can validly be on the primary assembly as well as an alternate locus.
The VCF format can represent hemizygous variants on the X chromosome in males as 1, although in practice such variants are often called homozygous (1/1) by variant callers that are not aware of the sex of the proband. If a sample was inferred to be heterozygous for REF-HAP and ALT-HAP, then one potential way of representing variants called against both haplotypes would be with the 1 notation.
It is possible that human genome sequencing will move towards de novo assembly of genomes as technologies and bioinformatic analysis strategies mature [39], a step that would likely require substantial evolution of current file formats and analysis pipelines to be applied in diagnostic settings.
Despite the fact that the GRCh38 genome build has been available for over 18 months, progress in using GRCh38 in medical interpretation pipelines has been slow. We suggest that this is a chicken and egg problem. If we want variant callers to be able to use the alternate loci, we need to be able to express the variants in VCF, which does not work well with the current specification. Ultimately, new models of representing variation in the genome may be required [40].
Conclusions
The work presented here is an exploration of the implications of the new genome build for variant calling in WGS analysis. We have presented a simple heuristic algorithm designed to search for characteristic distributions of ASDP-associated variants in VCF files that allow the presence of alternate loci to be inferred. We have argued that variants called against the primary assembly may be spurious in some such cases.
Accurate assembly of genomes is essential for the understanding of genetic variation [39]. The GRCh38 genome assembly was a major step towards developing a model that can adequately represent the structural variation in the human population. However, it is likely that there is a substantially higher number of regions in the human genome that exhibit a degree of structural variability that cannot be adequately represented by a linear genome model. Current work with long-read technologies and algorithmic advances are resolving an increasing number of genomic regions, which may be incorporated into future assemblies of the human genome [39, 41–47]. As our knowledge of the human genome and its variation in population increases, it seems likely that more sophisticated graph-based representations of the genome will become useful [40, 48].
Our results suggest that it could be useful to develop algorithms that infer the most likely diplotype of each of the 178 regions associated with alternate loci and instead realign the original reads with the alternative haplotype with the primary where indicated, and present the variant calls accordingly. While this procedure ultimately may be replaced by full de novo diagnostic genome assembly or variant calling strategies related to graph-based representations, this procedure could be done with the tools available today.
The pilot project presented in this works suggests the great potential of fully incorporating the resources of graph-like genome assemblies into variant calling, but also underscore the importance of developing computational resources that will allow full reconstruction of the genotype in personal genomes.
Endnote
1 If the wild-type RefSeq for the FBN1 gene, NM_000138, is compared to the genomic sequence, a variant c.1415G >A;p.Tyr472Cys would be called that is predicted to be pathogenic [34]. The genomic base has been corrected to a T in GRCh38.
Abbreviations
ASDP:

Alignable scaffold-discrepant position
DNA:

Deoxyribonucleic acid
GFF:

General feature format
GRC:

Genome Reference Consortium
GWAS:

Genome-wide association study
indel:

Insertion or deletion
LRC:

Leukocyte receptor complex
MHC:

Major histocompatibility complex
NCBI:

National Center for Biotechnology Information
nt:

nucleotides
OMIM:

Online Mendelian Inheritance in Man
SAM:

Sequence alignment/map
SNP:

Single nucleotide polymorphism
SNV:

Single nucleotide variant
SV:

Structural variant
VCF:

Variant calling format
WGS:

Whole-genome sequencing
Declarations
Funding
This project was supported by the Bundesministerium für Bildung und Forschung (projects 0313911 and 01EC1402B).
Availability of data and materials
We provide an implementation of the algorithms used in the work as well as an extensive tutorial under a Creative Commons CC-BY 4.0 license at https://github.com/charite/asdpex.
Authors' contributions
MJ and PNR conceived the algorithms and analysis strategies. MJ implemented ASDPex. MJ and PNR prepared the manuscript with critical input from MS, TZ, KR, and DMC. All authors read and approved the manuscript.
Competing interests
DMC is an employee of 10x Genomics. The remaining authors declare that they have no competing interests.
Consent for publication
Not applicable.
Ethics approval and consent to participate
Not applicable.
Open Access This article is distributed under the terms of the Creative Commons Attribution 4.0 International License (http://creativecommons.org/licenses/by/4.0/), which permits unrestricted use, distribution, and reproduction in any medium, provided you give appropriate credit to the original author(s) and the source, provide a link to the Creative Commons license, and indicate if changes were made. The Creative Commons Public Domain Dedication waiver (http://creativecommons.org/publicdomain/zero/1.0/) applies to the data made available in this article, unless otherwise stated.
Authors' Affiliations
(1)
Institute for Medical and Human Genetics, Charité-Universitätsmedizin Berlin, Berlin, Germany
(2)
Berlin Brandenburg Center for Regenerative Therapies (BCRT), Charité-Universitätsmedizin Berlin, Berlin, Germany
(3)
Institute for Bioinformatics, Department of Mathematics and Computer Science, Freie Universität Berlin, Berlin, Germany
(4)
10x Genomics, Pleasanton, USA
(5)
The Jackson Laboratory for Genomic Medicine, Farmington, USA
(6)
Institute for Systems Genomics, University of Connecticut, Farmington, USA