A variant by any name: quantifying annotation discordance across tools and clinical databases
Received: 18 May 2016
Accepted: 15 December 2016
Published: 26 January 2017
Abstract
Background
Clinical genomic testing is dependent on the robust identification and reporting of variant-level information in relation to disease. With the shift to high-throughput sequencing, a major challenge for clinical diagnostics is the cross-identification of variants called on their genomic position to resources that rely on transcript- or protein-based descriptions.
Methods
We evaluated the accuracy of three tools (SnpEff, Variant Effect Predictor, and Variation Reporter) that generate transcript and protein-based variant nomenclature from genomic coordinates according to guidelines by the Human Genome Variation Society (HGVS). Our evaluation was based on transcript-controlled comparisons to a manually curated set of 126 test variants of various types drawn from data sources, each with HGVS-compliant transcript and protein descriptors. We further evaluated the concordance between annotations generated by Snpeff and Variant Effect Predictor and those in major germline and cancer databases: ClinVar and COSMIC, respectively.
Results
We find that there is substantial discordance between the annotation tools and databases in the description of insertions and/or deletions. Using our ground truth set of variants, constructed specifically to identify challenging events, accuracy was between 80 and 90% for coding and 50 and 70% for protein changes for 114 to 126 variants. Exact concordance for SNV syntax was over 99.5% between ClinVar and Variant Effect Predictor and SnpEff, but less than 90% for non-SNV variants. For COSMIC, exact concordance for coding and protein SNVs was between 65 and 88% and less than 15% for insertions. Across the tools and datasets, there was a wide range of different but equivalent expressions describing protein variants.
Conclusions
Our results reveal significant inconsistency in variant representation across tools and databases. While some of these syntax differences may be clear to a clinician, they can confound variant matching, an important step in variant classification. These results highlight the urgent need for the adoption and adherence to uniform standards in variant annotation, with consistent reporting on the genomic reference, to enable accurate and efficient data-driven clinical care.
Keywords
HGVS
Clinical testing
Genomics
Annotation
Sequencing
Syntax
Precision medicine
Variant
Background
High-throughput sequencing has transformed the landscape of clinical genetic testing. This strategy, combined with the completion of massive public profiling datasets (ExAc [1], 1000 Genomes [2]), has dramatically changed our approach towards cancer treatment and the diagnosis of inherited disease. A major challenge in the analysis of this throughput and volume of data is integrating variant level information from the wealth of clinical and biological insight accumulated over decades of research, particularly those from recent, large sequencing studies. Describing a variant's location is a fundamental part of a clinical assessment, yet the practice remains inconsistent and continues to evolve.
Specifically, the clinical genomics community faces an enormous hurdle, which is integrating data generated prior to the availability of a robust human reference assembly with that generated using modern methods. Standards and guidelines for describing variants at the genomic, transcript (coding), and protein levels are provided by the Human Genome Variation Society (HGVS) [3], which developed and published initial recommendations in 1998–2000, when testing was still largely transcript- rather than genome-based [3, 4]. As laboratories shifted to high-throughput sequencing, variant analysis transitioned to the genome level, confounding comparisons with reports generated from previous transcript-based assays. A recent update to the initial 2000 guidelines was published last year to reflect changes in nomenclature descriptions, including eliminating the use of "IVS" to indicate intronic sites (e.g., IVS4-2A > C), and the use of "X" to reference the termination codon. Further, during the submission and review of this manuscript, a new website was launched with a more streamlined description of compliant syntax (http://varnomen.hgvs.org).
Reconciling variant coordinates from the transcript to the genome, and vice versa, is not an unambiguous task. Requisite information about the genomic and transcript sequence accessions, their versions, and the alignments to relate the two sequences are not always reported in publications (Fig.
1a, b
). Alignment of cDNA to the genome remains challenging and can result in substantially different exon structures depending on the alignment tool used (Fig.
1a
) [
5
,
6
]. In addition, variant reporting standards for the Variant Call Format (VCF), a format designed to store genomic variation, are different from those for HGVS, a format that was developed by clinical laboratories to describe transcript and protein variants. In the context of nucleotide repeats, VCF shifts left with respect to the genome, while HGVS shifts right with respect to the gene or transcript, meaning secondary information is required to calculate the HGVS expression (Fig.
1c
). Variants can therefore have completely different locations depending on their accession, version, and alignment.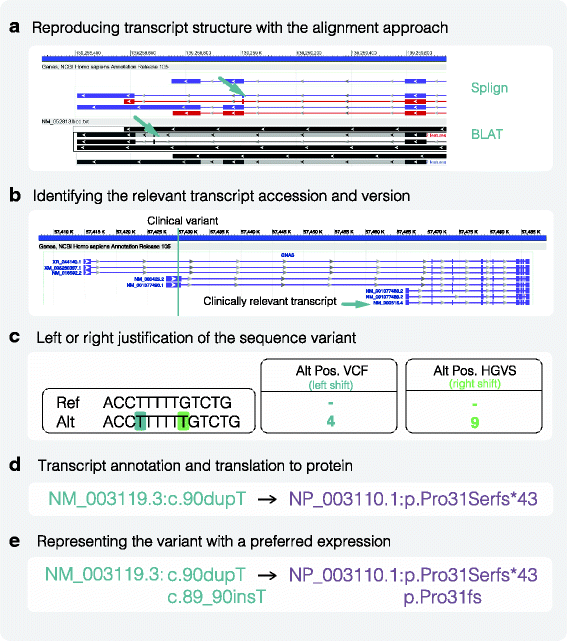 Even in relation to the same transcript, a variant can have multiple representations. HGVS expressions can have long and short forms, preferred and non-preferred syntax, and describe amino acids by their triple (e.g., Glu) or a single letter designation (e.g., E) (Fig. 1d, e). In a survey by Deans et al. (2016) [7], 20 laboratories reported the HGVS syntax for a single variant in 14 different ways. An evaluation of over 140 molecular pathology laboratories in Europe and the UK revealed substantial errors in the reporting of HGVS variant descriptions for the EGFR gene [8]. While a subset of the syntax differences may be interpretable to a clinician (e.g., p.R154X and p.ARG154*), the majority are not interpretable and confound searches used to determine if a variant has been seen before. Even a single character change can confound a search if that variant is stored using a different form, even when both forms conform to the HGVS recommendations.
We currently have many tools for producing HGVS syntax, including SnpEff [9], Variant Effect Predictor (VEP) [10], Annovar [11], Variation Reporter (VR) [12], Mutalyzer [13], and packages developed by individual clinical laboratories such as Invitae [6] and Counsyl [14]. While the performance of different genomic variant callers have been well-studied [15, 16], the accuracy and consistency of HGVS generation tools remain unknown.
Previous comparison of Annovar and VEP revealed substantial differences in annotation based on choice of transcript [17]. This low concordance, combined with the increasing demand for automated syntax generation, prompted our re-evaluation of the performance of well-supported, open source tools. We considered only freely available tools as they would have the largest reach. Additionally, we wished to focus on annotation differences that can occur even when the same transcript is used and any impact on protein consequence annotations. In this study, we compare the concordance of variant nomenclature generated by VEP [10], SnpEff [9], and VR, benchmarked by a curated "truth" set and variant annotations described in large public datasets for germline (ClinVar) and cancer (COSMIC) variant descriptions. We find that while the tools SnpEff and VEP produce comparable results, significant discordance remains in variant annotation among the tools, public resources, and literature.
Discussion
We have described some of the remaining challenges of moving clinical sequencing into a high-throughput environment. Consistent with findings by McCarthy et al. [17], we find that the transcript collection has a significant impact on the yield of relevant variant annotations. Our examination of automated syntax from HGVS tools and the ClinVar or ground truth datasets reveal that approximately 10% of variants could not be assessed due to discordant transcript accessions or versions. The fact that ClinVar and COSMIC, the largest public repositories of germline and somatic data, respectively, do not share the same collection of transcript accessions reflects the degree of harmonization and the need for a universal store of transcript definitions and genome alignments.
Although annotation resources are updating and improving, any tool or database used for clinical diagnostic purposes should be evaluated with rigorous scrutiny. Our results show that there are resources, including COSMIC and Variation Reporter, that claim to provide HGVS nomenclature when it is clear that they do not always comport with recommended conventions. As these standards are continuously being updated, resources and laboratories employing these annotations must also adapt. We have and continue to share our findings of errors and non-compliance from our analyses with the respective resources, which is critical for improving concordance across laboratories as a community. Our ground truth set has been constructed to test, to the best of our knowledge, the limits of the tools in providing accurate and compliant HGVS annotations. We encourage other laboratories to use this dataset as a quality assurance to evaluate their own in-house annotations with the same rigor.
Importantly, although variant calling is performed almost exclusively on genomic data, variants are still being primarily referenced with respect to the transcript. Recent publications continue to describe variants according to their protein and/or coding syntax [39–41], sometimes even without the transcript identifier [42, 43]. In a survey by the American Society of Molecular Pathologists, 50% of clinical cancer labs report variants exclusively by coding and protein HGVS nomenclature but without accompanying genomic coordinates. The same survey also found that only 77% of clinical cancer laboratories define the transcript in their clinical reports, and at least 70% of labs use as a resource MyCancerGenome.org, which references variants by their popular single-letter amino acid or coding-level convention, again, without transcript or genomic coordinates. As our analyses show, transforming genomic positions to transcript loci is challenging and prone to error; ambiguity in representation is best avoided by always including the variant's genomic position and assembly version, in addition to the transcript and protein HGVS expressions. For diagnostic applications, the HGVS recommends annotating with respect to the Locus Reference Genomic sequence (LRG) [33], a system designed for clinically relevant variants that is based on un-versioned and stable accession sequences [33, 44]. Although LRG curation is still on-going, we found that, based on the ClinVar XML, approximately 50% of ClinVar entries currently have a LRG assertion.
Despite the precision achieved with generating syntax for SNVs, the positions of insertions and/or deletions remain stubbornly difficult to annotate, regardless of the VCF or HGVS genomic standard. The presence of duplicates in over one-third of the COSMIC VCF highlights the importance of using tools for normalization to reconcile the multiple possible positions representing a single variant. At the level of HGVS, we found that the syntax produced by the tools was far more reliable than the syntax in the ClinVar and COSMIC databases, partly due to consistent right-shifting efforts. However, none of the non-SNV variant types were annotated with near 100% accuracy or compliance with HGVS conventions by either tool or database. Given the meticulous reporting requirements of a clinical genetics lab, this is concerning and suggests that it remains critical to manually review the syntax when reporting non-SNVs.
Our analyses further provide a glimpse into the diverse matrix of possible HGVS representations for a given variant—a challenging concept for attempts to mine and exploit existing resources through string-based search. Within knowledge-bases, internal efforts can be made to standardize HGVS syntax; variants can be transformed into a standard, minimal expression to enable a uniform query across curated databases [45]. While this is useful for a limited set of data, it is impractical for mining beyond internally curated information. The alternative is exhaustive but impractical, requiring the search for every permutation of an HGVS expression for a particular variant. A thoughtful discussion should be made about asserting HGVS guidelines as rules to enforce a strict convergence across laboratories, resources, and literature. Encouragingly, the HGVS has recently restricted the breadth of preferred syntax, though has also added to the challenge of evolving HGVS standards over time.
By design, the HGVS annotation system was never intended for mining large bodies of genomic information, while approximations of syntax are not acceptable because of their impact on clinical care. A means of clinical intervention in oncology is to directly connect clinically actionable variants in patient tumor samples with relevant therapeutic strategies, such as approved drugs or eligibility for clinical trials. In the ACMG guidelines for the classification of germline variants, at least five categories of evidence require interrogating variants from previous reports in reliable databases or the published literature [37]. Already, studies have shown that there remains substantial heterogeneity in the interpretation of genomic variants by clinical laboratories [46]. Imprecise annotation can lead to variant misclassification and misdiagnosis [36] and, in the context of identifying mutant peptides or neoantigens for cancer immunotherapy [47], the design of a potentially ineffective cancer vaccine. The applications of genomics in clinical care will require concerted efforts to converge on standardized reporting mechanisms to enable data sharing and integration across diverse datasets and resources. Including genomic coordinates and reporting on the same genomic reference, according to uniform variant syntax, will be one crucial step towards achieving this aim and the ultimate goal of precision medicine.
Conclusions
We show that for the HGVS annotation tools evaluated here, the syntax produced for SNVs is generally correct but the syntax for insertions and/or deletions does not meet clinical diagnostic standards and must be manually reviewed for clinical reporting. We further show that for the same variant datasets, there is substantial discordance in syntax between the tools and clinical databases, where the tools are consistently more HGVS compliant. Finally, we provide a ground truth HGVS test set for laboratories and resources to benchmark the accuracy of their annotations. Our results emphasize the urgent need to conform to uniform HGVS syntax, with reporting on the genomic reference, to achieve accurate and precise clinical care.
Abbreviations
COSMIC:

Catalogue of Somatic Mutations in Cancer
HGVS:

Human Genome Variation Society
MNV:

Multinucleotide variant
SNV:

Single nucleotide variant
VCF:

Variant Call Format
VEP:

Variation Effect Predictor
VR:

Variation Reporter
Declarations
Acknowledgements
We thank Dariya Glazer and Joshua Anderson for their contributions in classifying the PROK2 variant; Christian Haudenschild for his guidance on the dataset submission; Vasisht Gopalan for contributions to the git repository; and Sean Dekkers for feedback on the figures.
Funding
All research was funded by Personalis.
Availability of data and materials
The code, module, and ground truth HGVS test set for performing syntax assessment of the tools are distributed on GitHub (https://github.com/personalis/hgvslib). The results of the ground truth, ClinVar, and COSMIC dataset comparisons are available in the Additional files.
Authors' contributions
JLY designed the study, performed the bioinformatics and data analysis, and wrote the manuscript. DMC conceived the idea and guided the study design, results interpretation, and manuscript preparation. SG contributed to the data analysis, study design, and results interpretation. AM contributed to the bioinformatics analysis. SC contributed code. Both AM and JH provided guidance for the bioinformatics analysis. MM contributed to the HGVS syntax checks. All authors read and approved the final manuscript.
Competing interests
JLY, SG, AM, JH, SC, MM, JW, RC, and DMC were full time employees of Personalis at the time of this study. SG and DMC are now full time employees at 10X Genomics.
Consent for publication
Not applicable.
Ethics approval and consent to participate
Not applicable.
Open AccessThis article is distributed under the terms of the Creative Commons Attribution 4.0 International License (http://creativecommons.org/licenses/by/4.0/), which permits unrestricted use, distribution, and reproduction in any medium, provided you give appropriate credit to the original author(s) and the source, provide a link to the Creative Commons license, and indicate if changes were made. The Creative Commons Public Domain Dedication waiver (http://creativecommons.org/publicdomain/zero/1.0/) applies to the data made available in this article, unless otherwise stated.
Authors' Affiliations
(2)
10X Genomics, Pleasanton, USA