Lessons learned from additional research analyses of unsolved clinical exome cases
Received: 5 July 2016
Accepted: 8 February 2017
Published: 21 March 2017
Abstract
Background
Given the rarity of most single-gene Mendelian disorders, concerted efforts of data exchange between clinical and scientific communities are critical to optimize molecular diagnosis and novel disease gene discovery.
Methods
We designed and implemented protocols for the study of cases for which a plausible molecular diagnosis was not achieved in a clinical genomics diagnostic laboratory (i.e. unsolved clinical exomes). Such cases were recruited to a research laboratory for further analyses, in order to potentially: (1) accelerate novel disease gene discovery; (2) increase the molecular diagnostic yield of whole exome sequencing (WES); and (3) gain insight into the genetic mechanisms of disease. Pilot project data included 74 families, consisting mostly of parent–offspring trios. Analyses performed on a research basis employed both WES from additional family members and complementary bioinformatics approaches and protocols.
Results
Analysis of all possible modes of Mendelian inheritance, focusing on both single nucleotide variants (SNV) and copy number variant (CNV) alleles, yielded a likely contributory variant in 36% (27/74) of cases. If one includes candidate genes with variants identified within a single family, a potential contributory variant was identified in a total of ~51% (38/74) of cases enrolled in this pilot study. The molecular diagnosis was achieved in 30/63 trios (47.6%). Besides this, the analysis workflow yielded evidence for pathogenic variants in disease-associated genes in 4/6 singleton cases (66.6%), 1/1 multiplex family involving three affected siblings, and 3/4 (75%) quartet families. Both the analytical pipeline and the collaborative efforts between the diagnostic and research laboratories provided insights that allowed recent disease gene discoveries (PURA, TANGO2, EMC1, GNB5, ATAD3A, and MIPEP) and increased the number of novel genes, defined in this study as genes identified in more than one family (DHX30 and EBF3).
Conclusion
An efficient genomics pipeline in which clinical sequencing in a diagnostic laboratory is followed by the detailed reanalysis of unsolved cases in a research environment, supplemented with WES data from additional family members, and subject to adjuvant bioinformatics analyses including relaxed variant filtering parameters in informatics pipelines, can enhance the molecular diagnostic yield and provide mechanistic insights into Mendelian disorders. Implementing these approaches requires collaborative clinical molecular diagnostic and research efforts.
Keywords
Copy Number VariantMolecular DiagnosisPathogenic VariantSingle Nucleotide VariantWhole Exome Sequencing
Background
Applications to clinical practice of whole exome sequencing (WES) and whole genome sequencing (WGS) technologies and the computational interpretation of rare variants in genome data have been revolutionary, allowing conclusions to diagnostic odysseys and enabling molecular diagnoses for thousands of patients [1–7]. Moreover, such genome-wide assays have enabled insights into multi-locus contributions to disease [8]. Recent reports document an initial ~25–30% rate of molecular diagnosis in known disease genes for patients referred for exome sequencing and interpretation [3, 5, 9–12]. The remaining undiagnosed individuals may represent: (1) limitations in concluding a molecular diagnosis using the current experimental and analytical methods of clinical genomics practice; or (2) our limited understanding of the genetics of human disease. Collaboration between the clinical, clinical molecular diagnostic, and research communities may optimize discovery of disease genes, considering the rarity of specific genetic disorders [13–17].
We performed a pilot study for systematic transfer of molecularly "unsolved" exomes from the clinical environment to a research setting, in order to potentially fuel human genetic disease gene discovery. The WES data from 74 probands for whom clinical singleton WES did not reveal a secure molecular diagnosis were augmented with WES from additional family members, where available. Additional bioinformatics filters, database resources, and interpretive analyses were implemented, leveraging systematic studies emerging from the research laboratory. A likely disease contributory gene and potential molecular diagnosis (i.e. known disease gene or novel gene identified in more than one family) was identified in 36% of the probands, and a candidate gene finding (i.e. identified in a single family) was identified in 15% of patients. This experience and resulting findings offer the opportunity to systematically compare different but complementary approaches to optimize molecular diagnostic yield. Several novel gene discoveries (PURA, TANGO2, EMC1, GNB5, ATAD3A, MIPEP) [18–23] were facilitated by this collaborative and systematic clinical/research laboratory approach, and additional novel disease genes were found in multiple families (DHX30, EBF3), together highlighting different genetic contributions to pathogenicity [24–26].
Results
The findings were sorted into three major categories: (1) known disease genes; (2) novel genes: genes with predicted pathogenic variants in two or more cases with similar phenotypes; and (3) potential candidate genes: genes with variants in a single case (Table
1
). Predicted pathogenic variants in known or novel disease genes were identified in 27/74 (36%) families studied. In addition, predicted pathogenic variants in candidate genes were identified in 11/74 (15%) of cases, yielding an overall potential solved rate of 38/74 (51%) of cases. Our findings are represented by six "lessons learned" clusters: (1) de novo changes in known genes; (2) de novo changes in novel and candidate genes; (3) potential mosaicism in parents; (4) biallelic or hemizygous variants in genes known to convey recessive disease traits; (5) biallelic variants in novel and candidate recessive disease genes; and (6) blended phenotypes resulting from dual molecular diagnoses (Fig.
2a, b
). Examples for each of these scenarios are presented below.
Table 1
Molecular diagnoses in 74 cases are represented as three major categories: known genes, novel genes and candidate genes
Inheritance

Known genes

Novel genes

Candidate genes

De novo

CACNA1A, DDX3X(X2) a, NALCN(X2), NR2F1 a, ZBTB20

ATAD3A, DHX30, EBF3, EMC1, PURA a

CDK20 + HIVEP1, DNAH7, GSPT2 GUCY2C, MICALL2 + SLC30A7, MPP4, SYN3, SYTL2

Autosomal/X-linked Recessive

ABCA4, DDX3X, FBXL4 a, NAA10, SLC13A5 a (X2), TRAPPC11, ZNF335 a

GNB5, MIPEP, TANGO2 a

ACOT1 a, NRXN3, USP19

Other

NA

NA

UPD

SLC1A4 a

Mosaic

PIK3CD

Dual molecular diagnosis

PMPCA + KCND3 a

POLRIC + SCNIB a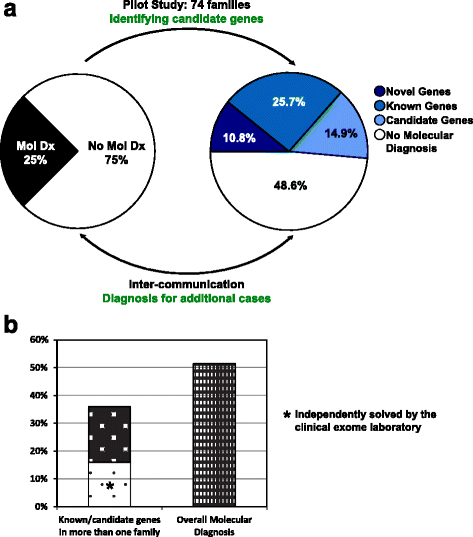 Discussion
We developed and implemented a workflow for: (1) the collection of new WES cases; (2) generation of additional data and analyses resources; and (3) application of further data filtering and adjuvant analysis methods to discover novel and candidate disease genes. This workflow and the data generated were used to optimize potential molecular diagnoses of Mendelian disease traits in clinical exome cases for which an initial molecular diagnosis was not achieved. This pilot study investigated 74 families and in 27 families (36%) identified a predicted damaging variant in a known or novel gene. If one considers damaging variants in candidate genes that were observed in a single family to date (11/74; 15%), the cumulative rate of potential molecular diagnoses in this pilot cohort of unsolved clinical exomes would be 51% (38/74). A particular phenotype, such as the presence or absence of ID, did not significantly influence the rate of diagnosis; i.e. a potential molecular diagnosis was achieved in 54.2% (32/59) of cases with DD/ID and 42.9% (6/14) cases without DD/ID (p value = 0.05; Additional file 5: Table S3).
Beyond the impact on diagnosis, potential prognostic information, and genetic counseling, several of the newly established molecular diagnoses had implications for medical management. Examples include acetazolamide treatment for CACNA1A mutation, surveillance for arrhythmias in GNB5 and TANGO2, and mitochondrial-specific surveillance for cardiac, renal, and liver involvement in FBXL4. For patients with the SCN1B variant, current practice guidelines suggest treatment with isoproterenol as a first-line agent for electrical storm (ventricular fibrillation) and consideration of an implantable cardioverter defibrillator (ICD) to prevent sudden death [78]. In a recent study applying WES and CNV testing in clinically diagnosed primary immune deficiency diseases (PIDD), a molecular diagnosis was achieved in about 40% of unrelated probands; clinical diagnosis was revised in about half (60/110) and management was directly altered in nearly one-quarter of families based on molecular findings [56].
In about half (12/27, 44.4%) of the families, diagnosed by a known or novel disease gene, the same diagnosis was achieved independently of the research analyses as part of the routine reanalysis of WES data by the clinical exome laboratory based on recent gene discoveries (Table 1). The combined efforts of the clinical and research laboratories have led to multiple reports of novel disease genes, most of which are described in much greater phenotypic and molecular detail in independent publications (PURA, TANGO2, EMC1, GNB5, ATAD3A, MIPEP, and EBF3) [18–26]. Since all of these discoveries included cases from the 74 in our pilot study and can be attributed to combined efforts between the clinical and research laboratories, they are included in the overall stated molecular diagnostic yield of 36%.
Our study demonstrates that an increase in the molecular diagnostic yield can be achieved through systematic and comprehensive reanalysis of clinical exome data. Of 74 cases with non-diagnostic clinical exomes, a molecular diagnosis was achieved in 30/63 trios (47.6%), 4/6 singleton cases (66.7%), 1/1 multiplex family involving three affected siblings, and 3/4 (75%) quartet families (Additional file 6: Table S4). This increased diagnostic yield beyond clinical WES may be attributed to: (1) the rapid pace of Mendelian gene discovery; (2) the use of trio sequencing; and (3) the extensive research reanalysis and implementation of novel tools for identification of de novo and CNV variants. Vigorous collaboration between clinical and research efforts can enhance diagnostic yield and fuel novel disease gene discovery. For instance, the clinical exome laboratories' standard operating procedure for exome analysis and variant interpretation adheres to current ACMG guidelines, which include recommendations for the reporting of pathogenic variants, likely pathogenic variants, and variants of unknown significance (VUS) in known (established) disease genes [27]. These stringent criteria do not provide for reporting of novel disease genes at the time of initial discovery, as by definition they cannot be considered pathogenic or likely pathogenic until a causal relationship between variation at a particular locus and disease has been firmly established. Thus, novel variation and novel disease genes are best studied in a research environment. In our study, the pursuit of novel disease genes for rare disease benefits from a tremendous resource: the combined exome variant dataset from over 15,000 cases referred to either the clinical exome laboratory or the BHCMG research laboratory. Research studies also support reporting of novel disease genes at the time of initial discovery, an important step toward gaining sufficient evidence to meet ACMG guidelines for reporting by a diagnostic laboratory. Additionally, as certain tools are developed and validated in a research setting and are honed to better efficiency, they are frequently translated into the clinical pipeline; GeneMatcher, developed by the BHCMG, is one such example [13, 14].
In this study, trio-WES analysis combined with de novo variant and CNV detection were invaluable for achieving an improved molecular diagnostic rate. The addition of parental samples (i.e. trio analysis) led to molecular diagnoses in 47.6% (30/63) of cases for which proband-WES was non-diagnostic. Analysis of trio-WES data supports the efficient identification of de novo and compound heterozygous variants, leading to improved analysis efficiency across all inheritance models. In an attempt to limit false-positive calls, we required that both parents have at least ten reference reads. Thus, a limitation to our analysis is that regions with poor coverage in either or both parents were parsed during variant filtering. Taking these regions/genes into account by flagging them in the bioinformatics pipeline and performing Sanger confirmation of any candidate variants at these loci may further optimize identification of candidate de novo variants. As the cost of WES continues to fall, we anticipate that trio-WES may ultimately be favored over proband-WES in the clinical setting of a sporadic suspected genetic disease.
Trio analysis also supported the use of a newly developed tool, DNM-Finder (https://github.com/BCM-Lupskilab/DNM-Finder). In our study, 27% of the pathogenic or candidate variants were de novo variants. Trio analysis can also increase the molecular diagnostic yield over that attained by studies of the proband alone. This is due, in part, to being able to more readily detect by computational filtering de novo variants (Additional file 2: Figure S1). All DNA was extracted from blood or saliva samples in this study; however, detection of mosaicism may be enhanced by including concurrent analyses of more than one lineage: ectodermal (buccal swab, hair), mesodermal, and/or endodermal (blood, saliva). The degree of mosaicism correlates with the timing of mutation, cell migration and designation during development, and tissue-specific growth profile [79]. Taking into account such considerations is important to guide the detection of mosaicism. Additionally, compound heterozygosity is more readily detected.
Analysis of all modes of inheritance and comprehensive review beyond the first identified potential pathogenic variant allowed for identification of dual molecular diagnoses in two cases (e.g. PMPCA and KCND3; POLR1C and SCN1B), consistent with previous reports of diagnoses in 5–7% of molecularly diagnosed cases [3, 5, 8, 9, 56, 80, 81]. These cases underscore the need for a systematic and comprehensive approach to exome variant analysis for all possible modes of inheritance as well as an updated literature review [12]. This is especially true of cases in which we observe apparent "phenotypic expansion" (clinical features previously unreported in association with the gene) or unexpected clinical severity [8].
Ancillary approaches to "bulk data" reanalysis were shown to enhance the molecular diagnostic rate. These include the examination of rare homozygous stop-gain SNVs, extraction of copy number information from the WES data to search for regions of absence of heterozygosity (AOH) (i.e.
ABCA4
and
FBXL4
) and assessing UPD (i.e.
SLC1A4
) and small deletion CNVs that might escape detection by CMA (Fig.
3c
, Table
2
, Additional file
2
: Figure S3) [
19
,
38
]. We also underscore the importance of capturing single-exon genes on WES platforms (
PURA
,
GSPT2
); these can be challenging as they are often rich in GC content, similar to the first exon of multiexonic genes [
82
].
Table 2
Lessons learned that may increase the molecular diagnostic yield from unsolved clinical exomes
Lesson Learned

Examples

A) Collaboration between research and clinical laboratories

Sharing data, open communication of findings, access to additional patients with damaging variants

B) Facilitating research collaborations including local and international efforts

GeneMatcher for the identification of unrelated affected individuals with the same novel disease

C) Ancillary approaches to enhance molecular diagnostic rate:

1) Detection of AOH and CNVs from WES

2) Annotation of single exon genes

3) Analyze intronic variants (including those in the unfiltered vcf files)

4) Optimization of the bioinformatic filters

5) Look for in trans inheritance of SNVs and CNVs

6) Increase fidelity of calling dinucleotide substitutions

1) ABCA4, SLC1A4, TANGO2, FBXL4

2) PURA, GSPT2

3) TRAPPC11

4) ABCA4, NRXN3

5) TANGO2 a , MIPEP

6) SYN3

D) Ancillary approaches for non-conclusive WES:

1) Consider dual molecular diagnoses

2) Analyze additional family members

3) Look for parental mosaicism

4) Identify homozygous stop-gain SNVs from bulk data to identify additional affected individuals

1) PMPCA and KCND3; POLR1C and SCN1B a

2) SLC13A5, NAA10

3) PIK3CD

4) GNB5 a

E) Consideration of different inheritance patterns and variant types at a single locus

1) AR, AD

2) AD, CNV del

3) AR, CNV del

4) XLR, CNV dup

5) AD, Tandem repeats

6) AR, AR

1) ATAD3A, EBF3, EMC1, GSPT2, NALCN, GUCY2C

2) EBF3, PURA, ZBTB20

3) NRXN3

4) GSPT2

5) CACNA1A a

6) POLR1C
Our study highlights the limitations of different WES data variant calling pipelines. The research laboratory opts for less stringent filtering of variants, which allows identification of intronic variants located farther from the splice site (i.e. ABCA4); albeit, this increases the number of variants to be investigated and consequently time taken for analysis. For instance, clinical WES did not reveal a conclusive molecular variant in a proband who presented with cone-rod dystrophy from Indian-Asian ancestry and consanguineous parents. Our research bioinformatics pipeline detected a homozygous intronic frameshift deletion, which possibly could explain the phenotype. The inherited deletion was more common in the South Asian population (seen 14 times on ExAC filtered variants). We also identified shared limitations between both pipelines, i.e. dinucleotide substitutions called as two separate variants. Our pilot study reflects the strength of collaborative efforts and iterative analyses between clinical and research teams for the optimization of computational pipelines to analyze WES data and further understand the genetic architecture underlying disease, both Mendelian disease and common/complex traits (Table 2).
This study confirms and extends our understanding of the relationship between variation at a locus and disease expression. We identified examples of genes for which different variant alleles are associated with either a dominant or a recessive disease trait (e.g. EMC1, ATAD3A, NALCN, and GUCY2C) [20, 22, 43, 83–86]. Other genes presented with recessive changes or de novo SNVs/CNVs underlying different phenotypes (e.g. NRXN3) for which heterozygous CNVs have previously been reported with disease [87]. Several genes were found to have de novo SNV and CNV alleles: EBF3, GSPT2, PURA, and ZBTB20 [18, 23, 26, 39, 50, 51, 88–90]. This phenomenon can be exemplified by recent reports of glutamate receptor, ionotropic, delta 2 (GRID2, MIM 616204), which can contribute to neurodevelopmental disorders and ataxia through recessive and de novo SNVs as well as homozygous and de novo partial CNV deletions (Table 2) [91–95]. Furthermore, CACNA1A gene function can be altered either by de novo SNVs or trinucleotide repeat expansion (CAG) to manifest with a broad range of neurological disorders [42, 96, 97]. Yet another class of genes can present with distinct disorders due to allelic heterogeneity, e.g. POLR1C associated with recessive hypomyelinating leukodystrophy 11 (MIM 616494) and recessive Treacher Collins syndrome 3 (MIM 248390) [76] and illustrate allelic affinity wherein different clinical disease phenotypes are due to different alleles at the same locus [98]. In addition, compound heterozygous SNV and CNV alleles have been exemplified in other patients exhibiting MIPEP and TANGO2 associated phenotypes (Table 2) [19, 23, 66]. These findings of different variant allele types and combinations thereof underscore the notion that defining potential causative alleles necessitates consideration of all variant types (SNV, indels, and CNV) and a multitude of potential genetic mechanisms (e.g. alleles causing dominant traits while other alleles cause recessive disease traits, EMC1 and ATAD3A [20, 22]) and inheritance patterns while seeking answers for the genetic basis of Mendelian phenotypes.
These data dramatically illustrate how genetic disease can be driven by rare recent variants introduced into a family, further supporting the clan genomics hypothesis [99]. The clan genomics model could explain how the same gene may contribute to disease by either de novo and/or recessive SNVs and/or CNVs. De novo events arise in each generation from the failure of DNA repair or replication errors [100]. Rare de novo events with strong mutation effects (i.e. rare variants, predicted to be deleterious) may manifest as disease in the first generation [100, 101], in contrast to weaker variant alleles which require a second pathogenic allele or reduction to homozygosity in order to manifest as a trait or disease in subsequent generations (i.e. ATAD3A, EMC1, GUCY2C, and NALCN genes) [20, 22, 43, 83–86]. Remarkably, some carrier states for recessive disease may raise the susceptibility for a common, complex trait as age progresses, as demonstrated by heterozygous SNVs observed in ABCA4, also known as ABCR, (MIM 153800), CFTR (MIM 167800), and LDLR (MIM 143890) genes leading to age-related macular degeneration, pancreatitis, and familial hypercholesterolemia, respectively [63, 99, 102–107]. Taken together, the heterogeneity of phenotypes, different inheritance patterns, and different kinds of variants (SNVs or CNVs) presented in our study may lead to an enhanced understanding of a unified genetic model for human disease [99].
As the price of WES falls, trio analysis will be more efficient for sporadic traits than singleton analysis, in that it allows for detection of de novo variants and phasing of compound heterozygous variants prior to Sanger validation. This enhances detection of relevant variants in known genes and serves to catalyze novel gene discovery. Based on our study, we propose a workflow for the management of non-conclusive singleton clinical WES (Table 2, Additional file 2: Figure S4). This workflow intends to investigate the many possible scenarios that could be encountered when clinical exomes are non-productive for a specific molecular diagnosis. These include: (1) de novo missense SNVs; (2) dual molecular diagnoses; (3) multiple affected family members; (4) potential parental mosaicism; (5) in trans inheritance of SNVs and CNVs; (6) loosening the default parameters of bioinformatics filters for parsing variants; and (7) potential intronic unfiltered variants on variant calling files.
A study that applied WGS to 50 clinical cases that remained unsolved by genomic studies, i.e. in which probands initially had non-conclusive clinical microarrays and WES, revealed an additional molecular diagnostic yield of 42%. This 42% molecular diagnostic yield was driven mainly by de novo SNVs and CNVs impacting the coding regions [108]. In the current research reanalysis of 74 clinical exomes, by implementing WES reanalysis and augmentation with additional family members, WES achieved a similarly increased molecular diagnosis yield (36%) of unsolved exomes and even higher increased rate (51%) if potential candidate genes are considered. These pilot studies data (50 WGS versus 74 WES + reanalysis) suggest that currently WGS offers no significant advantage to WES and reanalysis when it comes to increasing molecular diagnostic yield from unsolved clinical exomes. Nevertheless, the diagnostic yield by WGS may potentially be increased further by the development of new bioinformatic algorithms to detect intronic variants or variants in regulatory regions as well as structural variations followed by further functional characterization. Future studies comparing WGS versus WES performances for diagnostic yield should use both of these techniques in parallel while also taking other parameters (coverage and cost) into account.
Conclusion
We have demonstrated that systematic study of "unsolved clinical exomes" can provide a rich resource for Mendelian gene discovery and that reanalysis of data coupled with incorporation of additional family member WES data can improve the molecular diagnostic rate. These research studies can, in turn, provide the basis for improving interpretive algorithms for clinical WES analyses (Additional file 2: Figure S4). Our data additionally highlight the remarkable contribution of new mutation to disease including blended phenotypes resulting from dual molecular diagnoses [3, 5, 8]. Speculation based on these pilot study data suggests that if one considers the 25–30% molecular diagnostic rate achieved by initial clinical exome analyses, in combination with the 51% rate found in these pilot research studies of unsolved clinical exomes, genomic analyses by WES have the potential to identify a rare variant and gene that implicate a molecular diagnosis which could impact clinical decisions in ~ 63 (25% + [75%*51%]) to 66% (30% + [70%*51%]) or the majority of cases.
Abbreviations
AOH:

Absence of heterozygosity
ARIC:

Atherosclerosis Risk in Communities
BG:

Baylor Genetics
BHCMG:

Baylor-Hopkins Center for Mendelian Genomics
CNV:

Copy number variant
DD/ID:

Developmental delay/intellectual disability
ExAC:

The Exome Aggregation Consortium
MAFs:

Minor allele frequencies
SNV:

Single nucleotide variant
UPD:

Uniparental disomy
WES:

Whole exome sequencing
WGS:

Whole genome sequencing
Declarations
Acknowledgements
We thank all patients and their families and the referring physicians who submitted samples for testing. No additional compensation was received for these contributions.
Funding
This work was funded in part by the US National Human Genome Research Institute (NHGRI)/National Heart Lung and Blood Institute (NHLBI) grant number UM1HG006542 to the Baylor-Hopkins Center for Mendelian Genomics (BHCMG). TH and JEP are supported by the NIH T32 GM07526 Medical Genetics Research Fellowship Program. JEP is supported by a Chao Physician-Scientist Award through the Ting Tsung and Wei Fong Chao Foundation. WW was supported by Career Development Award K23NS078056 from the US National Institute of Neurological Disease and Stroke (NINDS). The Western France consortium HUGODIMS, was supported by a grant from the French Ministry of Health and from the Health Regional Agency from Poitou-Charentes (HUGODIMS, 2013, RC14_0107). RAL is supported in part by the Genetics Resource Association of Texas (GReAT), Houston, Texas.
Availability of data and materials
All reported disease associated variants in our pilot study have been deposited into ClinVar in agreement with institutional review board approval and patient consent. All reported variants not published elsewhere have been deposited in ClinVar, accession numbers SCV000494150 through SCV000494199.
Authors' contributions
MKE, ZCA, TH, JEP, and JRL analyzed the data and wrote the manuscript. JRL supervised the study. JAR, TG, ASP, SK, SM, DL, JEP, WW, SP, PL, WB, SRL, CPS, MFW, CAB, RAL, LP, BHG, JWB, FS, JSO, SNJ, TC, HD, JH, DMM, FX, ALB, EB CME, SEP, VRS, RAG, YY, and JRL generated and advised on data analysis. WW, SK, SM, DL, WW SRL, CPS, MFW, CAB, RAL, LP, BHG, JWB, FS, and JSO identified and collected patients. All authors have read and approved the final manuscript.
Competing interests
Baylor College of Medicine (BCM) and Miraca Holdings Inc. have formed a joint venture with shared ownership and governance of the Baylor Genetics (BG), which performs clinical exome sequencing. JAR, FX, MW, JEP, CME, SEP, ALB, YY, RAG, and JRL are employees of BCM and derive support through a professional services agreement with the BG. SEP and JRL serve on the Scientific Advisory Board of the BG. CME serves as Chief Medical Officer and Chief Quality Officer of the BG. JAR reports personal fees from Signature Genomic Laboratories, PerkinElmer, Inc., in the past 36 months. JRL has stock ownership in 23andMe, is a paid consultant for Regeneron Pharmaceuticals, has stock options in Lasergen, Inc., and is a coinventor of US and European patents related to molecular diagnostics for inherited neuropathies, eye diseases, and bacterial genomic fingerprinting. The remaining authors declare that they have no competing interests.
Consent for publication
A written consent was obtained to publish the details of all patients from the parents/legal guardians.
Ethics approval and consent to participate
This research study was approved by the Baylor College of Medicine Institutional Review Board (protocol H-29697). The Baylor College of Medicine IRB (IORG number 0000055) is recognized by the United States Office of Human Research Protections (OHRP) and Food and Drug Administration (FDA) under the federal wide assurance program. The Baylor College of Medicine IRB is also fully accredited by the Association for the Accreditation of Human Research Protection Programs (AAHRPP). For individuals who were alive at the time the research began, written informed consent was obtained from them or their legally authorized representative/parent. For those who were deceased at the time of the initiation of the study (and where existing specimens or data were utilized in our analysis) parents were notified of the study and agreed verbally to the study. Under United States federal regulations, it is impossible to obtain consent for a deceased individual.
Open AccessThis article is distributed under the terms of the Creative Commons Attribution 4.0 International License (http://creativecommons.org/licenses/by/4.0/), which permits unrestricted use, distribution, and reproduction in any medium, provided you give appropriate credit to the original author(s) and the source, provide a link to the Creative Commons license, and indicate if changes were made. The Creative Commons Public Domain Dedication waiver (http://creativecommons.org/publicdomain/zero/1.0/) applies to the data made available in this article, unless otherwise stated.
Authors' Affiliations
(1)
Department of Molecular and Human Genetics, Baylor College of Medicine, Houston, USA
(2)
Institute of Computer Science, Warsaw University of Technology, Warsaw, Poland
(3)
Norwegian National Unit for Newborn Screening, Women and Children's Division, Oslo University Hospital, Oslo, Norway
(4)
CHU Nantes, Service de Génétique Médicale, Nantes, France
(5)
Atlantic Gene Therapies, UMR1089, Nantes, France
(6)
Institute of Human Genetics, University Medical Center Hamburg-Eppendorf, Hamburg, Germany
(7)
Department of Pediatrics, University Medical Center Hamburg-Eppendorf, Hamburg, Germany
(8)
Texas Children's Hospital, Houston, USA
(9)
Baylor Genetics, Baylor College of Medicine, Houston, USA
(10)
Jan and Dan Duncan Neurological Research Institute, Texas Children's Hospital, Houston, USA
(11)
Department of Pediatrics, Baylor College of Medicine, Houston, USA
(12)
Texas Children's Hospital Center for Human Immuno-Biology, Houston, USA
(13)
Human Genome Sequencing Center, Baylor College of Medicine, Houston, USA
(14)
Human Genetics Center, University of Texas Health Science Center at Houston, Houston, USA
(15)
Texas Children's Cancer Center, Texas Children's Hospital, Houston, USA
(16)
Baylor-Hopkins Center for Mendelian Genomics, Baltimore, USA
(17)
Department of Molecular and Human Genetics, Baylor College of Medicine, Houston, USA
(18)
Present Address: Department of Pathology and Laboratory Medicine, Indiana University School of Medicine, Indianapolis, USA