Disentangling Public Participation In Science and Biomedicine
Received: 12 September 2013
Accepted: 23 January 2014
Published: 31 January 2014
Abstract
Background
This article provides a framework for disentangling the concept of participation, with emphasis on participation in genomic medicine. We have derived seven 'dimensions' of participation that are most frequently invoked in the extensive, heterogeneous literature on participation. To exemplify these dimensions, we use material from a database of 102 contemporary cases of participation, and focus here on cases specific to science and medicine. We describe the stakes of public participation in biomedical research, with a focus on genomic medicine and lay out the seven dimensions.
Discussion
We single out five cases of participation that have particular relevance to the field of genomic medicine, we apply the seven dimensions to show how we can differentiate among forms of participation within this domain.
Summary
We conclude with some provocations to researchers and some recommendations for taking variation in participation more seriously.
Keywords
Public Participation
Social Entrepreneurialism
Agenda Setting
Work Participation
Collective Experience
Background
Public participation is a matter of growing importance in the biosciences, but we lack a comprehensive framework for making sense of the many forms that it takes. Is participation in a newborn-screening program the same thing as joining 23andMe? Is patient activism to steer research funding the same thing as a movement-run community health clinic? Is participation in a bone marrow registry the same thing as participation in a clinical trial? Is the active participation of parents in their autistic child's therapy the same as the rejection of medical authority in the decision not to vaccinate? All of these things are labeled 'public participation' in biomedicine, yet they capture many different types of relationships between a lay public, doctors or researchers, governments and other stakeholders. The stakes of public participation for biomedicine are high, yet we lack an adequate language for distinguishing among the variety of entities, practices, and relationships that are designated as participatory and for evaluating their different effects.
This article provides a framework for disentangling the concept of participation. Based on the extensive and heterogeneous theoretical and practical literature, we have derived seven 'dimensions' of participation that are most frequently invoked to explain its function and goals. In order to exemplify these dimensions, we use material drawn from a database of 102 contemporary cases of participation - focusing for this article on those cases that are specific to science, technology and medicine. In this background section, we describe some of the stakes of the growing trend of public participation in biomedical research, with a particular focus on genomic medicine, lay out the seven dimensions and describe how our larger research project approaches the problem. In the discussion section we single out five cases of participation that have particular relevance to the field of genomic medicine, and we apply the framework to show how we can differentiate among forms of participation within this domain. In the summary we conclude with some provocations to researchers and some recommendations for taking variation in participation more seriously.
Public participation in biomedicine
The participation of members of the public as research subjects and also as patients has long been a sine qua non of biomedical research. Yet, traditionally, scientists and medical researchers have preferred research subjects to remain 'subject' to their direction and control, not 'subjects' in the sense of people who 'talk back' to experts and insist on representing or pursuing their own interests. The reaction of the biomedical research establishment to such vocal and organized forms of public participation has ranged from paternalistic to hostile, seeing challenges to the authority of the establishment as attacks on the integrity of scientific research and medical practice. And thus the best known historical examples of this public participation - such as the women's health movement, the Black Panther Party's free medical clinics, and AIDS activism - have involved resistance to the biomedical establishment [1–4].
However, in recent decades public participation has lost much of its adversarial edge to become a key, legitimating idiom of institutions across the spectrum of society. Rather than asserting a separation from the public, government, civil society, and even business organizations now 'engage', 'solicit advice from', and 'consult with' the public in patterns of authority that emphasize shared responsibility over top-down government [5–10]. Sometimes these examples include grounded, practical attempts at participation, while in other cases they are more rhetorical or theoretical assertions. Conversely, cases of public exclusion, secrecy, and institutional autonomy are occasions for public suspicion and resistance. The biomedical research establishment has joined this trend to see public participation as good [11–16]. In the US, the NIH, long resistant to public 'interference', has come to acknowledge the role of disease advocates (for example, in attracting research support, developing drugs and therapies, and clinical trials) [17]. In France, the Muscular Dystrophy Association (AFM), has funded a substantial portion of genetics research [18]. And thus, even more than providing the idiom of legitimacy for contemporary institutions, public participation can at times fill in where the state (or market) is failing to supply crucial research goods.
In the past few years, scientific researchers have begun to take an even more active and creative approach to public participation, using the ubiquity of the Internet and its interactive affordances to solve a nexus of problems [19–24]. For example, biochemists studying protein folding have teamed up with computer scientists to build an online game, Fold It, that invites public users to compete in devising solutions to protein folding problems that are then used to 'train' computers to improve their protein structure algorithms [25–28]. The website Zooniverse is a platform where scientists studying problems as diverse as galaxy formation, bat vocalization, and cancer can recruit the public to aid in massive, labor-intensive data coding efforts [29–32]. Off-line, public health researchers have spearheaded participatory research as a means to recruit from hard-to-reach populations, prioritize communities' own health concerns, and to develop interventions that rely on social capital and peer influence rather than top down messages or coercive rules to improve health [33].
The well known direct-to-consumer genetic testing company 23andMe has organized public participation to solve a knot of problems facing genetics researchers. By inviting users to pay (currently $99) for a SNP-chip-based genetic test and then answer online surveys about their health, traits, and ancestry, 23andMe has been able get about 400,000 people to pay to provide the company with valuable genetic and phenotypic data. The online interface allows 23andMe to stay connected with participants, introducing new studies and re-consenting them as necessary. 23andMe seems to be solving some of the ongoing cultural problems genetics has faced through fears of determinism, eugenics, privacy invasion, and discrimination. Its friendly interface, cultivation of well-informed participants, fun 'see for yourself' ethos, and multiple choice points for users to participate and disclose or not are all geared toward building senses of self-empowerment and trust and allaying fearful associations [34, 35]. The traditional biomedical establishment has been duly skeptical of 23andMe's participatory ethos, criticizing direct access to genetic data as dangerous to participants and potentially exploitative [36–41].
Thus, the stakes of public participation for biomedical research are high, both for these positive possibilities and for potential dangers (we need only think of vaccine skepticism and desperate patients' pursuit of unvalidated treatments). But what is participation? Many different definitions have been offered, depending on the practical domain, or theoretical tradition. We begin with a definition from Bucchi and Neresini that was intended for the domain of science, technology and medicine: 'the diversified set of situations and activities, more or less spontaneous, organized and structured, whereby nonexperts become involved, and provide their own input to, agenda setting, decision-making, policy forming, and knowledge production processes regarding science (449)' [42]. A key feature of this definition - which is essential to our selection of case studies as well - is that participation involves influence of some broad public on a relatively closed institutional locus of power and decision making that is not exhausted by market, labor, or electoral relations. Thus, purchasing, working, or voting are not in themselves participatory but might be the point of departure for a participatory workplace, 'pro-sumption', or participatory democracy. The word 'participation' is often used in a very general sense to mean something more like the diversity or representativity of a population (as in 'participation in medical research by minorities') or the proportion of a defined population in reference to a defined activity (for example, 'voter participation' in an election), but these uses of the word do not rise to the level of participation we analyze here.
However, this basic definition of public participation conceals the variety of ways that participatory relationships can be organized. For example, Facebook is often identified as a participatory technology par excellence because it has over a billion users to whom it offers processes of communication and planning, information sharing, and interest promotion that were previously controlled by centralized media outlets. However, it looks much different as a participatory endeavor to other projects also labeled participatory, and we provide a framework here for understanding why.
Disentangling participation
Our approach to disentangling participation is concerned both with the mechanics and structure of participation and with the way individuals talk about, experience or argue for or against it, both as a practice and as a theoretical problem. Our starting assumption is that there is a wide diversity of practices that get called participation, and that we need multiple cases from different domains in order to understand the nature of this variation. To accomplish this we employ two methods: one is an extensive investigation in the published literature, both contemporary and historical, to understand how the concept of participation has been handled in the past, which provides the warrant for our choice of dimensions. Existing frameworks [5, 13, 43–48] for understanding participation tend to be very domain-specific, from medicine to worker participation to art, but we have sought to distill commonalities across these multiple domains, in part to explore how much participation is or is not tied to specific grounded instances of it. As such, our reading of this literature was not confined to any particular discipline, and reveals that there are multiple non-overlapping places where participation has been explored at both a theoretical level and in terms of practical implementation. The most robust literature comes from the domains of 1) political theory and participatory democracy; 2) worker participation; 3) public administration and; 4) international development. Other domains such as art, architecture, urban planning, cooperative and socialist planning, management, participatory design and cultural studies - as well as approaches in medicine, healthcare and science - corroborate our choices. In the next section we discuss these seven dimensions in more detail, and describe how they relate to science and medicine.
The other aspect is the creation of an extensive database of structured case studies, conducted through ethnographic observation, interview and/or analysis of public documents. As of this writing, 102 case studies have been completed about instances of participation: groups, organizations, movements or projects organized in order to facilitate participation of some kind, and to benefit from it. The purpose of these case studies is more comparative than casuistic - we use the data collected to evaluate how participation is implemented in each case, and in order to exemplify different configurations of participation. Our approach is naturalistic in the sense that we choose any cases 'in the wild' that either explicitly claim to be participatory or are labeled as such by others. To date, our only limiting criterion for this set of cases was that they all involve the use of the Internet or other information and communication technologies. Each case study answers 32 structured questions (described in [
49
]), and is based on public records, websites, news articles, discussions, and interviews with key participants. The cases were drawn from a range of domains: Free/Open Source Software (FOSS) (19); social networking (14); science/engineering (14); culture industry/other (13); activism (10); education (7); citizen journalism (7); social entrepreneurialism (6); craft/DIY/consumer goods (5); games/persistent worlds (4); and forum/mailing list (4). Figure
1
provides an example and see [
50
] for more details.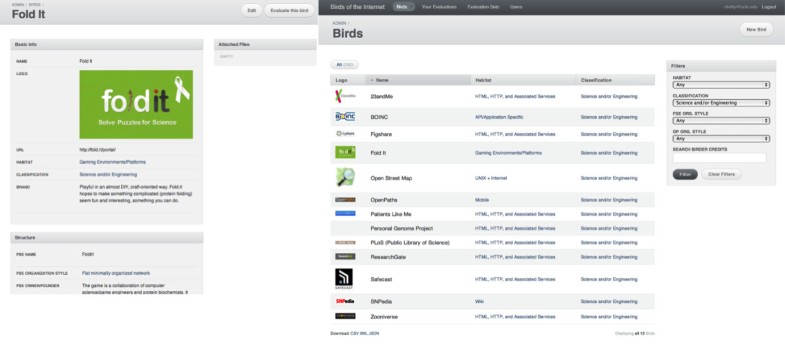 These two approaches were combined by using the seven dimensions to evaluate each of the 102 cases (6 to 7 researchers evaluated a subset of the cases, resulting in 3 to 4 evaluations for each case). By doing so we generate a 'consensus score' for each case that represents the expert analysis of our team about the degree to which each case includes or excludes each of the dimensions. Each case therefore has a seven-dimensional 'signature' that we can use to compare the cases and to look for patterns that represent different modes of participation (see Figure
2
for an example). In terms of other methodological approaches, ours shares some similarity with so-called 'grounded theory' and 'fuzzy-set' social science [
51
–
53
]. However, our intention in this paper is primarily descriptive and aimed at an empirical specification of the meanings of participation; we suggest some future directions for research in the summary.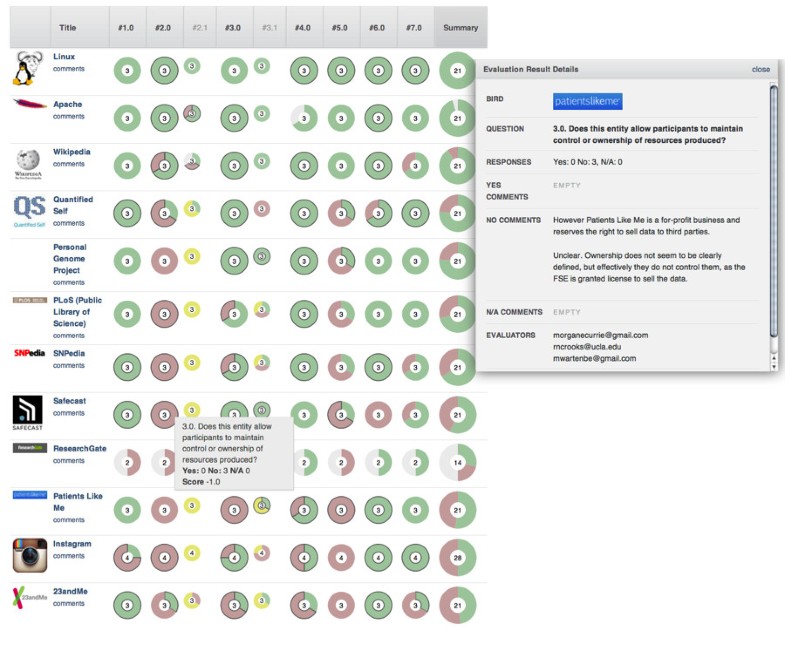 Discussion
Any given case of participation can combine these seven dimensions in different degrees - some will focus on education and voice, for instance, others on metrics and an experience of collectivity. We have evaluated our 102 cases in order to determine what distribution of dimensions occur across cases of widely different domains - from free software and citizen journalism to science and medicine to economic participation. Figure
3
summarizes the evaluation of 14 of these cases that are categorized as being in the domain of science or medicine in our database. From even this subset, it is clear that there is much diversity in the presence or absence of the seven dimensions of participation listed here. Nearly all of the cases have a strong commitment to education (dimension 1 in Table
1
), but almost none of them seriously consider allowing participants to be involved in agenda setting (dimension 2). Control over resources (dimension 3) varies greatly, as does the relationship between exit (dimension 4) and voice (dimension 5). But almost all are committed to providing good metrics of participation, and about half are devoted to facilitating communication or affective bonds between participants. These 14 cases were selected here to exemplify the domain of science and medicine, but the same diversity exists in the larger set of 102 cases.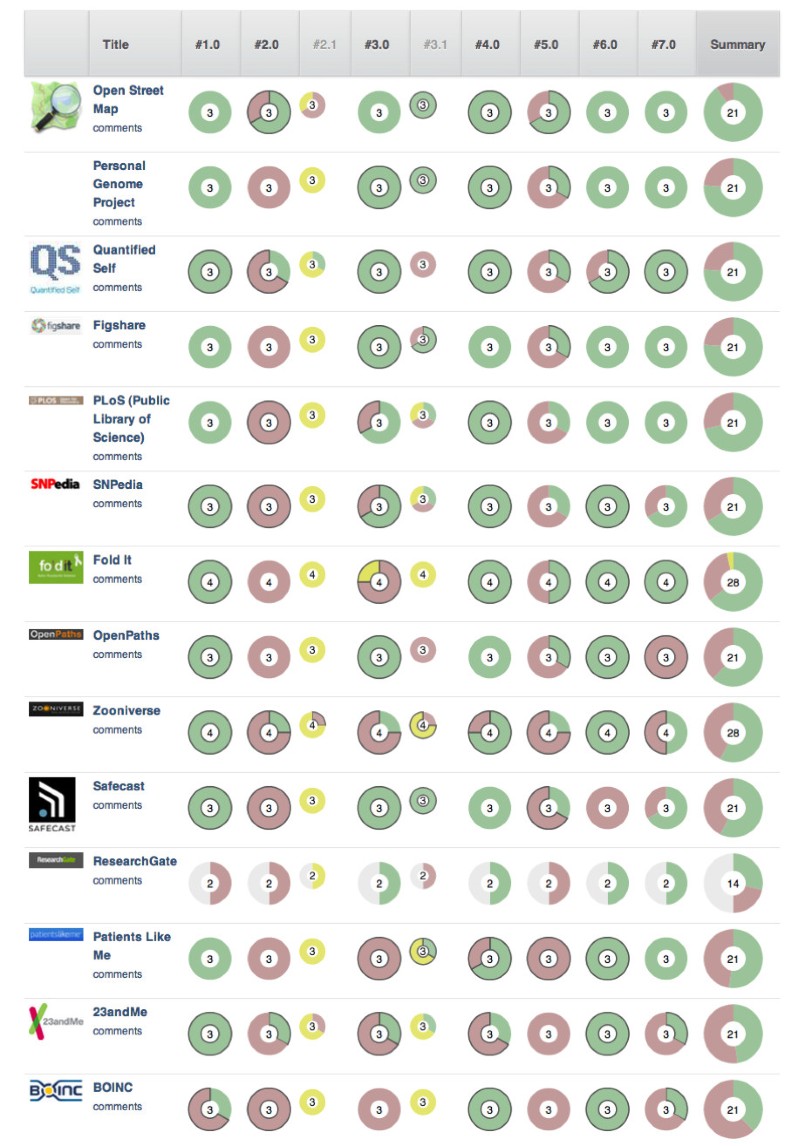 In order to describe in more detail what these findings mean, we here examine several cases in more detail, including two not in our database (because they precede the advent of the Internet) but relevant to the issue of science and medicine. The goal is to exemplify how these cases combine different dimensions of participation; in the summary we propose some questions for thought and future directions based on these evaluations.
Conclusion/summary
The cases presented above are intended to exemplify the different dimensions of participation, and to demonstrate how different kinds of participation can be at stake in different projects. On the basis of this diversity, it is possible to conclude that different styles or modes of participation emphasize or de-emphasize different aspects, and that an empirical analysis might reveal the distribution of these styles of participation and potentially their efficacy or outcomes as well. At an empirical level one can ask what the 'signature' of participation is by looking at more than just one dimension. From this perspective, the relatively narrow concern with patient participation in treatment decisions concerns only a single dimension, whereas a case like PXE engages all of them. This is an implicitly normative claim, to be sure, but it also points the way towards understanding distinct advantages or disadvantages that might be associated with one or another signature of participation.
Indeed, there are multiple ways to both succeed and to fail at participation - and when it does not work, it is not necessarily 'participation' in an abstract sense that fails. Does participation need to have all seven dimensions? Which signatures are good for what reasons? Good for improving individual and public health? Good for introducing efficiency or profitability into healthcare or scientific research? Good for innovation or discovery? These are questions that cannot be assessed without a more robust model or theory of participation. On the basis of these dimensions we can hypothesize the mode of participation that results from the emphasis on one or another dimension. Facebook, for instance, emphasizes the collective experience and the use of metrics to display the social network to its users, but deemphasizes control over resources or access to goals. As such it can be labeled a more 'extractive' form of participation, focused on transforming resources valuable to one group (users) into resources valuable to another (advertisers). Conversely, projects like Wikipedia, which emphasize the first five dimensions, but are less interested in displaying or facilitating a feeling of participation, are more 'volatile' and unstable - committed to openness but struggling with sustainability; open to all comers, but not necessarily 'user-friendly'. In the domain of genomics, 23andMe clearly looks more like the former, and SNPedia like the latter (and this is no historical accident).
Similarly, a case like PXE, with its emphasis on nearly all the dimensions, is less intensely focused on the individual's own responsibility for (and freedom to) monitor and understand his or her own health - and more oriented towards the production of community and collective control and power. When participation is understood primarily as a form of consumption (giving individuals data about themselves but unconnected to any other patients or collectives), then its signature is of one type, and with the framework above, it might be possible to both identify such instances, and ask 'what choices about the design or management of a project can shift it more in the direction of one signature than another?'
With scientific institutions being more exposed to public scrutiny and bearing more of a burden to justify themselves not just to authorities but to the citizenry that supports them, accommodating public participation will become more of an obligation for scientists. This is an emerging obligation that carries considerable risks in terms of loss of control and rise of contention in the research process. Yet it also offers many intriguing possibilities for new forms of collaboration, data, knowledge production, funding, and serving public needs.
So what lessons can a clinical scientist, genomics researcher or entrepreneur draw from this analysis? As we have shown, public participation is much more complicated and multidimensional than it is usually taken it to be. It is more than simply enrolling participants and telling them what to do; at least, participants today tend to expect much more than that. When seeking to engage public participation in their research, scientists would do well to think about the dimensions we have identified and consider the synergies and trade-offs among them. Scientists would seem to be most comfortable with the educative, task, metrical, and community dimensions of participation. But participants themselves often want more. They want influence over goals, they want to share in the benefits of the resources created, they want genuine opportunities to engage scientists without too many barriers of expertise and authority. These are among the lessons of the brief case studies presented above. What scientists might realize is that scientific authority and knowledge production are not necessarily zero sum games. As the PXE International example and many other cases of patient advocacy in genetic research show, close participation can produce synergies and energies that catapult basic and clinical science forward [106]. New productive equilibria can be reached that are superior to whatever degree of authority scientists cede to participants.
Finally, it has long been a key feature of the literature on participation that participation is inherently political - meaning that it is about the redistribution of resources and the struggle for power over decision-making. But it is also about collective experience and the feeling of being a part of something larger. While incorporating strong forms of participation may therefore come with risks - that doctors might have less claim to expertise, or that companies might have less control over the circulation of data - it also comes with benefits that far exceed the immediate domain of patient care or research: it can create patterns of authority and responsibility that influence other aspects of social and political life beyond that of medicine.
Authors' information
CK is Associate Professor of Anthropology and Information Studies in the Institute for Society and Genetics at UCLA. AP is Assistant Professor of Public Policy in the Institute for Society and Genetics at UCLA. Together they oversee an NSF-funded project on participation in science and medicine (information is at http://recursivepublic.net/).
Declarations
Acknowledgements
The research for this project was funded by the US National Science Foundation under grant number 1025569. We acknowledge the contributions of UCLA PhD students Morgan Currie, Roderic Crooks, Patrcia Garcia, Seth Erickson, Luis Felipe Rosado Murillo, Stacy Wood, and Michael Wartenbe to the research and construction of the case studies in this project. Seth Erickson created the software system that enabled the analysis of the cases.
Authors' Affiliations
(1)
Institute for Society and Genetics, UCLA, UCLA, Los Angeles, USA
(2)
UCLA Department of Information Studies, Los Angeles, USA
(3)
Department of Public Policy, Luskin School of Public Affairs, UCLA, Los Angeles, USA
Copyright
© Kelty and Panofsky; licensee BioMed Central Ltd. 2014
This article is published under license to BioMed Central Ltd. This is an Open Access article distributed under the terms of the Creative Commons Attribution License (http://creativecommons.org/licenses/by/2.0), which permits unrestricted use, distribution, and reproduction in any medium, provided the original work is properly cited. The Creative Commons Public Domain Dedication waiver (http://creativecommons.org/publicdomain/zero/1.0/) applies to the data made available in this article, unless otherwise stated.