Embryonic stem cell-specific signatures in cancer: insights into genomic regulatory networks and implications for medicine
Published: 29 November 2011
Abstract
Embryonic stem (ES) cells are of great interest as a model system for studying early developmental processes and because of their potential therapeutic applications in regenerative medicine. Obtaining a systematic understanding of the mechanisms that control the 'stemness' - self-renewal and pluripotency - of ES cells relies on high-throughput tools to define gene expression and regulatory networks at the genome level. Such recently developed systems biology approaches have revealed highly interconnected networks in which multiple regulatory factors act in combination. Interestingly, stem cells and cancer cells share some properties, notably self-renewal and a block in differentiation. Recently, several groups reported that expression signatures that are specific to ES cells are also found in many human cancers and in mouse cancer models, suggesting that these shared features might inform new approaches for cancer therapy. Here, we briefly summarize the key transcriptional regulators that contribute to the pluripotency of ES cells, the factors that account for the common gene expression patterns of ES and cancer cells, and the implications of these observations for future clinical applications.
Keywords
Embryonic StemEmbryonic Stem CellCancer Stem CellCore FactorEmbryonic Stem Cell Pluripotency
Embryonic stem cells, cancer and genomic regulation
Embryonic stem (ES) cells are cultured cells derived from the inner cell mass of the blastocyst-stage embryo [1, 2]. They exhibit two distinct properties: self-renewal, the ability to maintain a proliferative state without changes in cellular characteristics; and pluripotency, the capacity to generate all of the cell types of adult organisms. Understanding how these properties are established and maintained is crucial to realizing the full potential of ES cells in basic biology and regenerative medicine.
Previously, a small cadre of transcription factors, including the homeodomain protein Oct4 (Pou5f1), SRY box-containing factor Sox2, and Nanog, were identified as key regulatory factors (or ES cell core factors) in controlling ES cell pluripotency [3–6]. Remarkably, Yamanaka and colleagues [7, 8] observed that somatic cells can be reprogrammed into ES cell-like cells (induced pluripotent stem (iPS) cells) by the introduction of four transcription factors: Oct4, Sox2, Klf4, and Myc [7–11]. This observation clearly underscores the relevance of transcriptional regulatory mechanisms to pluripotency and cell fate control [12].
During the past decade, advances in high-throughput technologies, such as gene expression profiling, the global mapping of transcription factor-DNA interactions and histone modifications by microarrays or sequencing (chromatin immunoprecipitation (ChIP)-chip or ChIP-sequencing) [13], the mapping of protein-protein interactions, the identification of members of protein complexes by affinity purification followed by mass spectrometry (MS) [14], and the unbiased knockdown of genes by RNA interference (RNAi) [15], have facilitated the assembly of considerable databases of proteomic and genomic information. These new tools provide the basis for the development of a comprehensive understanding of cell states at the systems level and have been applied to dissect self-renewal and pluripotency control in ES cells, reprogramming processes, and lineage specification [16, 17].
In the context of cancer biology, an important goal has been delineation of the cells that sustain cancers. Investigators have suggested that a small population of cells within a tumor may reinitiate tumor formation upon transplantation and be responsible for the maintenance of tumors and their resistance against effective anti-cancer therapy. Such cancer stem cells, or more precisely tumor initiating cells, might arise from adult stem, or progenitor, cells or from the dedifferentiation of somatic cells [18]. It has been hypothesized that the similarities shared by stem cells and cancer cells might relate to shared patterns of gene expression regulation, which might be associated with the 'embryonic' state. Moreover, recent studies focusing on somatic cell reprogramming underscore the similarity between cancer cells and iPS cells. The acquisition of pluripotency during the reprogramming process is superficially reminiscent of the dedifferentiation proposed for some cancers [19]. In trying to account for the self-renewing properties of cancer stem cells, several investigators have defined 'ES-cell-specific expression' signatures, and these have been analyzed in diverse cancers [20–26].
In this review, we provide an overview of the current understanding of the ES-cell-specific gene expression programs that have been observed in various human cancers. We first summarize the key regulatory factors involved in controlling the self-renewal and pluripotency of ES cells, which have been thoroughly evaluated using various systems biology tools. We then discuss how these factors have contributed to our understanding of the gene expression signatures that are shared between ES cells and cancer cells. Finally, we discuss the implications of these observations for medicine.
Regulatory factors in self-renewal and pluripotency
In this section, we provide a brief overview of the key factors that regulate the self-renewal and pluripotency of ES cells, and the acquisition of pluripotency during somatic cell reprogramming. Recently, genome-scale technologies and systems-level approaches have been widely applied to investigate regulatory mechanisms in ES and iPS cells. The key regulators in pluripotent stem cells, their functions, and the experimental methods applied to investigate them are summarized in Table
1
.
Table 1
Genome-scale studies of self-renewal and pluripotency in ES cells
| Regulators | Function | Methods | Reference(s) |
| --- | --- | --- | --- |
| Core factors | | | |
| Oct4 (Pou5f1) | ES cell core factor | ChIP, MS | |
| Sox2 | ES cell core factor | ChIP, MS | |
| Nanog | ES cell core factor | ChIP, MS | |
| Tcf3 (Tcf7l1) | Wnt signaling | ChIP | [74] |
| Klf4 | LIF signaling | ChIP | |
| Stat3 | LIF signaling | ChIP | [44] |
| Dax1 (Nr0b1) | Negative regulation of transcription | ChIP, MS | |
| Sall4 | Self-renewal and pluripotency | ChIP, MS | |
| Polycomb-related factors | | | |
| Ezh2 | PRC2, repressor | ChIP, MS | |
| Jarid2 | Fine-tuning of PRC2 | ChIP, MS | |
| Mtf2 | Polycomb-like protein | ChIP, MS | [78] |
| Suz12 | PRC2, repressor | ChIP, MS | |
| Eed | PRC2, repressor | ChIP | |
| Rnf2 | PRC1, repressor | ChIP | [37] |
| Phc1 | PRC1, repressor | ChIP | [37] |
| Myc-related factors | | | |
| Myc | Proliferation | ChIP, MS | |
| Max | Myc-interacting | ChIP, MS | [20] |
| Zfx | Self-renewal | ChIP | [44] |
| Trrap | Histone acetylation | RNAi | [50] |
| Tip60 (Kat5) | Histone acetylation | ChIP, MS, RNAi | |
| Ep400 | Histone acetylation | MS, RNAi | [50] |
| Dmap1 | Histone acetylation | ChIP, MS, RNAi | |
| E2F1 | Regulator of cell cycle | ChIP | [44] |
| E2F4 | Transcription activator | ChIP, MS | [20] |
| Cnot3 | General transcription regulator | ChIP, RNAi | [80] |
| Trim28 (Tif1b) | Transcription co-activator | ChIP, RNAi | [80] |
Common signatures in ES cells and cancer
Overlapping characteristics that are shared by ES cells and cancer cells have led investigators to examine the gene expression patterns that underlie these similarities [
18
]. We now know that one of the factors used to facilitate somatic cell reprogramming, Myc, is an established oncogene, and that the inactivation of p53 pathways, as observed in innumerable cancers, increases the efficiency of the reprogramming process [
7
,
51
–
54
]. These discoveries provide additional evidence that common pathways could be utilized both in the acquisition of pluripotency and in tumorigenesis. In this regard, data generated from various systems biology tools that can be used to dissect ES cell pluripotency and somatic cell reprogramming could play a crucial role in identifying the common features shared by ES cells and cancer cells. In turn, many ES-cell-specific gene sets, modules, or signatures that have been identified by systems biology studies of pluripotent stem cells have provided useful analytical tools for analyses of the gene-expression programs of human tumors and mouse tumor models. Recent analyses of ES-cell-specific signatures in human tumors are summarized in Table
2
.
Table 2
Studies of embryonic stem cell signatures in cancer
Study

Gene sets used in the study

Gene set generated by:

Tested cancers

Ben-Porath et al. [23]

ES cell expression profiles,

Nanog, Oct4, Sox2 targets,

Myc targets,

and PRC targets

ES-cell-specific gene expression, and factor occupancy

Breast, glioma, and bladder cancers

Wong et al. [22]

ES-cell-like module,

adult stem cell module

Gene module map [81]

Liver, breast, prostate,

gastric, and lung cancers

Schoenhals et al. [26]

Nanog, Oct4, Sox2, and Klf4

ES-cell-specific gene activity in multiple cancers

Multiple cancers

Kim et al. [20]

Core module, PRC module, and Myc module

Factor co-occupancy within transcription sub-networks

Myeloid/lymphoid leukemia, bladder and breast cancers

Mizuno et al. [25]

ES cell, iPS cell, PRC2, and p53 ES cell signatures

Gene expression profiles

Breast cancer

Shats et al. [24]

CSR signature

Combined gene sets

Breast and lung cancers, adenocarcinoma, and medulloblastoma
Implications for cancer and medicine
The extent to which the study of pluripotent ES cells has provided insights into cancer is remarkable. In addition, the involvement of both oncogenic and tumor suppressor pathways in somatic cell reprogramming suggests that continued study of the relationship between ES cells and cancer cells is worthwhile. In this section, we discuss how ES cells might be used to accelerate the translation of basic findings into clinically relevant tests and new therapeutic approaches.
Classically, cancer cell lines have been employed as convenient biological models when investigating the characteristics of various cancers and as a platform for exploring the activity of chemotherapeutic agents. Cell lines are not usually a preferred platform for drug screening because they often represent highly selected subpopulations of cancer cells, with accumulated genetic mutations or abnormalities acquired during long-term culture. The shared signatures of ES cells and cancer cells suggest, however, that ES cells could provide an alternative system for studying pathways relevant to cancers. One strategy is depicted in Figure
1
. In this scenario, genetic and/or chemical modulators that negate or alter the activities of signatures that are shared by ES cells and cancer cells may be sought in ES cells by high-throughput screening. Subsequently, selected modulators could then be re-validated in cancer cells either in culture or in various transplant protocols. A variation of this theme is the recent application of gene expression signatures to identify drugs that target specific signaling pathways (such as those for Ras, Src, and Myc) [
64
–
66
].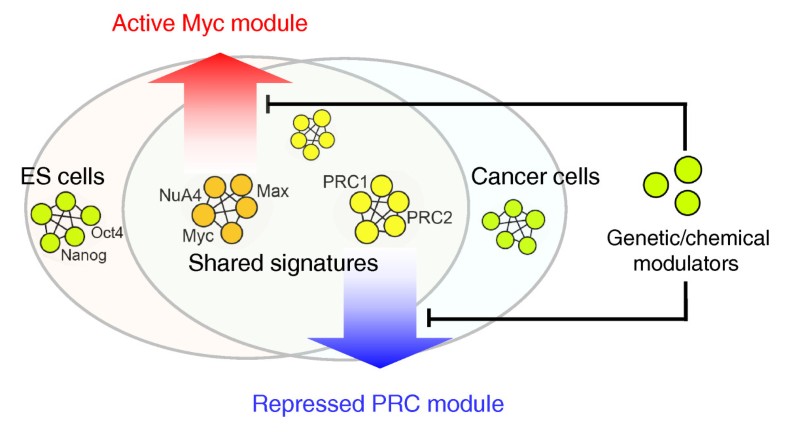 A particularly powerful approach is now afforded by an elegant in silico method based on the 'Connectivity Map' [67, 68]. The Connectivity Map encompasses an expanding database of gene expression profiles from a collection of reference cell lines treated with 'perturbagens' [69]. In the original version of the Connectivity Map, cells were treated with numerous drugs, but the approach is entirely general and cells may be 'perturbed' by any chemical or genetic manipulation. In practice, the Connectivity Map database is interrogated with a gene expression signature of interest to ask whether the signature resembles the action of a perturbagen on the reference cells. As the method is performed in silico, it is extremely rapid.
An initial attempt to identify drugs that modulate an ES-cell-like gene expression signature has already been reported. In this instance, the Connectivity Map database was interrogated with an ES-cell signature, described as a CSR [24], to predict drugs that affect the CSR signature. Putative 'hits' were subsequently validated in human breast cancer cells. The results revealed multiple topoisomerase inhibitors, including daunorubicin, that decrease cell viability in this context [24]. We anticipate that further interrogation of the Connectivity Map database with other expression signatures could highlight agents that form the basis for novel therapeutic approaches.
Conclusions and future directions
In recent years, the utilization of emerging systems biology techniques in stem cell biology have led to considerable advances in our understanding of the regulatory networks that control the pluripotency of ES cells and the process of somatic cell reprogramming. We began with just a handful of core ES cell transcription factors, but now appreciate a more extensive list of transcription factors that are involved in the regulation of these processes. Cross-examination of large data sets generated by various tools, taken together with computational analysis, has led to an improved understanding of the gene-expression patterns that are common to ES and cancer cells. Rather than identifying core ES cell factors as contributors to shared patterns, the recent studies underscore sub-modules that refer to Myc and Polycomb transcriptional activities.
An improved understanding of the features shared by pluripotent cells and cancer cells is of potential clinical relevance. In the future, the common pathways could serve as putative targets for anti-cancer drugs, but unresolved questions remain. Recent studies describe overlapping expression signatures that are shared by ES cells and various human cancers and that also predict patient outcome, but more careful analysis needs to be performed to reveal the multiple contributions to these signatures. The heterogeneity of cancers presents a challenge to the field. Many different cell types reside within a given tumor, and tumors differ from one to another, but current methods deal poorly with cellular heterogeneity. The extent to which core ES cell pluripotency factors are involved in epithelial cancers, or in a subset of cancer stem cells, remains to be explored. If they are expressed, it is relevant to ask whether the genes or gene pathways that are controlled by ES cell core factors in cancer cells are similar to those regulated by these core factors in pluripotent stem cells.
Moreover, additional layers of regulatory mechanisms that await further characterization might be shared between ES cells and cancers. For example, microRNAs, which are crucial regulators of the pluripotent state and cell proliferation [70, 71], might have patterns of regulation and downstream target genes that are common to ES and cancers cells. An improved understanding of signaling pathways that are implicated in both ES cells and cancer (or cancer stem cells) [72, 73], and their connections to the regulatory networks, is also of special interest. Finally, it will be instructive to determine whether chemicals or genetic modulators could change or shift the activity of common signatures or modules shared between ES and cancer cells. The opportunities provided by these approaches could accelerate the identification and development of new cancer therapies.
Abbreviations
ChIP:

chromatin immunoprecipitation
CSR:

consensus stemness ranking
ES:

embryonic stem
iPS:

induced pluripotent stem
MS:

mass spectrometry
PcG:

Polycomb-group
PRC:

PcG-repressive protein complex
RNAi:

RNA interference.
Declarations
Acknowledgements
We thank Andrew J Woo for critical reading of the manuscript. SHO is an investigator at the Howard Hughes Medical Institute. JK is supported by the National Institutes of Health (NIH)/National Institute of General Medical Sciences (NIGMS) grant K99/R00GM088384.
Authors' Affiliations
(1)
Molecular Cell and Developmental Biology, Institute for Cellular and Molecular Biology, The University of Texas at Austin, Austin, USA
(2)
Department of Pediatric Oncology, Children's Hospital and Dana Farber Cancer Institute, Harvard Stem Cell Institute, Harvard Medical School, Howard Hughes Medical Institute, Boston, USA
Copyright
© BioMed Central Ltd. 2011