Migration of mitochondrial DNA in the nuclear genome of colorectal adenocarcinoma
Received: 3 November 2016
Accepted: 9 March 2017
Published: 29 March 2017
Abstract
Background
Colorectal adenocarcinomas are characterized by abnormal mitochondrial DNA (mtDNA) copy number and genomic instability, but a molecular interaction between mitochondrial and nuclear genome remains unknown. Here we report the discovery of increased copies of nuclear mtDNA (NUMT) in colorectal adenocarcinomas, which supports link between mtDNA and genomic instability in the nucleus. We name this phenomenon of nuclear occurrence of mitochondrial component as numtogenesis. We provide a description of NUMT abundance and distribution in tumor versus matched blood-derived normal genomes.
Methods
Whole-genome sequence data were obtained for colon adenocarcinoma and rectum adenocarcinoma patients participating in The Cancer Genome Atlas, via the Cancer Genomics Hub, using the GeneTorrent file acquisition tool. Data were analyzed to determine NUMT proportion and distribution on a genome-wide scale. A NUMT suppressor gene was identified by comparing numtogenesis in other organisms.
Results
Our study reveals that colorectal adenocarcinoma genomes, on average, contains up to 4.2-fold more somatic NUMTs than matched normal genomes. Women colorectal tumors contained more NUMT than men. NUMT abundance in tumor predicted parallel abundance in blood. NUMT abundance positively correlated with GC content and gene density. Increased numtogenesis was observed with higher mortality. We identified YME1L1, a human homolog of yeast YME1 (yeast mitochondrial DNA escape 1) to be frequently mutated in colorectal tumors. YME1L1 was also mutated in tumors derived from other tissues. We show that inactivation of YME1L1 results in increased transfer of mtDNA in the nuclear genome.
Conclusions
Our study demonstrates increased somatic transfer of mtDNA in colorectal tumors. Our study also reveals sex-based differences in frequency of NUMT occurrence and that NUMT in blood reflects NUMT in tumors, suggesting NUMT may be used as a biomarker for tumorigenesis. We identify YME1L1 as the first NUMT suppressor gene in human and demonstrate that inactivation of YME1L1 induces migration of mtDNA to the nuclear genome. Our study reveals that numtogenesis plays an important role in the development of cancer.
Keywords
Cancer
Tumor
Colorectal cancer
Mitochondria
Mitochondrial DNA
YME1L1
NUMT
Numtogenesis
mtDNA transfer
Genetic instability
Background
Natural transfer of mitochondrial DNA (mtDNA) into the nuclear genomes of eukaryotic cells is a well-established and evolutionarily ongoing process. The nuclear copies of mtDNA are described as NUMTs (nuclear mtDNA sequences) [1]. Frequently, intact mitochondria containing mtDNA, mitochondrial RNA (mtRNA), and mitochondrial proteins are also reported to localize into the nucleus [2–9]. We have named this phenomenon of occurrence of nuclear mitochondria as numtogenesis. We define numtogenesis as the occurrence of any mitochondrial components into the nucleus or nuclear genome. Numtogenesis is reported in at least 85 sequenced eukaryotic genomes [1]. These include human, plant, yeast, fruit fly, Plasmodium, Caenorhabditis, and other species [1, 10, 11]. In human, NUMT insertions are estimated to occur at a rate of ~5 × 10−6 per germ cell per generation [12].
Evolutionary studies suggest that the origin and insertion of germline NUMTs are distributed non-randomly in humans and other mammals [13–15]. Germline NUMTs tend not to originate from the mtDNA displacement loop ("d-loop"), and they tend to be located in damage-prone regions of the nuclear genome, such as open chromatin and fragile sites [13–15]. These studies implicate NUMTs in double-strand break repair [13]. The mechanism(s) of NUMT accumulation is not well understood. It is suggested that mitochondria migrate towards the nucleus and accumulate near the nuclear membrane [16–18]. The most parsimonious mechanism explaining NUMT accumulation involves de novo transposition from the mitochondrion to the nucleus; however, NUMTs are also known to accumulate via segmental duplication (sometimes within repetitive elements), and possibly RNA retro-transposition [19–21]. The human genome contains between 755 and 1105 germline NUMTs, with mtDNA identities ranging from 64–100% [12, 22]. Germline NUMTs with the lowest similarity to mtDNA have been evolutionarily conserved for tens of millions of years, while the most recent insertions occurred after certain Homo sapiens populations migrated to Eurasia [22–26]. Human germline NUMTs are relatively well described but little is known about the somatic NUMT and its role in human pathology [27].
We and others have demonstrated that mito-nuclear interactions play a key role in tumorigenesis [28–35], but a role of mtDNA integration within the nuclear genome remains relatively unexplored. In this study, we analyzed the prevalence of NUMT in colorectal cancer (CRC) because a number of mitochondrial associations are relatively well characterized in CRC. There is a reported relationship between CRC risk and mtDNA copy number [36–38], and there are associations between germline mtDNA variants and CRC risk and mortality [39, 40]. Similarly, colorectal adenocarcinomas tend to have aberrant mtDNA copy number and somatic variant frequencies compared to matched blood-derived normal genomes [41–44]. We differentiated two classes of NUMTs with distinct characteristics, those that are inherited in the germline and those that are somatic NUMTs acquired during tumorigenesis. We present the first quantitative analysis on the abundance of somatic NUMTs in human colorectal adenocarcinoma genomes relative to matched blood-derived normal samples. Further, we compare the distributions of somatic NUMTs and germline NUMTs, describe sex-based differences in numtogenesis, and demonstrate that NUMT abundance in blood reflects NUMT abundance in tumor. In addition, we identify YME1L1 as the first "NUMT suppressor" gene in humans whose inactivation leads to increased numtogenesis.
Discussion
Numtogenesis, a natural phenomenon leading to migration of mitochondria, mitochondrial proteins, mtRNA, or mtDNA into the nucleus, is an ongoing cellular process reported in eukaryotic cells [2–9]. Although the occurrence of NUMT and the phenomenon of numtogenesis have been reported, its role in cellular and organismal function and in human health and disease remains relatively unexplored. Our study revealed that somatic NUMTs are frequently found in colorectal cancer. Consistent with our finding, two previous studies have associated NUMTs with carcinogenesis; one that found NUMTs containing LINEs in rat and mouse tumors [20] and a study of a cervical carcinoma cell line [19].
We provide evidence for increased NUMT insertions in the nuclear genomes of colorectal adenocarcinomas relative to matched control samples. NUMT occurrence was influenced by pathological cancer stage and sex between tumor and control groups. Germ line NUMT insertions leading to diseases have been identified [59]. These diseases include severe plasma factor VII deficiency and bleeding diathesis [60], mucolipodosis IV [61], Usher syndrome [62], and a rare Pallister-Hall syndrome [63]. These NUMT insertions were found in coding genes. NUMT insertions in these genes can reduce cellular fitness, leading to cellular dysfunction-induced cell death, which may underlie these human diseases [64]. Conceivably, somatic NUMT insertion in tumor suppressor gene(s) may disrupt pathways which can contribute to tumorigenesis. Similarly, NUMT may activate oncogene(s) involved in tumor development. Indeed, integration of mtDNA fragments in the MYC locus in HeLa cells [65] and in the nuclear genome of mouse embryonic fibroblasts [66] has been identified. It appears that the integration of mtDNA in the nuclear genome of mouse embryonic fibroblasts led to the malignant transformation [66].
Increased somatic NUMT insertion in the nuclear genome of tumors may be associated with mitochondrial dysfunction. Mitochondrial dysfunction is a consistent feature of a variety of tumors and is described to be a hallmark of cancer [67–72]. We have previously demonstrated that mitochondrial dysfunction induces genomic instability in the nucleus [30, 31, 33]. However, genetic instability associated with mitochondrial dysfunction has been described to be point mutations or chromosomal aneuploidy [73–75]. The nuclear genome instability was induced due to increased oxidative stress caused by the changes in the nucleotide pool [30]. Hadler et al. [76] proposed "a unitary hypothesis for carcinogenesis", speculating that a breakdown of mito-nuclear symbiosis leads to development of cancer; they suggested release of mtDNA due to damage to the mitochondrial membranes. Using a sliding window approach, we determined NUMT insertion in tumor genomes. When we searched for the origin of these nuclear NUMT landing sites among colorectal cancer samples, we found three potential fragile sites within the mitochondrial genes ND1, COX1, and COX3, whose association with colorectal cancer has already been well investigated [77, 78]. Interestingly, in most females NUMTs originated from the same mitochondrial regions while in males NUMTs originated from different regions of mtDNA.
In the yeast
S. cerevisiae
, mitochondrial dysfunction leads to increase escape of mtDNA into the nucleus [
57
]. Mutations in the
YME1
gene induce migration of mtDNA to the nucleus [
57
]. Yme1p is a multifunctional protein, controlling mitochondrial quality, which plays an important role in mitochondrial biology, including assembly of mitochondrial respiratory complexes, and importantly in mitophagy [
79
,
80
]. We identified that 16% of analyzed colorectal tumors contained mutations in the
YME1L1
gene (Fig.
9a, b
). Mutations in Yme1L1 were also found in a variety of other types of tumors (Fig.
9d
). We demonstrate that the human homolog of yeast Yme1 functions as a "NUMT suppressor". Human YME1L1, when expressed in a mutant Yme1 yeast strain, reduces the migration of mtDNA to the nucleus (Fig.
9g
). These observations support
YME1LI
as a NUMT suppressor gene in humans whose inactivation leads to increased numtogenesis. Yme1 removes the damaged or dysfunctional mitochondria by mitophagy and maintains a healthy pool of mitochondria in the cell [
81
]. These observations implicate mitophagy in mediating accumulation and transfer of mtDNA into the nuclear genome. These observations lead us to suggest that the mechanism underlying numtogenesis may involve Yme1-mediated mitophagy. Mitophagy is a stringent mechanism that controls the quality of mitochondria in cells [
81
]. Compromised mitophagy due to loss of Yme1 [
80
] or an acid endonuclease DNase IIα [
82
] can lead to accumulation of incompletely digested mtDNA in the cytoplasm that ultimately ends up in the nucleus (Fig.
10
).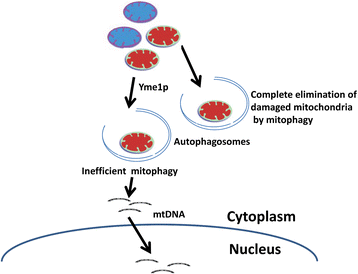 It is conceivable that a direct physical association or fusion between the mitochondrial and nuclear membranes and encapsulation of mitochondria in the nucleus [83, 84] may contribute to numtogenesis. Observations supporting encapsulation of mitochondria in the nucleus have been reported [2–5, 7–9]. The nuclear envelope breaks down during mitosis, leading to disruption of the physical barrier seperating the nucleoplasm and cytoplasm [85]. This stage of the cell cycle can provide an opportunity for mitochondria to enter into the nucleus. Furthermore, cancer cells often exhibit a ruptured nuclear envelope [86]. Decreased expression of lamins, important constituents of the nuclear membrane, contributing to nuclear rupture in cancer cells, has also been reported [87]. Lamins in the nuclear membrane bind to chromatin and hold chromosomes in place and thus reduce chromosome breakage [88]. Indeed, patients with laminopathy resulting from reduced lamin expression contain mitochondria in the nucleus. It is likely that loss of lamin expression in cancer cells helps migration of mitochondria into the nucleus, resulting in eventual integration of mtDNA into the nuclear genome. This phenomenon might be a survival mechanism for cancer cells [13].
It is unclear how numtogenesis alters the nuclear genome functions. Tsuji and coauthors [25] hypothesized that the underrepresentation of d-loop NUMTs in the germline may be due to protein binding sites located in this region, which may interrupt mtDNA fragmentation and immigration to the nucleus. We propose an alternative mechanism which involves structural alteration of the chromosome. Under this model, the inserted mitochondrial d-loop insertion functions as a telomeric t-loop, whereby it stabilizes a double-strand break and truncates the chromosome arm, resulting in aneuploidy. This mechanism involves transfer of the mtDNA displacement loop (d-loop) to the nuclear genome, where it could promote aneusomy by functioning as a telomeric "t-loop" structure, which typically caps the linear DNA molecule with a triple-stranded loop. The insertion of a mitochondrial d-loop could therefore directly interfere with the secondary structure of open chromatin and histone binding sites, leading to genome instability and/or dysregulation of gene expression. The second putative mechanism involves a mismatch between nucleotide composition between the mtDNA origin and nuclear DNA insertion site, which again draws from comparisons with work of Tsuji and coauthors [25]. Previous work has shown that non-homologous recombination and transposable element insertion can lead to genome instability by modifying local methylation patterns and altering molecular thermodynamics, which could lead to dysregulation of the cell cycle and aneuploidy. These two putative mechanisms are not mutually exclusive and we anticipate that novel mechanisms will be revealed through further investigation.
Conclusions
Our study reveals that numtogenesis plays an important role in the development of cancer and that NUMTs may serve as a biomarker for tumorigenesis. This study also identifies YME1L1 as the first NUMT suppressor gene in human and demonstrate that inactivation of YME1L1 induces migration of mtDNA to the nuclear genome. Exploration of mtDNA migration into the cancer genome should provide impetus for further studies to identify the mechanism(s) underlying numtogenesis.
Abbreviations
BAM:

Binary alignment
CGHub:

Cancer Genomics Hub
COAD:

Colon adenocarcinoma
CRC:

colorectal cancer
mtDNA:

Mitochondrial DNA
mtRNA:

Mitochondrial RNA
NUMT:

nuclear mtDNA sequence
QC:

quality control
READ:

Rectum adenocarcinoma
TCGA:

The Cancer Genome Atlas
Declarations
Acknowledgements
We thank Dr. Andreas Ivessa for generously providing us with PTY62 (Yme1-1) yeast strains, Dr. Thomas Fox for the yeast expression construct pPT31-yYme1, Dr. Thomas Langer for pYX113-hYme1L1, and Dr. Diana Stojanovski for pRS414-yYme1 constructs.
Funding
This study was supported by grants from the Veterans Administration 1I01BX001716 and a NCTN–LAPS Program Translational Research Award to KKS and T32HL072757 (PI: HKT) to MWS.
Availability of data and materials
TCGA data sets are publicly available to researchers upon individual institutional IRB approval and approval from dbgap.
Authors' contributions
KKS and HKT conceived the project and designed the experiments. VS, MWS, AS, VPM, and BS performed the experiments and analyzed the data. PB analyzed YME1L1 mutations in tumors. VS, MWS, HKT, BS, and KKS wrote the manuscript. All authors read and approved the final manuscript.
Authors' information
MWS and BS contributed equally to this study. MWS's current affiliation is the Department of Biological and Environmental Sciences, School of Natural Sciences and Mathematics, University of West Alabama, Livingston, Alabama.
Competing interests
The authors declare that they have no competing interests.
Consent for publication
Not applicable.
Ethics approval and consent to participate
Datasets utilized in part of this research fall under dbGaP's "Protected/Controlled Data Access System", which warrants a multi-step protocol involving the IRB team of UAB for gaining complete access to the requested research data. The data access process was initiated by Dr. Hemant Tiwari through his dbGaP eRA Commons account by submitting a research proposal description. Upon successful submission and approval to use identified TCGA Sequencing data, the Genomic Data Commons (GDC) data portal was used to access authorized sequencing datasets. GDC's data download and storage protocol was followed carefully to maintain integrity of the downloaded data and ensure a secure sandbox was staged to store and analyze the datasets. The research data part of dbGaP's study ID 'phs000178.v9.p8' (referenced and approved by TCGA as Project ID 4538) was downloaded and analyzed as part of our research effort. Furthermore, we de-identified the sample IDs by replacing the original Barcode-based TCGA ID convention with our internal numeric ID format. No individual consent was acquired as the study utilized the TCGA database.
Publisher's Note
Springer Nature remains neutral with regard to jurisdictional claims in published maps and institutional affiliations.
Open AccessThis article is distributed under the terms of the Creative Commons Attribution 4.0 International License (http://creativecommons.org/licenses/by/4.0/), which permits unrestricted use, distribution, and reproduction in any medium, provided you give appropriate credit to the original author(s) and the source, provide a link to the Creative Commons license, and indicate if changes were made. The Creative Commons Public Domain Dedication waiver (http://creativecommons.org/publicdomain/zero/1.0/) applies to the data made available in this article, unless otherwise stated.
Authors' Affiliations
(1)
Department of Biostatistics, School of Public Health, University of Alabama at Birmingham, Birmingham, USA
(2)
Department of Genetics, University of Alabama at Birmingham, Birmingham, USA
(3)
Departments of Genetics, Environmental Health, Center for Free Radical Biology, Center for Aging and UAB Comprehensive Cancer Center, University of Alabama at Birmingham, Birmingham, USA
(4)
Departments of Pathology, Environmental Health, Center for Free Radical Biology, Center for Aging and UAB Comprehensive Cancer Center, University of Alabama at Birmingham, Birmingham, USA
(5)
Birmingham Veterans Affairs Medical Center, Birmingham, USA
(6)
Department of Genetics, School of Medicine, University of Alabama at Birmingham, Birmingham, USA
(7)
Present address: Department of Biological and Environmental Sciences, School of Natural Sciences and Mathematics, University of West Alabama, Livingston, USA