In silicoanalysis of HLA associations with drug-induced liver injury: use of a HLA-genotyped DNA archive from healthy volunteers
Received: 31 October 2011
Accepted: 25 June 2012
Published: 25 June 2012
Abstract
Background
Drug-induced liver injury (DILI) is one of the most common adverse reactions leading to product withdrawal post-marketing. Recently, genome-wide association studies have identified a number of human leukocyte antigen (HLA) alleles associated with DILI; however, the cellular and chemical mechanisms are not fully understood.
Methods
To study these mechanisms, we established an HLA-typed cell archive from 400 healthy volunteers. In addition, we utilized HLA genotype data from more than four million individuals from publicly accessible repositories such as the Allele Frequency Net Database, Major Histocompatibility Complex Database and Immune Epitope Database to study the HLA alleles associated with DILI. We utilized novel in silico strategies to examine HLA haplotype relationships among the alleles associated with DILI by using bioinformatics tools such as NetMHCpan, PyPop, GraphViz, PHYLIP and TreeView.
Results
We demonstrated that many of the alleles that have been associated with liver injury induced by structurally diverse drugs (flucloxacillin, co-amoxiclav, ximelagatran, lapatinib, lumiracoxib) reside on common HLA haplotypes, which were present in populations of diverse ethnicity.
Conclusions
Our bioinformatic analysis indicates that there may be a connection between the different HLA alleles associated with DILI caused by therapeutically and structurally different drugs, possibly through peptide binding of one of the HLA alleles that defines the causal haplotype. Further functional work, together with next-generation sequencing techniques, will be needed to define the causal alleles associated with DILI.
Keywords
Major Histocompatibility Complex
Human Leukocyte Antigen
Lapatinib
Peptide Binding
Human Leukocyte Antigen Class
Background
Drug-induced T-cell mediated hypersensitivity reactions are feared by clinicians and pharmaceutical companies alike. Although these reactions occur infrequently, they are still a cause of severe morbidity and mortality. They are difficult to predict during drug discovery because of a lack of in vitro or animal models and, because they occur at such a low frequency, they are often only detected during the late stages of drug development or, more commonly, during post-marketing. Cutaneous rashes are the most common manifestations and may be accompanied by systemic symptoms such as fever. In addition, extracutaneous organ involvement, such as drug-induced liver injury (DILI) can also occur, either in combination with skin involvement or in isolation. Taken together, the occurrence of immune-mediated drug hypersensitivity poses a challenge with respect to prediction, diagnosis and therapy.
A number of hypotheses have been proposed to explain the ability of drugs to initiate an immune response against host cells. Drugs or drug metabolites may bind covalently to proteins before being taken up by specialized antigen-presenting cells [1]. These haptenated proteins are then processed within the cell, and cleaved into peptide fragments that can be presented to T cells via major histocompatibility complex (MHC) class I or II molecules [2]. Alternatively, the 'pharmacological interaction with immune receptors' (p-i) concept suggests that the interaction between drug, T-cell receptor and MHC molecule can be non-covalent and that direct stimulation of T cells can occur, independent of cellular processing [3]. Both of these mechanisms highlight that the unique interaction between drug, T-cell receptor and MHC molecule is a key factor in the development of immune-mediated adverse reactions to drugs and, as such, the study of HLA alleles represents a logical route to study the genetic basis of such immune-mediated reactions.
Consistent with this, several genome-wide association studies conducted recently have identified a number of HLA alleles that are associated with a range of clinically diverse hypersensitivity reactions to structurally unrelated low-molecular weight compounds (Table
1
) [
4
–
22
]. HLA alleles reside in the MHC region on chromosome 6, the most polymorphic region in the human genome [
23
]. Strong linkage disequilibrium (LD) extends across the whole MHC and includes the human leukocyte antigen (HLA) class I, class II and class III genes [
24
]. Given the extensive LD, it is difficult to prove that any reported associations with HLA alleles are causal. The crucial role of HLA molecules in immune recognition and evidence for the involvement of drug-specific T cells in several of these HLA-associated reactions indicates that the immune system is involved but does not implicate a particular HLA allele [
25
–
28
]. A functional role for HLA class I alleles has only been demonstrated for abacavir-induced hypersensitivity [
29
]. In addition, potential clinical utility of HLA genetic markers has been demonstrated recently for efficacy and risk management of patients treated with interferon-beta for multiple sclerosis [
30
,
31
].
Table 1
HLA alleles associated with adverse drug reactions and cell availability in the HLA-typed archive
Number of carriers of HLA alleles associated with DILI in our cohort (n= 385)

Drug

HLA allele

Reaction (ethnicity)

Odds ratio (95% CI)

Reference

Hmz

Htz

Drug-induced hypersensitivity reactions

   Abacavir

B*57:01

Hypersensitivity (all)

117 (29-481)

[14]

1

25

   Carbamazepine

B*15:02

SJS/TEN (Han Chinese)

2,504 (126-49,522)

[4]

1

6

A*31:01

All phenotypes (Caucasian)

12.12 (4.03-20.65)

[17]

0

23

   Allopurinol

B*58:01

SJS (Han Chinese)

580.3 (34.4-9,780.9)

0

6

SJS (Caucasian)

80 (34-187)

   Nevirapine

DRB1*01:01

Hypersensitivity (Caucasian)

4.8 (1.3-16.8)

[16]

3

52

   Lamotrigine

B*38

SJS/TEN (Caucasian)

6.8 (2.6-18)

[12]

0

7

Drug-induced liver injury

   Flucloxacillin

B*57:01

DILI (Caucasian)

80.6 (22.8-284.9)

[6]

1

25

   Ximelagatran

DRB1*07:01

DILI (Caucasian)

4.4 (2.2-8.9)

[11]

10

91

DQA1*02:01

4.4 (2.2-8.1)

ND

ND

   Lumiracoxib

DRB1*15:01

DILI (Caucasian)

7.5 (5.0 to 11.3)

[21]

10

100

DQA1*01:02

6.3 (4.1 to 9.6)

ND

ND

DQB1*06:02

6.9 (4.6 to 10.3)

8

90

   Co-amoxiclav

DRB1*15:01 and

DILI (Caucasian)

2.8 (2.1 to 3.8)

10

100

DQB1*06:02

8

90

A*02:01

2.3 (1.8 to 2.9)

46

153

   Antituberculosis (isoniazid, rifampicin, pyrazinamide)

DQB1*02:01

DILI (Indian)

1.9 (1.0 to 3.9)

[20]

20

143

   Lapatinib

DQA1*02:01

DILI (Caucasian)

2.2 (1.1 to 5.7)

[22]

ND

ND

9.0 (3.2 to 27.4)

DRB1*07:01

6.9 (2.5 to 19.9)

10

91

DQB1*02:02

6.9 (2.5 to 19.6)

0

0

   Diclofenac

DRB1*13

DILI (Caucasian)

-

[5]

-

-

   Clometacin

B*08

DILI

-

[19]

-

-

   Ticlopidine

A*33:03

DILI (Japanese)

13.0 (4.4 to 38.6)

[9]

1

8
In order to study HLA-linked reactions
in vitro
, work with genetically characterized cells is essential. For example, immune cells containing specific HLA types can be utilized in functional assays to determine the propensity of small molecules such as drugs to initiate T-cell responses (Figure
1
). This approach has already shown some success: drug-specific secretion of interferon-gamma was detected in lymphocytes isolated from HLA-B*57:01-positive abacavir-naïve healthy donors following a short priming period [
29
]. Bioinformatic approaches are also important to define the mechanisms of immune reactions that are associated with specific HLA types - this is now possible given that sequence-based HLA typing has become faster and cheaper, which has resulted in increasing availability of individual and frequency data in public repositories.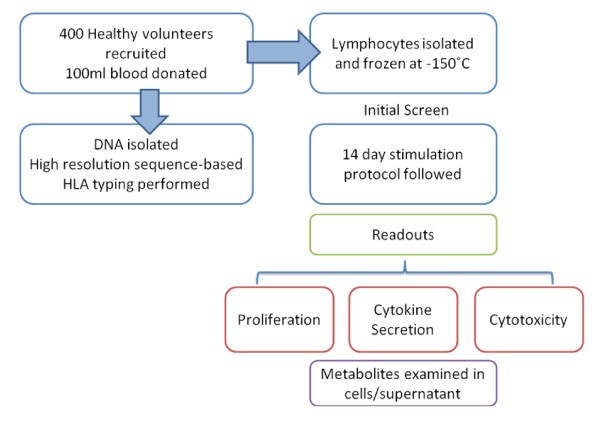 In this study, we demonstrate how an HLA-typed cell archive from 400 healthy volunteers combined with the use of bioinformatic tools to analyze publicly accessible information on more than four million HLA-typed individuals was utilized for the investigation of immune-mediated adverse drug reactions (ADRs). Specifically, we have used the alleles reported to predispose to DILI as a paradigm for our bioinformatic based approach.
Discussion
For many HLA-associated ADRs the causative allele is yet to be identified. Given the strong LD in the MHC region, it is difficult to conclude that HLA alleles that show the strongest association with drug-induced adverse reactions are indeed the causative alleles. These associations encompass a diverse range of drugs and clinical manifestations, such as DILI or delayed type hypersensitivity reactions.
The complex interplay between HLA genes and haplotypes can only be replicated in systems where these haplotypes are present. Humanized animal models, in which specific human HLA alleles can be inserted into the mouse genome, have previously been used to model autoimmunity [46]. However, given the great complexity in the MHC region, where LD can confound the discovery of genetic associations and where there is a likely role for specific HLA haplotypes, it is unclear how successful this approach would be in studying ADRs to low molecular weight drugs in particular. Through the use of human lymphocytes in which HLA haplotypes can be determined, we can paint a more complete picture of the mechanisms underlying drug antigenicity. It is possible that other, as yet undetermined HLA loci or non-HLA genes may be implicated in ADRs that reside on an extended haplotype.
Our primary aim was to establish a HLA-typed DNA archive that could be used together with the existing publicly accessible data repositories for in silico HLA analysis. In addition, we established a cell archive from healthy individuals to test the propensity of drugs to elicit an immune response in vitro. We therefore recruited 400 individuals from different ethnicities, which was important as some HLA-associations that have been discovered are confined to specific ethnic groups. In order to be able to study the involvement of low-frequency alleles, it was therefore important to recruit individuals from these backgrounds. Given that the strongest associations so far were found between immune-mediated ADRs and HLA alleles, we undertook high-resolution sequence-based typing for five classical HLA loci (HLA-A, -B, -C, -DRB1 and -DQB1) and used the National Marrow Donor Program HLA allele nomenclature to represent ambiguities. The National Marrow Donor Program coding algorithm is used in registries and cord blood banks around the world that collect and store HLA typing information for volunteer donors for bone marrow transplantation and is used to select and prioritize a list of potentially suitable donors within large donor data files [47].
The HLA-typed cell archive will be used to assess the role of HLA haplotypes in drug-induced hypersensitivity. Our cohort sample size calculations were based on ximelagatran, a drug withdrawn from the market because of liver toxicity during phase III studies [11]. Preclinical studies in a variety of species failed to detect liver toxicity associated with ximelagatran. An immune mechanism has been postulated based on the prolonged time to onset of alanine aminotransferase elevation (one to six months), evidence of drug-specific T cells (2 out of 7 occupationally exposed workers with skin symptoms and 2 out of 21 orally treated patients with elevated alanine aminotransferase), the pharmacogenomic MHC association and evidence of ximelagatran binding to soluble HLA-DRB1*07:01 molecules [11].
In order to explore the associations between DILI and HLA class I and class II alleles, we utilized in silico approaches to investigate allele and haplotype associations by using individual level data from our archival collection and from public repositories. The latter provided us with a dataset that contained HLA allele frequency information on approximately four million individuals from more than 800 worldwide populations. Firstly, we demonstrated that different HLA alleles found to be associated with DILI are in strong LD. Secondly, in an independent unbiased analysis that included all available HLA alleles, we showed that LD is also strong in populations of non-Caucasian ancestry. Thirdly, we showed that alleles that have been reported to be associated with DILI caused by several chemically unrelated drugs, such as flucloxacillin, ximelagatran, lapatinib and antituberculosis drugs, reside on similar haplotypes. Although some studies reported that drug-induced hepatotoxicity was associated with HLA haplotypes rather than the single HLA alleles [6, 7, 11, 48], due to relatively small number of participants in each study, it has not been possible to analyze extended haplotypes in detail. We report here that DILI caused by at least nine different drugs can be related to two main haplotypes, which are illustrated in Figure 2. Interestingly, for ticlopidine-induced DILI in Japanese patients the strongest association has been detected with A*33:03, which has higher frequency in Asian populations than in Caucasians (Figure S1 in Additional file 1). However, the ancestral haplotype 44.4 in Caucasians, which contains A*33:03, DRB1*13:02 and DQB1*06:04, also contains DQA1*01:02, which has been associated with lumiracoxib- and co-amoxiclav-associated toxicity [7, 13, 21], in a haplotype containing DQB1*06:02. Our preliminary analysis suggests that the peptide binding capability of DQA1*01:02-DQB1*06:02 and DQA1*01:02-DQB1*06:04 would be the same, as the antigen recognition site of DQB1*06:02 and DQB1*06:04 is identical, and hence it may be that this is a common factor between the DILI associations with ticlopidine and lumiracoxib/co-amoxiclav. The identification of common haplotypes associated with DILI raises the intriguing possibility that common causal alleles within the MHC may predispose to DILI - this may now be amenable to investigation by next-generation sequencing technologies.
Several alleles that have not been implicated in DILI previously have been identified to be in strong LD with liver toxicity-associated alleles. These are A*01:01, B*40:01 and DQA1*01:01. Although they are relatively common, they may give us a valuable clue to the haplotype on which a potential low-frequency or rare (less than three reports worldwide) causal variant resides. It is important to note that another role for our high resolution typed archive is to confirm the existence of reported rare HLA alleles.
It is important to note that the identified haplotypes represent a significant proportion of a general population. It is likely, therefore, that other factors are required in addition to specified HLA allele carriage to elicit the adverse reaction, implying that specified HLA carriage is necessary but not sufficient to elicit this effect. Our HLA-characterized cell archive can be utilized to empirically investigate such alternative hypotheses.
One of the limitations of our analyses is that although DQ alleles are implicated as part of the causal locus in the DILI causing haplotypes for four unrelated drugs, no heterodimer data for DQA1-DQB1 structure-binding relationships are available, which may limit the peptide sequence inferences drawn.
We carried out peptide binding predictions that confirmed that alleles associated with DILI are unrelated. The results clearly indicated that there is no overall similarity in peptide binding across all class I and class II alleles implicated in DILI, compared with the control set of HLA alleles. Within the HLA class I alleles associated with liver toxicity, the alleles were less similar than the control set, indicating that it is unlikely there is a shared mechanism of peptide binding. Within the class II set, the two DILI-associated alleles (DRB1*07:01, DRB1*15:01) were, however, slightly more similar to each other than they were to the control set.
Conclusions
The present study demonstrates how creating a DNA biobank generated from healthy volunteers can be used to study HLA-associated ADRs. The HLA-typed cells stored in our cell bank will be an invaluable tool in functional assays to determine the propensity of different drugs to elicit a T-cell response in future studies. Our knowledge of HLA LD and haplotype structure in Caucasians and in other worldwide populations can help selecting cells of certain genotypes to be used as positive and negative controls in immunological studies.
Abbreviations
AFND:

Allele Frequency Net Database
ADR:

adverse drug reaction
dbMHC:

Major Histocompatibility Complex Database
DILI:

drug-induced liver injury
ENW:

England North West
HLA:

human leukocyte antigen
LD:

linkage disequilibrium
MHC:

major histocompatibility complex
p-i concept:

pharmacological interaction with immune receptors.
Declarations
Acknowledgements
This work has been supported by Medical Research Council (MRC Centre for Drug Safety Science), Department of Health (The Wolfson Centre for Personalised Medicine) and AstraZeneca. MP is a NIHR Senior Investigator.
Authors' Affiliations
(1)
Department of Molecular and Clinical Pharmacology, Institute of Translational Medicine, University of Liverpool, Liverpool, UK
(2)
Department of Functional and Comparative Genomics, Institute of Integrative Biology, University of Liverpool, Liverpool, UK
(3)
Department of Molecular and Clinical Pharmacology, Institute of Translational Medicine, University of Liverpool, Liverpool, UK
(4)
Safety Assessment, AstraZeneca, Gartuna, Södertälje, Sweden
Copyright
© Alfirevic et al.; licensee BioMed Central Ltd. 2012
This article is published under license to BioMed Central Ltd. This is an open access article distributed under the terms of the Creative Commons Attribution License (http://creativecommons.org/licenses/by/2.0), which permits unrestricted use, distribution, and reproduction in any medium, provided the original work is properly cited.