Integrated biology approach reveals molecular and pathological interactions among Alzheimer's Aβ42, Tau, TREM2, and TYROBP in Drosophila models
Received: 15 August 2017
Accepted: 12 March 2018
Published: 29 March 2018
Abstract
Background
Cerebral amyloidosis, neuroinflammation, and tauopathy are key features of Alzheimer's disease (AD), but interactions among these features remain poorly understood. Our previous multiscale molecular network models of AD revealed TYROBP as a key driver of an immune- and microglia-specific network that was robustly associated with AD pathophysiology. Recent genetic studies of AD further identified pathogenic mutations in both TREM2 and TYROBP.
Methods
In this study, we systematically examined molecular and pathological interactions among Aβ, tau, TREM2, and TYROBP by integrating signatures from transgenic Drosophila models of AD and transcriptome-wide gene co-expression networks from two human AD cohorts.
Results
Glial expression of TREM2/TYROBP exacerbated tau-mediated neurodegeneration and synergistically affected pathways underlying late-onset AD pathology, while neuronal Aβ42 and glial TREM2/TYROBP synergistically altered expression of the genes in synaptic function and immune modules in AD.
Conclusions
The comprehensive pathological and molecular data generated through this study strongly validate the causal role of TREM2/TYROBP in driving molecular networks in AD and AD-related phenotypes in flies.
Keywords
Alzheimer's disease
Amyloid-β (Aβ) peptides
Microtubule-associated protein tau
TYROBP (tyrosine kinase binding protein)
TREM2 (triggering receptor expressed on myeloid cells 2)
Differential expression
Gene co-expression network
Gene module
Synaptophagy
Immune function
Neurodegeneration
Background
Alzheimer's disease (AD) is the leading cause of neurodegeneration and dementia. At the level of neuropathology, AD is characterized by aggregation and accumulation of two proteins, β-amyloid peptides (Aβ) and the microtubule-associated protein tau [1]. It is accompanied by the activation of multiple neuroinflammatory pathways [2]. Lines of evidence from laboratories and clinics worldwide support the concept that accumulation of Aβ peptides can be an initiating factor and can lie upstream of tau to drive synaptic dysfunction, neuron death and cognitive impairment [3–7].
A new model was developed to account for the fact that up to one-third of patients with clinically diagnosed AD have no evidence of amyloidosis on brain amyloid imaging [8]. Alternatively, some older individuals with neuropathological AD were asymptomatic during their lifetime [9]. These clinicopathological studies indicate that disease progression is a complex process resulting from the interplay of a number of genetic and environmental factors, some of which modulate accumulation of neuropathology while others modulate synaptic and neuronal resilience [10]. System-level analyses of large datasets from patients have emerged as powerful tools for understanding complex diseases such as AD. Gene expression datasets, along with genomic and clinical information from multiple studies, continue to accumulate and data interpretation is becoming a difficult challenge in these "omics" approaches.
Gene regulatory network analysis is a powerful tool in identifying gene modules pathologically related to human complex diseases including AD [11, 12]. We employed an integrative multiscale network analysis approach to identify key molecular interactions of cellular pathways and causal regulators underlying pathological changes in AD. This approach identified TYROBP (tyrosine kinase binding protein, also known as DAP12), the intracellular adaptor of TREM2 (triggering receptor expressed on myeloid cells 2), as a key driver of immune- and microglia-specific networks that are associated with LOAD pathology [11, 13]. Genome-wide association studies (GWAS) revealed that TREM2, a TYROBP-binding protein, is a risk gene for late-onset sporadic AD [14–16]. More recently, TYROBP-coding sequence genetic variants were found to contribute to an increased risk of early-onset AD [17]. Moreover, TREM2/TYROBP signaling is upregulated by plaque-associated myeloid cells in AD brains and in APP transgenic mice [18–20]. An ectodomain of TREM2 is cleaved and released into the extracellular space as a soluble form (sTREM2) and sTREM2 levels in CSF are elevated in the early symptomatic phase of AD [21–23]. Interestingly, this cleavage of TREM2 is reduced by pathogenic mutations for AD [24, 25]. These reports underscore the role of TREM2/TYROBP in AD pathogenesis.
TREM2 encodes a receptor expressed exclusively in the immune cells in the brain [26, 27]. Studies with TREM2-deficient AD model mice suggest that TREM2 may influence phagocytosis of Aβ-lipid complexes as well as microglial survival [28] and metabolic fitness [29]. Microglia forms a barrier to restrict Aβ plaque growth and diffusion of soluble Aβ oligomers [30], thereby ameliorating tau pathology in AD mouse models [31–33]. TREM2 deficiency or the AD-associated R47H mutation in TREM2 significantly reduced accumulation of microglia around Aβ plaques [28, 34]. A recent study also shows that some effects of TREM2 on Aβ pathology may be disease-stage-dependent [33].
By contrast, activation of microglia can play not only beneficial but also detrimental roles in plaque-related neuropathology. Microglia in adult brains engulf spines and other synaptic processes; exposure to Aβ may inappropriately activate this process to mediate synapse loss [35]. This "synaptophagy" involves complement and CR3, which, like TREM2, can provide an ectodomain protein that interacts with TYROBP [36]. Intriguingly, TYROBP deficiency in APPswe/PS1dE9 mice reduces plaque-associated microglia with improved electrophysiological and learning behavior effects [37]. In addition, TREM2 overexpression failed to improve neuropathology and cognitive impairment in aged APPswe/PS1dE9 mice [38]. More recent studies demonstrate that TREM2 pathway promotes the transition from homeostatic to disease-associated microglia in brains of AD model mice [39, 40].
These reports are consistent with a model wherein TREM2/TYROBP signaling is activated as a protective response against Aβ pathology; however, sustained TREM2/TYROBP activation may ultimately aggravate inflammatory and synapse-related pathologies, thereby driving AD progression. Thus, elucidation of the molecular basis for various interrelationships involving Aβ, TREM2/TYROBP, and tau may fill some gaps in our understanding of AD pathogenesis.
In this study, we aimed to decipher molecular interactions among Aβ, TREM2/TYROBP, and tau by integrating gene expression signatures associated with TREM2/TYROBP from AD Drosophila models and transcriptome-wide gene co-expression networks from two human AD cohorts including Harvard Brain Tissue Resource Center (HBTRC) [11], and the Religious Orders Study and the Rush Memory and Aging Project (ROSMAP) [41, 42]. The impact of an AD-associated TREM2 R47H variant on these molecular interactions was also analyzed. Our data demonstrate that co-expression of neuronal Aβ42 with glial TREM2R47H/TYROBP led to synergistic downregulation of genes associated with synaptic function modules in fly brains. Moreover, glial expression of both TREM2WT/TYROBP and TREM2R47H/TYROBP exacerbated tau toxicity and synergistically affected the pathways implicated in AD-related neurodegeneration. Thus, gene regulatory networks highlighted by this unbiased, cross species analysis appeared to recapitulate some key features of AD progression and support a key driver role for TREM2/TYROBP in AD pathogenesis.
Methods
Drosophila genetics
Flies were maintained in standard cornmeal media at 25 °C. Complementary DNA (cDNA) encoding the full length of TREM2 (NM_018965, RC221132) and TYROBP (NM_198125, RC203771) with Myc-DDK tag were obtained from OriGene Technologies, Inc. These constructs were subcloned into a pJFRC19-13XLexAop2 vector (Addgene #26224). TREM2R47H mutation was introduced by using site-directed mutagenesis kit (Takara Bio Inc.). Transgenic flies were generated by PhiC31 integrase-mediated transgenesis systems (Best Gene Inc.). Transgenic fly lines carrying UAS-Aβ42 and UAS-tau were previously described [43–45]. Repo-LexA (#67096), Elav-GAL4 (#458), GMR-GAL4 (#1104), UAS-para RNAi (#31626), and UAS-mcherry RNAi (#35785) were obtained from the Bloomington Stock Center. For RNA sequencing (RNA-seq), around seven-day-old male flies were used. All experiments were performed using age-matched male flies.
Western blotting
Fly heads for each genotype were homogenized in appropriate buffer and subjected to western blotting or co-immunoprecipitation. Details for western blotting and sequential extractions of Aβ42 were performed as previously described [44]. Anti-FLAG (Sigma-Aldrich), anti-TREM2 (Cell signaling), anti-tau (Millipore), anti-non phospho tau (Merck Millipore), anti-pThr231 tau (Thermo Fisher Scientific), anti-pSer262 tau (Abcam), and anti-tubulin (Sigma-Aldrich) for western blotting were purchased.
Histological analysis
Heads of male or female flies were fixed in 4% paraformaldehyde for 24 h at 4 °C and embedded in paraffin. Serial sections (6-μm thickness) through the entire heads were prepared, stained with hematoxylin and eosin (Sigma-Aldrich), and examined by bright-field microscopy. Images of the sections were captured with AxioCam 105 color (Carl Zeiss); the vacuole area was measured using Image J (NIH).
Climbing assay
Approximately 25 flies were placed in an empty plastic vial. The vial was then gently tapped to knock all of the flies to the bottom. The numbers of flies in the top, middle, or bottom thirds of the vial were scored after 10 s. The percentages of flies that stayed at the bottom were subjected to statistical analyses. Experiments were repeated more than three times and a representative result was shown.
Courtship-conditioning assay
Courtship-conditioning assay was performed using the method by Ishimoto et al. [46, 47]. Unreceptive, mated-females were prepared as "trainers" one day before the conditioning. For training, a three- to five-day-old virgin male was placed with a trainer female in the courtship chamber (15 mm in diameter × 5 mm in depth) for 1 h. Trained males and non-trained naïve males were tested with freeze-killed virgin females as a courtship target in the courtship chamber 1 h after training. The courtship index (CI) was defined as the proportion of time spent in courtship behavior during 10 min observation period. We used more than 60 flies for each genotype. CIs for conditioned males and naïve controls were analyzed by Mann–Whitney U test. To compare the memory performances of each genotype, experimental data are presented as the performance index (PI), which was calculated using the following formula. PI = 100 × (CI average for naïve – CI conditioned)/CI average for naïve, after CIs were subjected to arcsine square root transformation to approximate normal distributions.
Reverse transcription polymerase chain reaction (RT-PCR) and quantitative reverse transcription polymerase chain reaction (qRT-PCR)
RNA extraction was described below (RNA-seq and analyses). Total RNA was reverse-transcribed using PrimeScript RT-PCR kit (TaKaRa Bio) and the resulting cDNA was used as a template for PCR (Veriti, Applied Biosystems). PCR products were analyzed by 1% agarose gel.
qRT-PCR was performed using PowerSYBR (Thermo Fisher Scientific) on a CFX96 real-time PCR detection system (Bio-Rad Laboratories). The average threshold cycle value (CT) was calculated from at least three replicates per sample. Expression of genes of interest was standardized relative to GAPDH1. Relative expression values were determined by the ΔΔCT method. Primers were designed using Primer-Blast (NIH) or FlyPrimerBank [48] as described in Additional file 1: Table S11.
RNA sequencing and analyses
More than 100 flies for each genotype were collected and frozen. Heads were mechanically isolated and total RNA was extracted using TRIzol Reagent (Invitrogen, Thermo Fisher Scientific) according to the manufacturer's protocol with an additional centrifugation step (16,000 × g for 10 min) to remove cuticle membranes before the addition of chloroform. Total RNA was purified using phenol-chloroform reagents after treatment with DNAaseI.
Preparation of samples for RNA-seq analysis was performed using the TruSeq RNA Sample Preparation Kit v2 (Illumina). Briefly, ribosomal RNA was depleted from total RNA using the Ribo-Zero rRNA Removal Kit (Human/Mouse/Rat) (Illumina) to enrich for coding RNA and long non-coding RNA. The cDNA was synthesized using random hexamers, end-repaired, and ligated with appropriate adaptors for sequencing. The library then underwent size selection and purification using AMPure XP beads (Beckman Coulter). The appropriate Illumina recommended 6-bp bar-code bases are introduced at one end of the adaptors during PCR amplification step. The size and concentration of the RNA-seq libraries were measured by Bioanalyzer (Agilent) and Qubit fluorometry (Life Technologies, Thermo Fisher Scientific) before loading onto the sequencer. The Ribo-Zero libraries were sequenced on the Illumina HiSeq 2500 System with 100 nucleotide single-end reads, according to the standard manufacturer's protocol (Illumina).
Single-ended RNA-seq data were generated with the Illumina HiSeq 2500 platform following the Illumina protocol. The raw sequencing reads were aligned to fly genome BDGP6 using star aligner (version 2.5.0b). Following read alignment, featureCounts [49] was used to quantify the gene expression at the gene level based on Ensembl gene model. Genes with at least 5 reads in at least one sample were considered expressed and hence retained for further analysis, otherwise removed. The gene level read counts data were normalized using trimmed mean of M-values normalization (TMM) method [50] to adjust for sequencing library size difference.
Differential gene expression between different genotypes was predicted by linear model analysis using Bioconductor package LIMMA [51]. RNA integrity number (RIN) score was incorporated as a covariate in the linear model to control for sample quality. To adjust for multiple tests, false discovery rate (FDR) of the differential expression test was estimated using the Benjamini–Hochberg (BH) method [52]. Genes with FDR < 0.05 and log2 fold change > 1 or < − 1 were considered significant.
Functional enrichment analysis (FEA)
For FEA of differential expression gene signatures, the gene ontology (GO) annotations were obtained from the flyBase database. Then the enrichment analysis was carried out using Fisher's exact test (FET), assuming the genes in different sets were identically independently sampled from the genome-wide genes profiled. The BH approach was employed to constrain the FDR.
ROSMAP AD cohort network analysis
We utilized large-scale RNA-seq data of the ROSMAP AD cohort to build a gene co-expression network to capture the coordinated regulation of gene expression traits in brain samples. This dataset profiled gene expression of postmortem brain samples from two longitudinal studies of aging and AD [41, 42]. In both studies, participants enroll without dementia and agree to annual clinical evaluation and organ donation at death. As a result, most decedents are old, without dementia and few participants reach end stage dementia before death. They differ from the types of cases obtained in tertiary care clinics [53]. In the ROSMAP dataset, there were 1059 samples including 362 AD cases and 697 controls. We downloaded preprocessed RNA-seq FPKM gene expression abundance data, SNP genotype data, and DNA methylation data from Synapse (https://doi.org/10.7303/syn3219045). We downloaded preprocessed RNA-seq FPKM gene expression abundance data from Synapse (https://doi.org/10.7303/syn3388564). Genes with at least 1 FPKM in at least 10% of the samples were selected and then the data were corrected for confounding factors including batch, PMI, sex, and RIN score. Co-expression network was constructed by using R package WINA [12], which implements a computationally optimized procedure for weighted gene co-expression network analysis (WGCNA) [54]. In WINA analysis, we used power β = 6 with other parameters set by default. Thirty-five modules (i.e. clusters of gene showing highly correlated expression profiles across samples) were identified, which were annotated by the mostly enriched gene ontology/canonical pathway term. The modules were rank sorted in relation to AD pathology by multiple sorting features computed from the ROSMAP data, including module-trait correlations and enrichment for AD-related disease gene signatures including DEGs and trait-correlated genes (TCGs) regarding neuropathological/clinical traits such as Braak staging, cognitive score, CERAD neuropathological category, and NIA-Reagan score.
Bayesian causal network was constructed by integrating genome-wide gene expression, SNP genotype, DNA methylation, and known transcription factor (TF)-target relationships. Briefly, we first computed expression quantitative trait loci (eQTLs) and then employed a formal statistical causal inference test (CIT) [55] to infer the causal probability between gene pairs associated with the same eQTL. With a similar strategy, we also computed causal probability of gene pairs mediated or regulated by a DNA methylation site. The causal relationships inferred were combined with TF-target relationships, and together they were subsequently used as priors for building a causal network through a Monte Carlo Markov Chain (MCMC) simulation-based procedure [56].
Statistical analysis for biological assay
All results were expressed as mean ± SEM. Unpaired Student's t-test (Prism7, GraphPad Software Inc.) was used to determine statistical significance as indicated in the figure legends. * indicates p < 0.05, ** indicates p < 0.01 and *** indicates p < 0.001 for biological assays throughout the manuscript.
Data availability
RNA-seq raw data have been deposited in the Gene Expression Omnibus (GEO) database under accession number GSE99012.
Results
The hypothesis underlying this work was that TREM2/TYROBP plays a causal role in driving molecular networks in AD [11]. To test this hypothesis, we used Drosophila to identify molecular interactions between neuronal expression of Aβ42 or tau and glial expression of TREM2/TYROBP.
Figure
1
shows an overview of the design and data analysis in the present paper. Briefly, we developed transgenic fly models expressing or co-expressing human TREM2
WT
/TYROBP or TREM2
R47H
/TYROBP in glial cells, Aβ42 in neurons, or tau in the retina. These transgenic fly models were characterized for several phenotypic changes including Aβ42 accumulation, the status of tau phosphorylation levels, behavioral deficits, and neurodegeneration. Then transcriptome-wide gene expression in control and transgenic fly heads were profiled by RNA-seq to identify differentially expressed gene (DEG) signatures between different genotype groups. The GO and pathway terms enriched in the DEG signatures were identified. Several DEGs were validated by qPCR. Lastly, human orthologs of the fly DEG signatures were projected onto gene networks from human AD datasets to explore the relevance of these gene signatures to AD pathogenesis from a network prospective. Gene regulatory relationship was characterized for a highlighted inflammatory response subnetwork using Bayesian network analysis.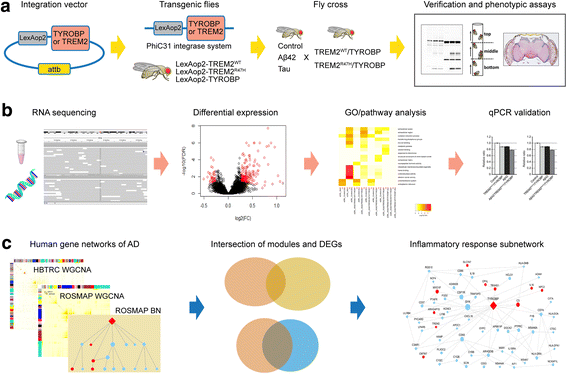 Discussion
There is an increasing appreciation that immunological mechanisms play important roles in AD pathogenesis, as evidenced by the identification of a number of genes expressed in immune cells of the central nervous system (CNS) carrying genetic variants associated with increased risk for late-onset AD, including CD33 [75], TREM2 [14, 15], and CR1 [76]. Thus, dysregulation of immune response genes and/or pathways are believed to be key factors in the cause and/or progression of AD. The present transcriptomic analysis indicated an overlap between glial expression of TREM2/TYROBP and neuronal expression of Aβ42. FEA of the DEGs suggested a strong overlap of the common pathways regulated by TREM2WT/TYROBP and by Aβ42. More than half of the pathways detected in Aβ42 DEGs were also detected in TREM2WT/TYROBP DEGs with the same or opposite regulation direction (Fig. 3b). In addition, more than half of the pathways regulated by Aβ42 disappeared by glial expression of TREM2WT/TYROBP (Additional file 1: Figure S2D), suggesting that the changes in the TREM2WT/TYROBP signaling pathway might represent a defense reaction to Aβ42 toxicity. This is consistent with the proposed role of TREM2 as a component of the microglial reaction to Aβ-related pathology [18–20].
In order to identify potential modules associated with AD pathogenesis, we overlaid DEGs onto two independent human AD co-expression networks, one from the HBTRC AD cohort and the other from the ROSMAP AD cohort. Synaptic transmission modules from the HBTRC network and inflammatory response modules from the ROSMAP network were among the most interesting subnetworks enriched with different sets of DEGs (Fig. 5a). Different modules emerged from the two networks, possibly due to differences in the distribution of AD severity within each cohort. The ROSMAP cohort contains normal individuals, and patients with mild cognitive impairment (MCI) to mild to moderate stages of dementia with very few individuals with advanced dementia [41, 42], while the HBTRC AD cohort samples were concentrated in more advanced stages of the disease (CDR 3.0 and higher [11]).
When TREM2/TYROBP is expressed in glial cells, three out of the five ROSMAP modules enriched with the DEGs identified from fly models of tau toxicity were also enriched with the DEGs detected from fly models of Aβ42 toxicity (Figs. 5a and 7a). This suggests that changes in these pathways maybe part of the pathological interaction between Aβ and tau toxicity and therefore may have implications for elucidation of the pathogenesis of early phases of AD. In turn, identification of molecules that play roles in early phases of AD may point to novel sites of intervention where progression of AD may be slowed or arrested.
We also found that, while the "inflammatory response" module salmon was enriched in downregulated DEGs from both Aβ42/TREM2WT/TYROBP and tau/TREM2WT/TYROBP genotypes, the "inflammatory response" lightcyan module was enriched in upregulated DEGs from the tau/TREM2WT/TYROBP genotype (Fig. 7a). Activation of this subnetwork of the inflammatory response pathway may represent an event linked to late stages of AD characterized by tau toxicity and upregulation of TREM2/TYROBP signaling. Interestingly, the lightcyan module was not detected in the tau/TREM2R47H/TYROBP genotype, suggesting that the pathogenic R47H variant may have a negative impact on activating this inflammatory response. The finding has significant implication for selectively and differentially targeting subnetworks of inflammatory response for potential therapeutic intervention. The lightcyan module contained TYROBP, as well as several AD GWAS gene loci, including CD33, INPP5D, MS4A4A/MS4A6A, RIN3, and TREM2. In addition, this module was highly enriched for various AD signatures and hence was the top ranked module in relation to AD pathology among all ROSMAP modules. Taken together, these results highlighted the lightcyan module as an interesting target for potential disease intervention from both genetic and the molecular pathway perspectives.
Innate immune response is a conserved biological process that multicellular organisms use for their defense against pathogens and toxic stimuli. In AD brains, there is a sustained increase in innate immune activity. In fruit fly, immune response relies on combined action of both cellular processes, such as the phagocytosis of invading microbials, and humoral immune responses, such as the secretion of antimicrobial peptides (AMPs) into the hemolymph [77]. NF-κB signaling pathways play paramount roles in modulating humoral immune response. We noted that DEGs in the present Aβ or Tau flies with or without TREM2/TYROBP showed a significant overlap with the fly Rel/NF-κB perturbation signatures induced by Rel mutation or Rel overexpression in Pal et al. [78] (Additional file 11: Table S10a). In addition, we found that Rel signatures were enriched for the immune response modules in both HBTRC and ROSMAP data (Additional file 11: Table S10b). For example, the Rel overexpression genes were enriched for the "yellow" (response to biotic stimulus) module in the HBTRC dataset (2.5-fold, BH adjusted FET p value 0.035) and the "salmon" (inflammatory response) module in the ROSMAP dataset (6.4-fold, BH adjusted FET p value 0.001). This suggests that fly is a promising model for studying the NF-κB-controlled immune signaling pathways that are implicated in the Aβ or tau pathologies of AD.
Besides the impact on the immune response modules, we systematically examined the impact of the TREM2 R47H variant on neuronal expression of Aβ42 or tau. Overall, the gene expression changes induced by TREM2 R47H were similar to those induced by TREM2 WT in terms of GO function and co-expression network enrichment under conditions with or without Aβ42 or tau. However, we noted a significant enrichment for the synaptic transmission modules with downregulated DEGs in Aβ42/TREM2R47H/TYROBP flies, but not with Aβ42/TREM2WT/TYROBP flies (Fig. 5a and Additional file 5: Table S4a), suggesting a potential role of R47H variant involved in dysregulation of neuronal activities. Direct comparison of mRNA levels between TREM2 R47H and TREM2 WT under various genotype configurations revealed several consistent GO categories, including upregulation of "odorant binding," "extracellular region," "defense response," and "response to pheromone," downregulation of "phosphatidate phosphatase activity." Among these categories, "extracellular region" was consistently identified to differ except under the tau expression background. "Extracellular region" is of particular interest because the R47H variant is located in the extracellular region of TREM2 protein. It is postulated that the amino acid change by this mutation interferes the normal biological function of TREM2, such as the binding to its ligands, its receptor function and its processing by proteases, leading to impaired biological pathways implicated in the pathogenesis of AD [79]. In addition, "defense response" contains Toll-4, a fly ortholog of mammalian TLR7, suggesting that TREM2 R47H variant may have distinct impact on Toll-like receptor singling. We anticipate that the gene signatures and pathways identified in this study will be a starting point for a complete identification of the exact molecular mechanisms underlying how risk for AD is specified by TREM2 R47H .
Conclusions
In summary, we constructed novel transgenic fly models of AD in order to study the genetic interactions between glial expression of TREM2/TYROBP and the neuronal expression of Aβ42 or tau, the two hallmark proteins for the characterization of AD neuropathology. Using these novel transgenic fly models of AD, we also investigated the impact of a TREM2 pathogenic R47H variant (rs75932628), for which the observed effect size has been estimated to be comparable to that of the APOE ε4 allele [15]. To the best of our knowledge, we are the first to systematically analyze phenotypic and genome-wide gene expression changes associated with overexpression of the WT and R47H mutant type TREM2/TYROBP and their interaction with Aβ42- or tau-related pathobiology in vivo. A recent work reports that R47H mutation impairs TREM2-mediated microglial response to Aβ pathology [34], while our results demonstrate that TREM2 R47H is capable of promoting tau-mediated neurodegeneration. The comprehensive pathological and molecular data generated through this study strongly validate the causal role of TREM2/TYROBP in driving molecular networks in AD and AD-related phenotypes in flies and also provides insight into the role of R47H variant TREM2 in AD pathogenesis.
Declarations
Acknowledgements
We thank Dr. T. Awasaki and Dr. H. Ishimoto for their technical advice and the Bloomington Stock Center for fly stocks.
Funding
This work was supported by the NIA/NIH grant U01AG046170 (to KMI, BZ, ES, SG, and ME), the Research Funding for Longevity Science from National Center for Geriatrics and Gerontology, Japan, grant number 28-26 (to KMI), Takeda Science Foundation (JP) (to KMI), the NIA/NIH grants RF1AG054014 (to BZ), RF1AG057440 (to BZ), R01AG057907 (to BZ), U01AG052411 (to BZ), U01AG46152 (to DB and PDJ), P30AG10161 (to DB and PDJ), RF1AG15819 (to DB and PDJ), and R01AG36836 (to DB and PDJ). U01AG046170 and U01AG46152 are components of the AMP-AD Target Discovery and Preclinical Validation Project.
Availability of data and materials
RNA-sequencing raw data have been deposited in the Gene Expression Omnibus (GEO) database under accession number GSE99012.
Authors' contributions
Conceptualization: MS, MW, ES, SG, KA, BZ, and KMI; investigation: MS, MW, NF, YS, XQ, BZ, and KMI; writing (original draft): MS, MW, SG, KA, BZ, and KMI; writing (review and editing): ME, PDJ, DB, and ES; supervision: BZ and KMI; funding acquisition: ME, PDJ, DB, ES, SG, BZ, and KMI. All authors read and approved the final manuscript.
Ethics approval and consent to participate
Not applicable.
Consent for publication
Not applicable.
Competing interests
The authors declare that they have no competing interests.
Publisher's Note
Springer Nature remains neutral with regard to jurisdictional claims in published maps and institutional affiliations.
Open AccessThis article is distributed under the terms of the Creative Commons Attribution 4.0 International License (http://creativecommons.org/licenses/by/4.0/), which permits unrestricted use, distribution, and reproduction in any medium, provided you give appropriate credit to the original author(s) and the source, provide a link to the Creative Commons license, and indicate if changes were made. The Creative Commons Public Domain Dedication waiver (http://creativecommons.org/publicdomain/zero/1.0/) applies to the data made available in this article, unless otherwise stated.
Authors' Affiliations
(1)
Department of Alzheimer's Disease Research, National Center for Geriatrics and Gerontology, Obu, Japan
(2)
Department of Genetics & Genomic Sciences, Icahn School of Medicine at Mount Sinai, New York, USA
(3)
Icahn Institute of Genomics and Multiscale Biology, Icahn School of Medicine at Mount Sinai, New York, USA
(4)
Department of Experimental Gerontology, Graduate School of Pharmaceutical Sciences, Nagoya City University, Nagoya, Japan
(5)
Department of Neurology, Alzheimer's Disease Research Center, Icahn School of Medicine at Mount Sinai, New York, USA
(6)
Department of Pediatrics, Icahn School of Medicine at Mount Sinai, New York, USA
(7)
Center for translational & Computational Neuroimmunology, Department of Neurology, The Neurological Institute of New York, Columbia University Medical Center, New York, USA
(8)
Broad Institute, Cambridge, USA
(9)
Rush Alzheimer's Disease Research Center and Department of Neurology, Rush University Medical Center, Chicago, USA
(10)
Department of Psychiatry and Alzheimer's Disease Research Center, Icahn School of Medicine at Mount Sinai, New York, USA
(11)
Center for NFL Neurological Care, Department of Neurology, New York, USA
(12)
James J. Peters VA Medical Center, New York, USA
(13)
Department of Biological Sciences, Graduate School of Science and Engineering, Tokyo Metropolitan University, Tokyo, Japan
(14)
Ronald M. Loeb Center for Alzheimer's Disease, Icahn School of Medicine at Mount Sinai, New York, USA